Arkansas plans to answer Missouri's words with actions
Published: Tuesday, November 22, 2016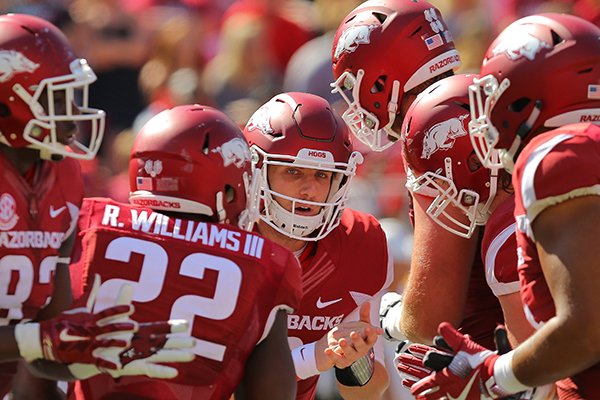 (
Stephen B. Thornton
)
Arkansas quarterback Austin Allen talks in the huddle during a game against Louisiana Tech on Saturday, Sept. 3, 2016, in Fayetteville.
FAYETTEVILLE — Every Arkansas player or coach that came into the interview room on Tuesday was aware of what Missouri linebacker Eric Beisel said Monday.
Beisel essentially warned the Razorbacks (7-4, 3-4 SEC) that it would "be a huge mistake" if they made the trip to Columbia, Mo., on Friday to face Missouri (3-8, 1-6).
"I expect Ar-Kansas to prepare this week," Beisel said. "Whether they decide to get on a plane and show up at our stadium on Friday, that's their call. I'll tell you what, if they do decide to come, it's going to be hectic.
"Our fans are going to bring it, and we're going to bring it. It'd be a mistake, showing up in Columbia, Missouri."
"We're going to take some aggression out on Ar-Kansas this Friday, this Black Friday," Beisel added. "It's going to be a black-out game. They're not going to see what's coming. If they do decide to show up, like I said, it'll be a huge mistake."
Arkansas players were reserved when asked about the comments Tuesday.
"He's got his opinions and we will be ready to go on Friday," Arkansas quarterback Austin Allen said.
Beisel, who has 36 tackles this season for a Missouri defense that is ranked last in the 14-team SEC, made his remarks while intentionally mispronouncing the name of the state as "Ar-kansas" four times.
"I didn't like that too much," Allen said. "A lot of guys - they heard it and it will be good time on Friday for them."
Beisel, whose team gave up 63 points last week in a 26-point loss at Tennessee, made his comments Monday after practice.
"I haven't seen the video, I've heard about the video, I haven't talked to him about it," defensive lineman McTelvin Agim said. "We are just going to handle it on the field and say less. (Arkansas coach Bret Bielema) just told us to let our actions speak."
That seemed to be the sentiment of two others, Arkansas freshmen in tailback Devwah Whaley and linebacker De'Jon Harris.
"We are really not too worried about that," Whaley said. "We are just going to play Arkansas football."
"Some of us watched the videos," Harris said. "I saw a post on a board. I'm not concerned about it. We are just going to go over there, take care of business and get back over here."
Arkansas offensive line coach Kurt Anderson told his players to not think about Beisel's comments.
"If it causes them to miss one minute of preparation, then it's caused a problem," Anderson said. "They have to use every second to think about their assignments and the game plan, not about that.
"Everyone knows it's a rivalry game and things will be said. They have to concentrate on the game plan, their footwork and hand placement. Words are words. The beauty of today's world with Twitter and everything, people can say what they want."
It was clear that some Arkansas coaches had mentioned not to fire any words back at Missouri.
"I'm not going to say anything about that," tight end Austin Cantrell said. "We'll figure it out Friday…We are not really supposed to be talking about it."
Discussion
Have a comment on this story? Join the discussion or start a new one on the Forums.