McBride, Hill Shine in 2019 PG match up
Published: Saturday, November 26, 2016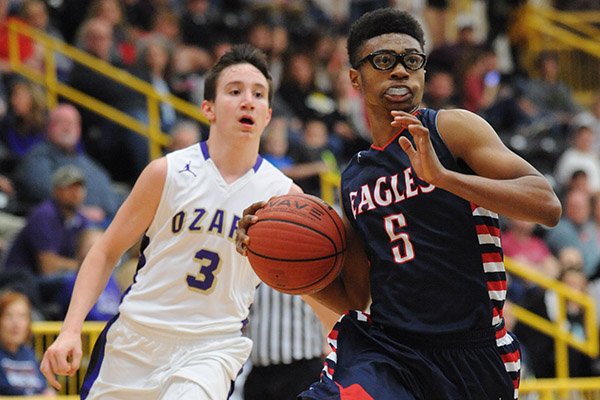 (
Andy Shupe
)
Isaac McBride (5) of Baptist Prep drives to the lane ahead of Brendon Lawson of Ozark Saturday, Feb. 26, 2016, during the second half of play in the championship game of the 4A North Regional Tournament in Tiger Arena in Prairie Grove.
BENTONVILLE — In a post-Thanksgiving Day treat, arguably the state's best two sophomore point guards matched-up in the Holiday Hoops on Saturday.
It lived up to the billing.
Baptist Prep's Isaac McBride (6-0, 160 pounds) scored 23 points to lead his team to a 57-46 win over Little Rock Christian and Arkansas 2019 commit Justice Hill.
Hill (5-10, 160) had a game-high 25 points to lead his squad, but 7-3 junior Connor Vanover added 11 points and 13 rebounds to help McBride lead Baptist Prep (6-0) to the victory.
McBride said he was amped up to play Hill.
"I feel like he has something that I want so I am trying to go and take it from him," McBride said. "…It's that offer from Arkansas. I am hoping that everyone hears that. I am not ashamed to say that and I am not an arrogant person.
"Justice is a great player, but I'm just a really big competitor and I want to go out and prove that I'm worthy of an offer from Arkansas, too."
Baptist Prep head coach Brian Ross isn't going to bet against McBride reaching his goal.
"The great thing about him is that he can shoot it from 30 feet on in, he can score inside, he can score over big guys," Ross said. "He can also handle the ball. Normally when you are starting a sophomore point guard, you are worried about the press, but we are not with him.
"He wants an offer from a certain school in this state and he will keep working until he gets it and then he will keep working after that."
Vanover just returned from an unofficial visit from Kansas. He recently added offers from Memphis and SMU to the ones he already had from Arkansas, Alabama, Vanderbilt and Ole Miss.
"It was a really good visit to Kansas and I thought it went really well," Vanover said. "The game was really good and they showed a style of ball that I liked and it is someplace that I could see myself at maybe in the future."
Vanover is in no hurry to make a decision on where he will attend college.
"I am just wide open and I haven't really done much thinking about it," Vanover said. "Just a lot of interest and so I am in no hurry."
McBride is thinking that Baptist Prep has a chance to repeat as state champions.
"This team is a lot faster and quicker and we have a team now that can turn teams over, definitely the ones in our classification," McBride said. "…I see this team as a lot quicker, a lot faster and a little bit more of a defensive-minded team. I think we have a real chance."
In the other two Holiday Hoops games, Little Rock Central whipped Pine Bluff 80-59 and Arkansas 2017 signee Darious Hall had a game-high 21 points in Little Rock Mills' 63-51 win over Bentonville.
Discussion
Have a comment on this story? Join the discussion or start a new one on the Forums.