Arkansas signee Darious Hall stars in front of future college teammates
Published: Sunday, November 27, 2016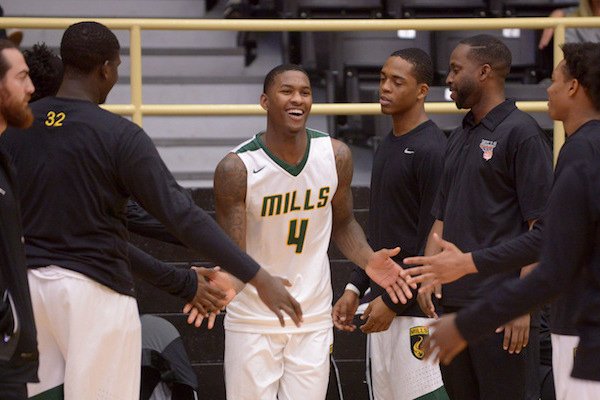 (
Ben Goff
)
Darious Hall of Little Rock Mills takes the court during introductions on Saturday Nov. 26, 2016 before the game against Bentonville in the Bentonville Showcase basketball tournament in Bentonville's Tiger Arena.
BENTONVILLE — With seven of his future college teammates looking on from the stands, Arkansas signee Darious Hall put on an impressive performance Saturday night.
Hall (6-7, 210) had a game-high 21 points and helped rally his team to a 63-51 over host Bentonville in finale of three games in the Holiday Hoopfest.
He enjoyed looking over and seeing the current Razorback players and visited with them afterwards.
"It was great to see those guys come support me," Hall said. "It's a like a big family up here and I am proud to be a part of it. I can't wait to get up here and start playing."
Hall had two steals and a pair of baskets and two assists during a run that turned a three-point deficit into a 60-45 advantage.
"I just had to step up and be a senior and lift my team so we can get the W," Hall said. "I just wanted to harass their guards, spread the floor and make some plays."
Mills head coach Raymond Cooper sees a maturity in Hall, who is averaging 17 points and 12 rebounds this season and chose Arkansas over Alabama, Arkansas-Little Rock and others.
It is a welcome sight considering he now has a target on his back as a Razorback signee.
"He is handling it extremely well," Cooper said. "He has matured so much, but we have talked about that. I've said, 'You are going to have a target on our back, but you have got to control your emotions and just play the whole four quarters.'
"Last year he would get in little battles with people and would lose sight of the game and get engaged in those personal battles."
Hall knows that he will get everyone's best shot.
"There are a lot of people coming at me now that I am a Razorback, but I just go back at them on the court while dong whatever is needed to help me in getting my team a win," Hall said.
Hall joins El Dorado center Daniel Gafford (6-11, 223) and Little Rock Parkview guard Khalil Garland (6-6, 190) as Arkansas signees in the 2017 class.
Those two met up Thursday night in the Rumble on the Ridge in Forrest City with El Dorado grabbing a 72-69 win.
Gafford - who had 18 points, 28 rebounds and 15 blocks in Saturday's Rumble on the Ridge championship win - had 21 against Parkview while Garland had 36 points in the loss.
"I heard that they both had great games," Hall said. "They both have high motors like me. They showed why they are going going to be great Razorbacks."
All three signed during the November early signing period.
"It was a great day and I felt very blessed," Hall said. "Everybody came out to watch and I felt like I had made a big step in my life."
Hall, Garland, 2018 Little Rock Parkview forward Ethan Henderson (6-9, 190) and 2019 Arkansas point guard commit Justice Hill (5-10, 160) of Little Rock Christian will all be in action Friday and Saturday at the Battle on the Border with games Friday night at Little Rock Parkview and Saturday at Little Rock Hall.
Friday, December 2, 2016
Games played at Parkview High School
5:30pm Southwest Christian Lions vs. Genesis Academy
7:00pm Little Rock Christian Warriors vs. Westwood Longhorns
8:15pm Parkview Patriots vs. Whites Creek Cobras
Saturday, December 3, 2016
Games played at Hall High School
11:00am Jacksonville Lighthouse Wolves vs. Power Center Knights
12:30pm Episcopal Collegiate Wildcats vs. Westwood Longhorns
2:00pm J A Fair War Eagles vs. Whites Creek Cobras
3:30pm Little Rock Christian Warriors vs. Bolton Wildcats
5:00pm Hall Warriors vs. Mitchell Tigers
6:30pm Mills Comets vs. Kirby Cougars
8:00pm Parkview Patriots vs. Olive Branch Quistors
Discussion
Have a comment on this story? Join the discussion or start a new one on the Forums.