Cleveland Hill claims the 'soul' of a Razorback newcomer
Published: Wednesday, October 5, 2016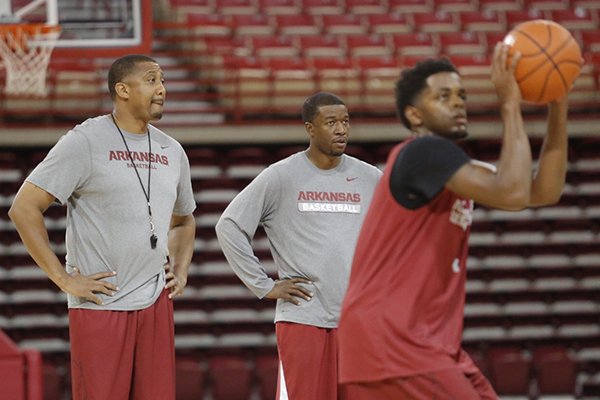 (
Jason Ivester
)
Arkansas assistant coaches Scotty Thurman, left, and TJ Cleveland watch practice Wednesday, Oct. 5, 2016, at Bud Walton Arena in Fayetteville.
FAYETTEVILLE — The legend of Cleveland Street Hill recently added another Razorback soul to its lore.
It seems that junior college transfer Arlando Cook (6-9, 219 pounds) acknowledged as much to Arkansas coach Mike Anderson after the Razorbacks made their annual trek up the elevated street back on Sept. 23.
Cleveland Hill has long been a part of Arkansas' basketball conditioning during the offseason. The team begins at Bud Walton Arena and runs up the hill before returning. The base of the hill is located about 1.5 miles from the arena.
"It was 6 in the morning and (Cook), he ran real good until about halfway up Cleveland Hill and he said 'Coach, I lost my soul,'" Anderson said.
"I said, 'How do you lose your soul?' He said, 'It must have been Jesus that got me the rest of the way because I lost my soul. I have never been through anything like that before.'"
Arkansas began running the hill when Anderson's mentor, Nolan Richardson, was the Razorbacks' head coach. Anderson said former Arkansas center Oliver Miller reportedly cheated his way up the hill one time.
"You hear about the stories like the one with Oliver Miller running it, getting a ride, riding up to the top of the Hill and then getting off and throwing some water on himself like he had really been running," Anderson said.
"I mean I have heard some stories, but I have never heard 'I lost my soul. I have no idea how I got it back in, Coach.'"
Senior guard Manuale Watkins, junior Dustin Thomas and freshman Brachen Hazen were the first three finishers during this year's Cleveland Hill run.
Former Arkansas players and current Razorback assistant coaches TJ Cleveland and Scotty Thurman look back on Cleveland Hill with a measure of punishment and pride.
"First, you had to be mentally prepared for it," Cleveland said. "It was a tough run. The biggest obstacle was mentally getting yourself ready to run up Cleveland Hill because you heard all the stories.
"I used to talk to (former Razorbacks) Al Dillard and Roger Crawford while I was in high school and would hear about it all the time. When you finally experience, you realize why people made such a big deal about it."
Cleveland noted that it is the combination of the length and elevation that makes Cleveland Hill so daunting.
"When you are at the bottom of Cleveland Hill, it seems like you can't see the top of it," Cleveland said. "Once you make it to the top you really feel like Rocky on that movie where he got to the top with the Lincoln statue was.
"You feel like you have accomplished something really big."
Now that he is a coach instead of a player, he enjoys seeing the newcomers meet the challenge.
"You just see different faces they make while they are running and just when they think they are done there is more," Cleveland said. "It is nothing new, just the same thing of everybody dreading conditioning year after year and that is the toughest part of it."
Thurman looks back on it with anguish and believed that Richardson had lost his mind.
"It was so tough," Thurman said. "I think it took the souls of a lot of people, but I don't recall anybody ever saying that until Arlando. That was pretty funny.
"It was just part of what Coach Richardson did to make you mentally and physically tough. I tell you what I thought Coach Richardson was just crazy do that to us. Just crazy.
"I remember Davor Rimac also being the one that paced us as we ran down Razorback Road past the (football) stadium and then we would start up the hill and he would just drift back.
"It's all just a rite of passage as a Razorback player that we all go through and you really feel like you have accomplished something great when you get to the top."
Discussion
Have a comment on this story? Join the discussion or start a new one on the Forums.