Arkansas looks to finish strong with 2017 hoops class
Published: Friday, October 7, 2016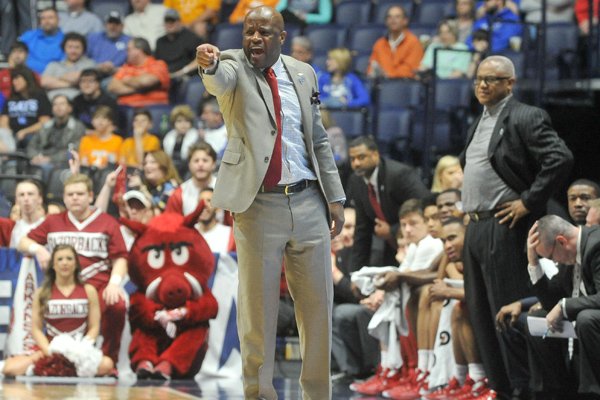 (
Michael Woods
)
Arkansas coach Mike Anderson reacts to his team in the first half of the Razorbacks' 68-61 loss to Florida Thursday, March 10, 2016 at SEC Basketball tournament at Bridgestone Arena in Nashville.
FAYETTEVILLE — Arkansas' trio of 2017 basketball commits is all set to take their official visits next weekend, but there is a still a fourth scholarship to fill.
It's known that the Razorbacks have several options under consideration, but it is also more likely that the fourth pledge comes after the Nov. 9-16 early signing period instead of before it.
Arkansas head coach Mike Anderson was asked at his Wednesday press conference what he was looking for in the 2017 class.
"The guys we are losing - Moses (Kingsley), a guy with size, Manuale (Watkins) to me is a glue guy and a versatile perimeter guy and then you are losing a guy Dusty Hannahs, who is one of the leading 3-point shooters in the country coming back here," Anderson said.
"So you are losing quite a bit and we want to bring in guys that fit what those guys bring to the table. I am looking for the best basketball players out there that fit what we are doing.
"I like size, I like athletic ability, I like versatility and that is certainly big."
The three current 2017 Razorback commits are all four stars per ESPN.com in El Dorado center Daniel Gafford (6-11, 223), Little Rock Parkview guard Khalil Garland (6-6, 190) and Little Rock Mills small forward Darious Hall (6-7, 210).
"We hope to sign as many as we can," Anderson said. "We have four scholarships and hopefully we can get the guys that we want and continue to search and see what is out there and what is available."
It has been a recruiting revival for the Razorbacks, who have a nation's best eight commits in the 2017, 2018 and 2019 class. Seven live in Arkansas and the other is a former resident.
Arkansas also had a loaded 2016 class that features eight new faces - when you include Colorado transfer Dustin Thomas, a redshirt last season.
That success has eased the sting of losing Sylvan Hill's Archie Goodwin and Bentonville's Malik Monk to Kentucky and North Little Rock's KeVaughn Allen to Florida.
Anderson has given assistant Melvin Watkins a lot of credit for landing the in-state guys.
"The biggest thing was just getting in on these kids early," Watkins said. "We have been here for awhile now and the goal was to get them on campus early and try to start the dialogue within the NCAA rules.
"I think that is beginning to pay off for us. They have come to our camps, been on our campus and know what we are all about.
"It's all about nurturing that relationship and letting them know this is a place that they can come to and have success."
Watkins, a former head coach at North Carolina-Charlotte and Texas A&M, tries to keep an even keel about recruiting.
"The thing about it for me is that I have been doing this so long that I know that is just the nature of the beast," Watkins said. "You have to put the amount of work in and sometimes it pays off and sometimes it doesn't.
"When it doesn't, you still have to keep your head up and put the same amount of work in on the next one. Having said that, you like it to pay off often more than not.
"This University has a lot to offer and our program is now to a place where these guys want to be here. That is a very positive thing and we want to feed off of it."
Discussion
Have a comment on this story? Join the discussion or start a new one on the Forums.