Arkansas prepares for second half - all vs. SEC
By: Kurt Voigt, The Associated Press
Published: Monday, October 10, 2016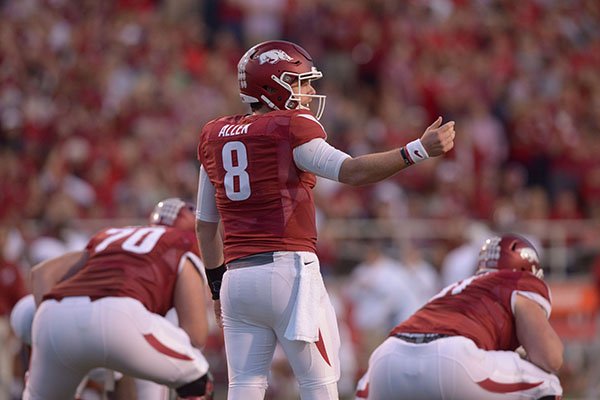 (
Ben Goff
)
Arkansas quarterback Austin Allen prepares to take a snap during a game against Alabama on Saturday, Oct. 8, 2016, in Fayetteville.
FAYETTEVILLE — Bret Bielema talked throughout the offseason about the need to start the season well.
After two losses in the last three games, the Arkansas coach is now counting on the No. 22 Razorbacks (4-2, 0-2 Southeastern Conference) to again finish strong if they hope to improve their win total for a fourth straight season.
Arkansas' most recent loss was a 49-30 setback to No. 1 Alabama last week, the school's 10th straight to the Crimson Tide. The Razorbacks also lost three weeks ago to No. 6 Texas A&M, and the schedule doesn't get any easier this week when they host No. 12 Mississippi (3-2, 1-1).
"Yeah, we've lost to two teams in the SEC West that are also two teams that are probably in the top five in the country by a lot of people's perspective," Bielema said. "The SEC West is pretty good, if you haven't noticed."
The last time Arkansas lost its first two SEC games was in 2014, when the school eventually lost its first five conference games on the way to an 0-13 start to Bielema's SEC career.
That season, the Razorbacks recovered from their early woes by winning two of their final three SEC games and improving their overall record to 7-6 after winning only three games in Bielema's first season in 2013. Arkansas finished 8-5 last season, but that only came after a 2-4 start that was overcome by six wins in the Razorbacks final seven games.
The quick start Bielema stressed was there this year, with three straight wins to open the season, but many in Arkansas are now questioning when — and if — the Razorbacks will win another game.
"At the beginning of the year, everybody's talking about how well we're starting fast," Bielema said. "Now, I guess we've got the midseason blues."
Those blues have the very real possibility of extending into the second half of the season, especially if Arkansas doesn't improve its abysmal offensive line play.
The Razorbacks allowed six sacks and 12 hurries of quarterback Austin Allen against the Crimson Tide, and their season total of 13 sacks allowed is only one away from how many the school has allowed in each of the last two seasons.
Pass protection isn't the only area where the line is struggling, with Arkansas' per-rush average down from 5 yards per carry a season ago to 4.4 this year.
If the offensive line is going to improve, it will have to do so against an all-SEC schedule to close out the year. Following this week's game against the Rebels, Arkansas has five more conference games — against Auburn, Florida, LSU, Mississippi State and Missouri.
"We'll just take every game as it comes," Bielema said. "Obviously, six games in front of us (are) guaranteed and we want to concentrate on the bigger picture, but for us to get where we need to be we just need to worry about Ole Miss."
Discussion
Have a comment on this story? Join the discussion or start a new one on the Forums.