Razorback grid commits Brown, Adcock set to square off Friday night
Published: Wednesday, October 12, 2016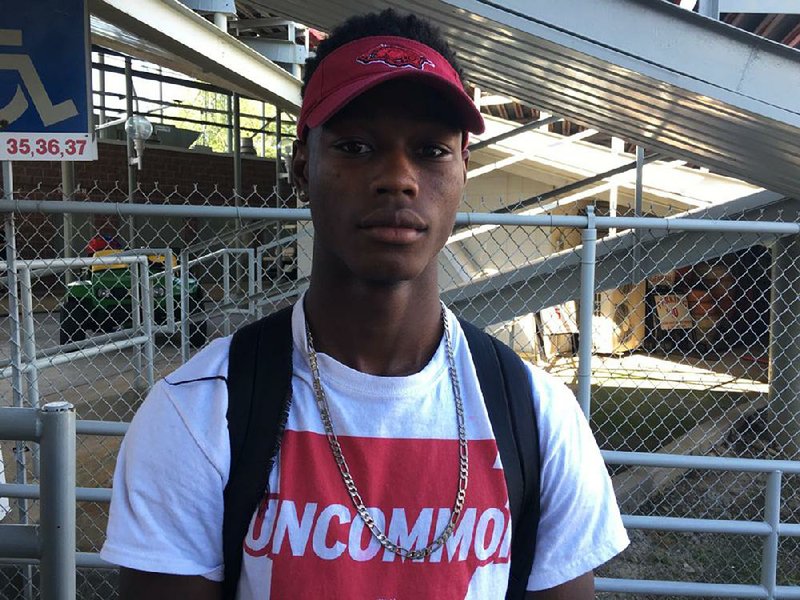 FAYETTEVILLE — Two of Arkansas' four in-state pledges in the 2017 recruiting class will hook it up Friday when their teams meet in Ashdown.
Razorback safety pledge Montaric Brown (6-1, 180 pounds, 4.5) of Ashdown and Arkansas offensive line commit Kirby Adcock (6-5, 300) and Nashville will battle in a Class 7-4A conference battle, and one of the state's biggest games of the regular season.
Ashdown coach Matt Richardson knows there is a lot of hype about the matchup, but wants to keep his squad from getting too hyped for its battle with a Scrappers team that has won 21 straight games.
"We are not really looking at it as a big game, but as the next game in the regular season for us," Richardson said. "I know it is being billed as the best offense in the conference against the best defense and I think that is what it is.
"I also hear people talk about how this is the 67th meeting between Ashdown and Nashville, but what I have tried to tell our kids is that this is the first meeting between this two particular teams.
"It's all about what happens on this field on Friday night and nothing else. Only about what happens to these two particular teams."
Ashdown's only loss this season was 24-23 to Hamburg in week three.
"Everything is going good for us," Brown said. "We have the one loss, but is it not one that can keep us from our goals.
Brown (6-1, 180, 4.5) went from an unknown player in his state to the state's top prospect and ESPN's No. 11 safety nationally with offers from Arkansas, Alabama, LSU, Auburn, Ole Miss, Oklahoma, Oklahoma State, Baylor and numerous others.
He added some more notoriety last week when he was selected for the U.S. Army All-American Game, which will be played on Jan. 7 in San Antonio and televised by NBC.
"I was a very excited when I found out and very honored and thankful to be selected," Brown said. "I never would have believed I would get to play in such a big all-star game, but I have had great coaching and worked hard to get to where I am now."
Richardson noted how proud he, the school and the community are of Brown.
"Oh, man, we are so excited about this because there has never been an Ashdown Panther that has been picked to play in this game," Richardson said. "It's exciting for out school, for our team and for our community. We are all pretty pumped."
Brown has had a great season so far with 55 tackles and 4 interceptions on defense, and 22 catches for 338 yards and 3 touchdowns on offense.
"In our last game, he has six catches for 114 yards and two touchdowns, he had 16 tackles and he took an interception back 70 yards for a score," Richardson said. "So he's playing like an All-American."
Discussion
Have a comment on this story? Join the discussion or start a new one on the Forums.