Gafford, Hall in Fayetteville for official visits this weekend
Published: October 14, 2016 at 5:48 p.m. - Updated: October 14, 2016 at 5:48 p.m.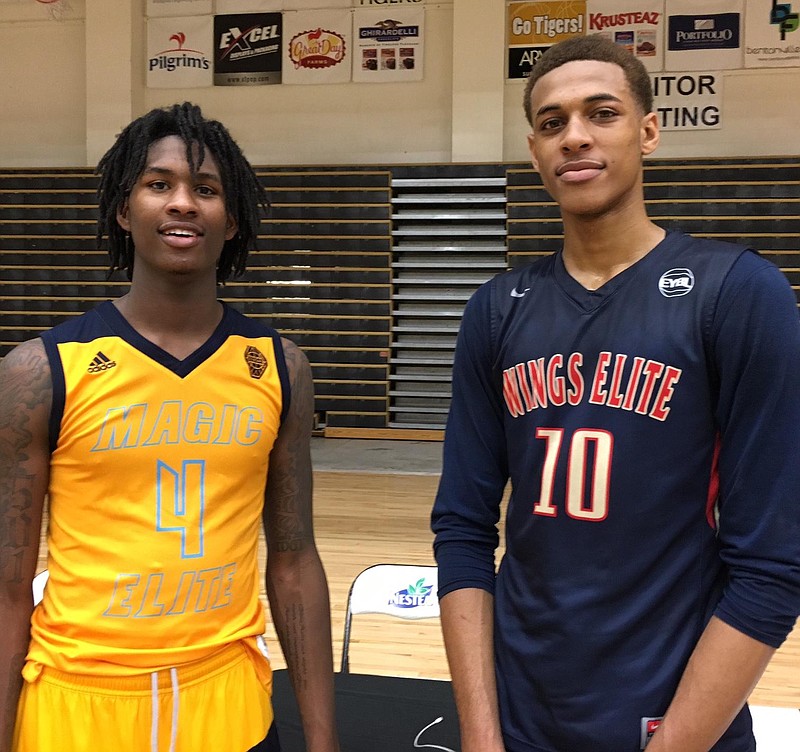 FAYETTEVILLE — Two-thirds of Arkansas' 2017 basketball recruiting class will be in Fayetteville this weekend for their official visits.
El Dorado center Daniel Gafford (6-11, 223 pounds) and Little Rock Mills small forward Darious Hall (6-7, 210) are both four-star prospects, according to ESPN.com, and part of a top 10 consensus class nationally.
The other member of the class is Little Rock Parkview guard Khalil Garland (6-6, 190), another four-star prospect. All three are set to sign with the Razorbacks during the Nov. 9-16 signing period.
Garland plans to take his official visit Nov. 4-5.
Hall, who averaged 12.5 points, 8.6 rebounds, 2.1 assists and 1.8 steals last season, is excited about the opportunity to spend a full weekend on campus.
"I'm looking forward to seeing the school, the academics, the players and how things run," Hall said. "The type of classes, the type of schedules and just get close with my (future) coaches and teammates."
Former Arkansas Wings AAU coach Ron Crawford, currently an assistant coach at Southwest Christian Academy, has seen all three players for several years and said Arkansas fans should be excited about the haul.
"All three of these guys are going to help close the gap for Arkansas," Crawford said. "They are all fantastic kids, fantastic players and ones that fit the system that Arkansas is playing."
Gafford, who averaged 13.4 points, 14.4 rebounds and 6.2 blocks as a sophomore and 14 points, 14 rebounds and 5 blocks as a junior, has shown the ability to be a great rebounder.
"What I see out of Daniel is an SEC-plus rebounder already," Crawford said. "I think he is one of the better rebounders to ever come out of this state.
"He has started to work out in the weight room in the morning and is getting stronger, but nowhere near how strong he is going to be once he gets into the weight program at Arkansas and adds 15 to 20 pounds.
"He is certainly not where he is going to be offensively, but he is coming on in that department. His best basketball is ahead of him and fans should be excited it is going to be at Arkansas."
Crawford believes Hall - who was elevated from a 3-star to a 4-star by ESPN.com after his play this spring and summer - is a steal for the Razorbacks.
"Darious is a kid that can go out every night and get you a triple-double and just does anything he can to help his team win," Crawford said. "He is just a winner that has fantastic athleticism, but also has a high basketball IQ.
"To me he is a player like (former Razorback) Michael Qualls in that he can do so many things on the floor. He is continuing to work on his shot, but Day Day (Hall's nickname) has the opportunity to be a fantastic defender and a player that many schools are going to be saying 'did we just see him on a bad day? Why didn't we offer him?'"
Garland originally committed to Memphis before head coach Josh Pastner left the school to go to Georgia Tech.
Arkansas then won a recruiting battle with LSU, Oregon, Alabama, UALR and others for Garland, who averaged 18 points and 8 rebounds last season while leading the Patriots to a state title.
"I have seen Khalil played since the seventh grade and he is another kid that is a very good basketball player already and whose best basketball is ahead of him," Garland said.
"He certainly has a great offensive game, but I also see him as a guy that can also be a tremendous defensive player.
"The best thing for Khalil and Arkansas is that he is playing in a system at Parkview that is just like Arkansas so that will allow him to fit in even earlier."
Discussion
Have a comment on this story? Join the discussion or start a new one on the Forums.