Bielema's philosophy on dealing with kickers is varied
Published: Wednesday, October 19, 2016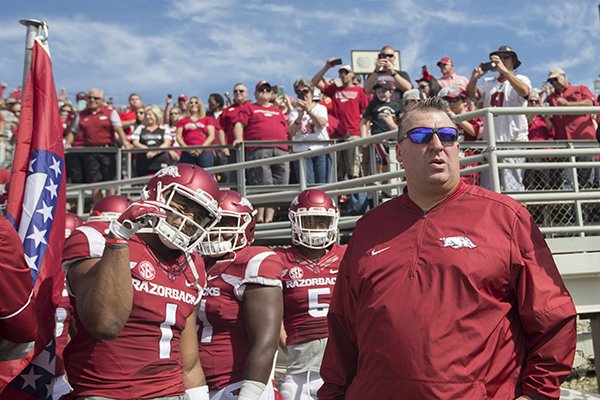 (
Jason Ivester
)
Arkansas coach Bret Bielema prepares to run onto the field with his team prior to a game against Alcorn State on Saturday, Oct. 1, 2016, at War Memorial Stadium in Little Rock.
FAYETTEVILLE — Like left-handed pitchers, college football kickers are thought to be a little bit different mentally.
Arkansas coach Bret Bielema – who watched Adam McFain make both of his field goals last week in a 34-30 home win over Ole Miss – knows this well.
He was asked a couple of questions on Wednesday's SEC Teleconference about how he deals with kickers.
"It depends on your kicker," Bielema said. "Some kids during the course of the week I'll ask them, 'Is there anything you would like me to say?' Some are mentally processed on wind conditions and wrapped up in that. Do you want me to say, 'You need to account for the wind? Or do you want me to say anything?'
"I don't want our kickers thinking about anything but putting the ball through the upright. I had another kicker in my past who was always about the tempo of his operation. He would always want me to say, 'Remember your tempo.'
"We have got green uprights now inside of our yellow uprights so we talk about keeping it in the money or making a money shot - doing anything to reference keeping it between the green goalposts."
Cole Hedlund made 4 of 6 field goal attempts and all 22 extra points while handling those duties the first five games of the season for Arkansas.
McFain is 3 of 3 on field goal attempts in the past two games. He had makes of 36 and 43 yards last week against Ole Miss.
"I don't buy into the because he's a kicker you don't want to talk to him. Some are a little strange but I have been around a lot of strange players," Bielema said. "I have had D-linemen I don't want to talk to or stand next to. I treat them like everybody else."
Obviously one of the most tense situations for a coach, kicker and fans is a potential game-winning kick.
Again, it is about how the kicker's mindset, Bielema said.
"Again it depends on your kicker and it depends a little bit on the scenario," Bielema said. "I was watching the end of the Clemson-NC State game. (North Carolina State coach) Dave Doeren is a friend of mine. We have been through some life experiences, as well as coaching.
"Obviously their kicker made it the first time and the next time he obviously pushed it. I thought right away, 'How would I handle that with my kicker in that exact same scenario, which was done over and over and over again.'
"I always do think in those scenarios when you know the other coach is going to call timeout, it's best to snap it, kick it and operate it. And during that timeout ,if I never say anything to him, I doubt I would say anything...the last thing you want to is to have 20 guys go by and tip him on the head and say, 'Hey, you are going to make this,' when they have never done it before like that.
"Keep things the same. Everybody thinks we are superstitious. We really are not. It's just a consistent way of doing things."
Discussion
Have a comment on this story? Join the discussion or start a new one on the Forums.