Little Rock Parkview junior Ethan Henderson visits Arkansas again
Published: Sunday, September 4, 2016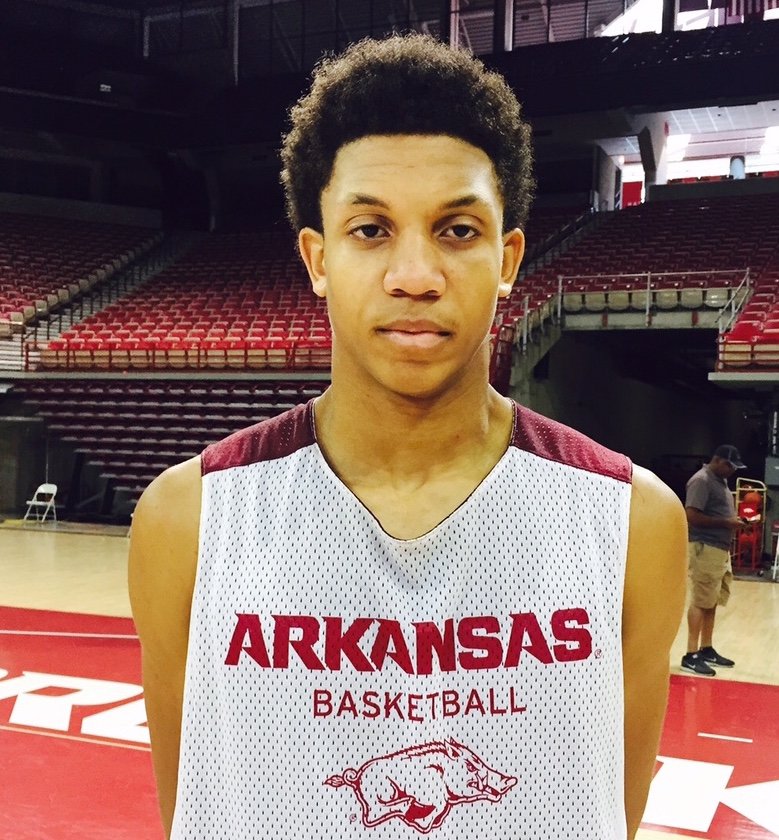 FAYETTEVILLE — Little Rock Parkview junior forward Ethan Henderson is happy that five of his high school and Arkansas Hawks AAU teammates have committed to the Arkansas basketball program and he may join them sooner than later.
But Henderson (6-8, 190) – who took another unofficial visit to Arkansas this weekend - is moving at his own pace and doesn't have a timetable for his decision.
"I am really proud of all those guys and Arkansas is getting some great players in its program with those guys," Henderson said Sunday afternoon. "I don't really know when I will commit. I am just trying to take my time and make sure that the place I end up is the best fit for me.
"But, yes, all those guys want me to join them and they are all after me to come there as well."
Henderson got his first look at the Jerry and Gene Jones Student Success Center.
"That was very impressive," Henderson said. "I think that is a really big thing for Arkansas. I also got to see Bud Walton Arena again and the practice facility.
"That practice facility has every thing a player needs. It has two courts, places for conditioning and strength work, a theater room and a place for guys to just relax. It's a big, big thing to have and it is one of the best things you will ever see."
Henderson has offers from Arkansas – who offered him the summer before his sophomore season - LSU, Indiana, Texas and Arizona State.
"I feel very blessed," said Henderson, who is ranked as the 13th best player in the 2018 class by Hoopseen and 60th overall nationally by ESPN.com, who has him as a four-star prospect.
Arkansas has 2017 commits from El Dorado center Daniel Gafford (6-11, 223), Little Rock Mills small forward Darious Hall (6-7, 210) and Little Rock Parkview guard Khalil Garland.
The 2018 class has a trio of Henderson's AAU teammates in Thomasville, Ga., forward Reggie Perry (6-10, 225) – ESPN's No. 31 player overall - Fort Smith Northside shooting guard Isaiah Joe (6-2, 170) and Jonesboro point guard Desi Sills (6-1, 170).
The Razorbacks also have a 2019 commit in Little Rock Christian point guard Justice Hill, yet another AAU teammate who helped the Hawks 16-and-under team go 34-4 on the Adidas Uprising circuit this spring and summer.
"We won the first tournament (Real Deal in the Rock), but didn't play our best because we weren't in sync," Henderson said. "But we bonded together as the season went along and really played well as both a team and as individuals.
"It's that bond as players we had that really got us over the top. It's a big thing for a team – not only to have talent, but to love playing together and bonding."
Little Rock Parkview has a loaded roster coming back with Garland, Henderson, senior Javon Franklin and sophomore Caleb Stokes among others.
"I think we have a great group coming back," Henderson said. "We'll still be hungry. We lost in the first round when I was a freshman and then won it all last season.
"It's the same thing as I talked about with the AAU team," Henderson said. "We have a lot of talent, we play hard and we have that bond."
The Patriots will be playing in the Rumble on the Ridge in Forrest City over Thanksgiving, battle Little Rock Christian in the Battle of the Border on Dec. 2 in Little Rock and play host Jonesboro in the Natural State Hoopfest on Dec. 17.
They will also make their annual trek to Fort Worth to play in the Whattaburger Tournament on Dec. 28-30.
"School ball is going to be fun again," Henderson said. "I'm looking forward to it."
Discussion
Have a comment on this story? Join the discussion or start a new one on the Forums.