Future Razorback Korey Hernandez has monster Friday and happy Saturday
Published: September 11, 2016 at 11 a.m. - Updated: September 11, 2016 at 11:18 a.m.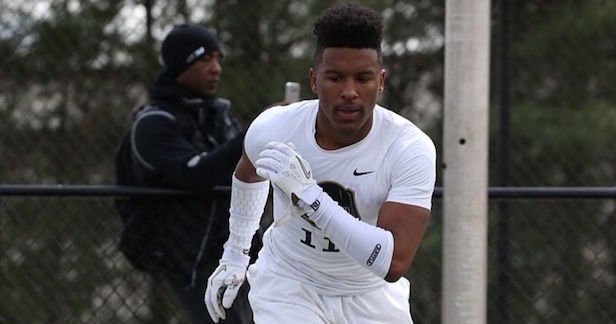 FAYETTEVILLE — Arkansas cornerback pledge Korey Hernandez of Ellenwood, Ga., Cedar Grove, who got t watch his future team's thrilling 41-38 double overtime win over No. 15 TCU on Saturday night, did just about everything for his team Friday night except drive the bus to nearby Decatur.
Hernandez scored four different ways – a 91-yard kickoff return, an 86-yard interception return, a 53-yard touchdown catch and a blocked punt return.
He threw in four tackles and broke up three passes for good measure in Cedar Grove's 40-0 win over Decatur Columbia.
"To be honest with you, I didn't even have an idea that I had scored so many ways until the end of the game," Hernandez said. "I was just out there trying to make plays and had a lot of big ones that I got into the end zone on.
"It was a lot of fun and a great way to bounce back from the last game."
The Saints (2-1) opened the season with a 34-23 win over Stephenson, but stumbled in week two with a 21-20 loss to Dekalb.
"That one hurt because we up and should have won the game, but kind of let up," Hernandez said. "It was a lesson learned that we can't just show up."
Arkansas learned that lesson the first week in a 21-20 win over Louisiana Tech before picking up a big road win with a 41-38 double-overtime victory over No. 15 TCU.
Hernandez got the chance to watch both wins on TV.
"It was a great win," Hernandez said. "I was on the edge of my seat the whole fourth quarter. The defense played tremendous the first half and Austin Allen is no longer Brandon Allen's little brother."
Cedar Grove has just 15 players back from an 80-man roster that made it to the Class AAA semifinals before losing to Westminster 24-8.
Hernandez is playing cornerback, safety and the nickel on defense and wide receiver and some wildcat quarterback on offense as well on being on most special team units.
"I'm doing a lot of different things and enjoying them all," Hernandez said. "I just line up wherever the coaches needed me on a certain play."
"Right now we have our heads back up and still have all of our goals in front of us," Hernandez said. "We didn't have a lot of guys coming back, but we have some good ones and also have a lot of guys stepping up."
Hernandez – who is slated to be a mid-term graduate and enroll at Arkansas in January - committed to the Razorbacks and head coach Bret Bielema and assistant Rory Segrest on June 24th and did so without every stepping foot on campus.
"I did my homework on everything they had to offer and wanted to be a part of what Coach Bielema and his staff have going," Hernandez said. "It is a program on the rise in the SEC and nationally."
Hernandez, who had 85 tackles, 3 interceptions and 12 pass break ups as a junior, did take an unofficial visit late in July that cemented his commitment to the Razorbacks.
He chose Arkansas over Iowa, Georgia Tech, Maryland, Virginia Tech, Wake Forest, Toledo and others.
"I just loved my visit to Arkansas," Hernandez said. "I really enjoyed being around the players and the coaches and they all showed me so much love, just like they had on Twitter and all that before I got there.
"I also was really impressed by the business school. That is what I am going to major in and Arkansas has a great one. It all just combines to be the right place for me."
Discussion
Have a comment on this story? Join the discussion or start a new one on the Forums.