Dan Skipper standing tall for Arkansas
Published: Wednesday, September 14, 2016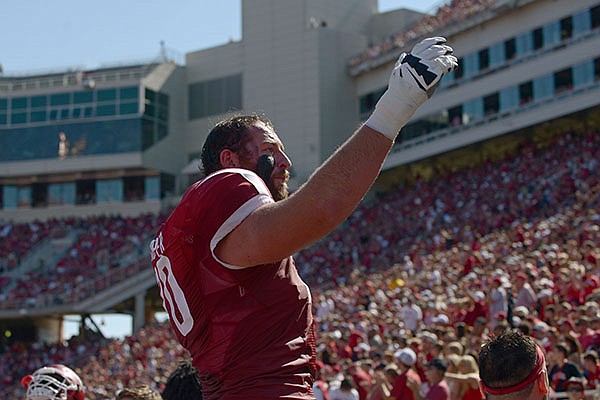 (
Ben Goff
)
Arkansas offensive lineman Dan Skipper motions to the crowd during a game against Louisiana Tech on Saturday, Sept. 3, 2016, in Fayetteville.
FAYETTEVILLE — Whether he is working security at a concert, being the bouncer at a local music establishment - as he did during the last few summers - or standing out on a football field, 6-foot-10, 319-pound Arkansas senior offensive lineman Dan Skipper is a hard guy to miss.
TCU kicker Ryan Graf couldn't miss him last Saturday as Skipper's hand swatted away what would have been a 28-yard, game-winning field goal for the Frogs. It turned into the game-saving play for the visiting Razorbacks' 41-38 double-overtime win in Fort Worth, Texas.
"I got all of it," Skipper said of the sixth blocked field goal of his career.
Skipper, named this week's SEC Offensive Lineman of the Week, was quick to pass credit to teammates Austin Capps and Dietrich Wise.
"The biggest thing about that (blocking field goals) is the guys next to me," Skipper said. "I probably have the easiest job in all of it. Funny thing is without Capps and Dietrich, it doesn't matter what I do."
It appeared that if Skipper had not blocked the field goal attempt that 6-6 Razorback tight end Jeremy Sprinkle would have as he leaped even higher on the play.
"That is the plan of why we do that," Skipper said. "Hopefully a game doesn't come down to us blocking it again, but in case he is there and hopefully we can get it."
It is not likely that the Razorbacks (2-0) will need to block one late to take down Texas State (1-0) when the two meet Saturday night at 6:40 p.m. in Fayetteville.
But the Bobcats - which are 31-point underdogs - do present a different challenge in the fact they play a 3-4 front.
"Defensively it is a little bit different," Skipper said. "They are running a odd look at get into a lot of nickel. That's different, something that we haven't seen yet. Other than that, they've got an experienced back half and we just have to take advantage of what we have."
That would be size as Arkansas offensive line dwarfs the size of Texas State.
"They are hard to block and they are quick and they play incredibly hard so that is something that we have to take advantage of, lock guys up get our hands on them and use our size to our advantage," Skipper said.
That includes getting things figured out pre-snap.
"TCU was very varied and they had a lot of stuff that they threw at us," Skipper said. "Week one was more of a under and then these guys will be an odder defense and we didn't do a whole lot of that in camp so we have to make the adjustments and figure out the calls and the mikes and things like that."
Skipper and center Frank Ragnow are the only two returning starters on Arkansas' offensive line, so the road win was a big deal for the three new starters - Texas graduate transfer Jake Raulerson, sophomore Hjalte Froholdt and redshirt freshman Colton Jackson.
"It was great to get one under their belts, but now it is on to Texas State," Skipper said. "We have to take care of a home win now.
"It was good, but there is plenty of stuff to improve on. Upfront, we didn't play as well as we should have and that's obvious. This week we have to be better in the road zone and down at the goal line."
Skipper believes the offensive line is starting to come together.
"There is a cohesiveness of the unit in the room," Skipper said. "We are still rotating guys because you are always one play away from having somebody go down. So we are constantly moving, keeping guys at new positions so that if someone goes down, you won't just nosedive."
Jackson has appeared to struggle, but Skipper believes he is getting better.
"Definitely," Skipper said. "He played better last week than the first week and we look forward to him playing better this week."
Jalen Merrick, Zach Rogers and Brian Wallace are three offensive linemen that Razorbacks coach Bret Bielema mentioned earlier this week as possibly getting more playing time.
"They are coming along well," Skipper said. "They know their assignments, know who they blocking and they are doing well. Now it is a minor technique thing and getting on the right guy."
Skipper also praised redshirt sophomore Jake Hall, who came in as an extra offensive lineman in power situations on Saturday.
"He is awesome," Skipper said. "That is a guy that you never are going to have to worry about playing hard. He'll go in there and rip someone's head off and that's what you expect from a kid getting his first snaps and he didn't disappoint."
Skipper was proud of his award and quarterback Austin Allen being named the SEC Offensive Player of the Week, mostly because he knows to the winners go the spoils.
"It's great," Skipper said. "The biggest thing is getting the win. You don't get awards without wins so it was good to see that and Austin getting some praise. That was nice, but at this point, but we have to do it all again this week."
Discussion
Have a comment on this story? Join the discussion or start a new one on the Forums.