SEC Football:
Aggies stay unbeaten with win at Auburn
Published: Saturday, September 17, 2016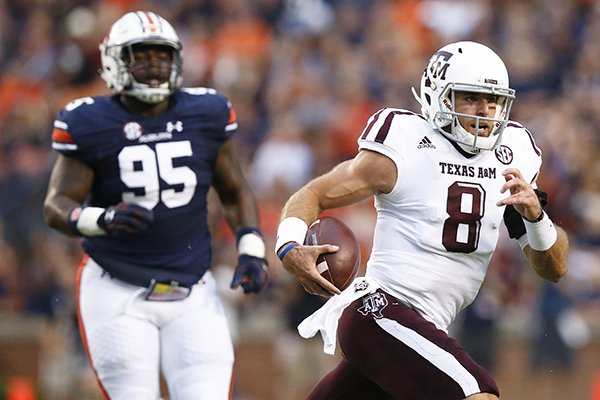 Texas A&M quarterback Trevor Knight runs the ball in the first half during an NCAA college football game against Auburn, Saturday, Sept. 17, 2016, in Auburn, Ala. (AP Photo/Brynn Anderson)
AUBURN, Ala. (AP) — Trevor Knight and No. 17 Texas A&M won the matchup of teams trying to defy modest expectations, and the Aggies did it mostly three points at a time.
Knight passed for 247 yards and Daniel LaCamera kicked five field goals to lead No. 17 Texas A&M to a 29-16 victory over Auburn Saturday night and get off to a good start in the competitive Southeastern Conference's Western Division.
Arkansas 42, Texas State 3
"It was a question mark game for our team since we came into the season not being picked very high," Knight said. "There were all kinds of questions about who we were going to be and what our identity would be. We came on the road to a team that I think has one of the better defenses in the country.
"We played very well, and it was a big win for us."
Knight also ran for 42 yards and several first downs for the Aggies (3-0, 1-0 SEC), who are off to another fast start. Myles Garrett had two sacks and Texas A&M's defense harassed quarterback Sean White enough to minimize big-play chances for Auburn (1-2, 0-1).
Texas A&M kept its hopes of a higher division finish firmly intact with a 478-yard offensive performance. Freshman Trayveon Williams weaved through Auburn defenders for an icing-on-the-cake 89-yard touchdown run with 6:52 left and gained 127 yards on eight carries.
The Aggies are 3-0 for the third straight year, a run they haven't had since 1939-41.
Knight kept the Aggies moving even if though they struggled to find the end zone. He completed 20 of 40 passes but led one 92-yard drive in the first half and another march for three points in the fourth quarter.
Auburn couldn't cash in on defensive stops with any points in the third quarter.
"I really thought the third quarter was probably the key to the game," Tigers coach Gus Malzahn said. "It was a dogfight, and then in the third quarter I thought our defense played very good, gave the offense a lot of opportunities, and the offense just couldn't seize the moment."
Auburn drove deep into Texas A&M territory with runs by speedy backup quarterback John Franklin III and hard running Kamryn Pettway. Then Daeshon Hall stuffed Franklin behind the line on fourth down from the 12. Williams put it away with his sprint to the end zone, though Franklin did lead an Auburn scoring drive in the final minutes.
"I wasn't happy with how we finished the game," Aggies coach Kevin Sumlin said. "To really kind of let down on defense and give up the score and then not close out things the way we needed to in the final 5-6-7 minutes. We've got to improve there."
Knight gave Texas A&M a 16-7 first-half lead with the long second-quarter drive. He completed all four attempts for 86 yards, including a dead-on 51-yard strike to Josh Reynolds. That set up Reynold's 5-yard touchdown catch.
LaCamera had kicks of 46, 35, 31, 37 and 26 yards.
THE TAKEAWAY
Texas A&M: The Aggies sputtered at times offensively — mostly in the red zone, but also going three-and-out on their first three drives after halftime. Converting 2 of 15 third-down attempts won't always get the job done. The defense produced four sacks and 13 tackles for loss.
Auburn: The Tigers are still plagued by inconsistent offense and are just 2-10 over the last 12 SEC games. Sean White hit some third-down passes but nothing downfield and was 18-of-27 passing for 126 yards. The Tigers did rush for 236 yards after piling up 462 against Arkansas State .
POLL IMPLICATIONS
The Aggies could make some headway in the rankings with the win and face tougher games ahead.
UP NEXT
Texas A&M faces No. 24 Arkansas in Arlington, Texas after winning in an overtime thriller last season.
Auburn hosts SEC West rival LSU, which won the last meeting 45-21.
Discussion
Have a comment on this story? Join the discussion or start a new one on the Forums.