Ryan Pulley's pick-six makes statement
Published: Saturday, September 17, 2016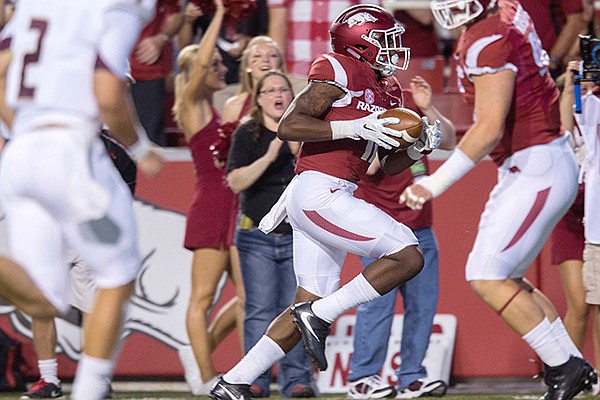 (
Jason Ivester
)
Arkansas cornerback Ryan Pulley scores a touchdown during a game against Texas State on Saturday, Sept. 17, 2016, in Fayetteville.
FAYETTEVILLE — When Arkansas defensive back Kevin Richardson went down with a season-ending injury two weeks ago, sophomore Ryan Pulley had the chance to walk through the door for more playing time.
Pulley has taken that chance and run with it. His 25-yard interception return for a touchdown contributed to a 42-3 rout of Texas State Saturday in front of 72,114 fans.
"I really don't know what route he ran, but thanks to my D-line that put pressure on the quarterback he threw to my side and I just made a a good play," Pulley said. "It was my first pick-six and I had to celebrate some kind of way."
Pulley's pick - the second of his career and first since last year's Liberty Bowl - came off Texas State quarterback Tyler Jones while he was in press coverage. Pulley said press is something he loves to play.
"I love when Coach calls press coverage, man," Pulley said. "I just light up. I just light up. I love it."
Pulley jumped the route and Jones threw it right to him. He stumbled a bit, but then regained his footing and ran untouched into the end zone."
"I stumbled a little bit," Pulley said. "If I would have fell, I would have been mad at myself."
Arkansas coach Bret Bielema noted that Pulley has shown an ability to make plays in practice and is now doing it in games.
Arkansas 42, Texas State 3
"Ryan is an extremely talented player," Bielema said. "On that play right there, actually the receiver was blocking him. He just read the quarterback's eyes, made a tremendous pick.
"Ryan is a very athletic corner, a very gifted corner, but he's also got really good ball skills. I've seen him time and time again. He probably leads our team in interceptions in practice as well. He just has a way of finding the football. He executed well on that play."
Pulley was elevated into a starting cornerback role when Henre' Toliver was moved from there to the nickel corner after Richardson's injury.
He shined in last week's 41-38 triple-overtime win at TCU and came back with three tackles, a pass break-up and the pick-six against Texas State.
"I just continue to progress each week," Pulley said. "I just go in and try to have great preparation each week and just practice hard.
"That was one of my weaknesses when I got here. I wasn't really no practice player, but Coach kept hitting on me to become the player I am and practice hard from now on."
The secondary has made what seems to be vast improvement since the first game.
"We have improved," Pulley said. "Coach hit on us that it is one game at a time, never too high, never too low. Come in every Sunday to prepare to be the best secondary that we know we can be and just execute our job."
He was really proud of shutting out the Bobcats in the first half, which ended with Arkansas leading 35-0.
"It means a lot," Pulley said. "Every Sunday Coach Smith hits on us that we have got to be great every weekend, that we have got to finish and bring it every play."
Arkansas (3-0) will open Southeastern Conference play next Saturday when it meets Texas A&M (3-0, 1-0 SEC) at 8 p.m. at the Dallas Cowboys' AT&T Stadium in Arlington, Texas.
"Now that we have taken care of this game, we can look ahead to the next one with Texas A&M," Pulley said. "That's how we have to win: by focusing on one game at a time, one play at a time."
Discussion
Have a comment on this story? Join the discussion or start a new one on the Forums.