Diamond Hogs dominant in series opener at Alabama
By: Joey Chandler Special to the Democrat-Gazette
Published: Saturday, April 1, 2017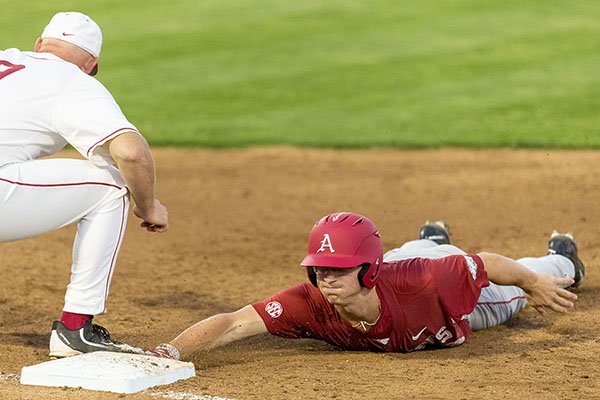 Arkansas's Jared Gates (3) dives back to first in time as Alabama infielder Cody Henry (9) looks to pick him off during an NCAA college baseball game, Friday, March 31, 2017, at Sewell–Thomas Stadium in Tuscaloosa, Ala. (Vasha Hunt/AL.com via AP)
TUSCALOOSA, Ala. -- There are two phrases scrawled underneath the bill of Arkansas Razorbacks sophomore Blaine Knight's baseball cap: His favorite Bible verse, "Philippians 4:13" and "Dominate everybody."
Knight followed through on his mantra in a 7-1 victory over Alabama on Friday at Sewell-Thomas Stadium. He threw 95 pitches in 8 innings, giving up 3 hits.
"It's mental preparation," Knight said. "It just says dominate everybody. That is what I try to do every time I step on the mound is dominate every single hitter that steps in the box."
Knight (4-1) gave up two hits in the first inning. Alabama leadoff hitter Cobie Vance doubled and Hunter Alexander hit an RBI single to left field with two outs to give the Crimson Tide their only lead of 1-0.
From there, Knight retired the next 19 batters.
"It's pretty easy to play defense behind a guy like that," University of Arkansas, Fayetteville Coach Dave Van Horn said. "Usually when he is out there, we make the plays because we are in the game and know it could be hit at us at anytime, but he just mixed it up well and threw everything for a strike."
Knight allowed his final hit in the bottom of the eighth inning.
"We switched over to going breaking ball early in the count and kept them off balance, and it worked out," Knight said.
He had seven strikeouts and no walks. Dominic Taccolini came on in the ninth inning and closed the game out without giving up any hits.
"I saw what I've been seeing on video for the last three or four days: A guy that can really pitch, can mix his pitches up, competes at a high level," Alabama Coach Greg Goff said. "Just in total command."
Knight has been the Friday night starter since opening day. He has struck out seven batters or more on three occasions, contributing to Arkansas' 275 strikeouts, the most in the SEC. He has struck out 48 batters and walked 2 in 40⅓ innings pitched.
"I feel like he really started working his breaking ball a lot better," Van Horn said. "He had them out there looking for it, it looked like from over here, and then he started busting fastballs on them."
The Razorbacks scattered a season-high 17 hits among nine batters.
Luke Bonfield hit a two-run home run over the left-center field fence in the top of the third inning, his fifth of the season, to take a 2-1 lead. He went 3 for 5 with 3 RBI and scored 2 runs.
Jared Gates recorded his first hit of the season for Arkansas since returning from a broken hamate bone in his right hand and scored on a passed ball in the fourth inning. He went 3 for 3.
"[Thursday] his batting practice looked like the Jared we saw in the fall," Van Horn said of Gates. "He took good [batting practice Friday], and he gets three hits and smiles all over the dugout, so it's good to get him back in the lineup."
Jake Arledge went 3 for 4 with an RBI for the Razorbacks.
Arkansas also scored runs in the sixth, eighth and ninth innings.
The No. 20 Razorbacks improved to 21-5 and 6-1 in the SEC. Alabama dropped to 12-14 and 1-6 in the SEC.
Today's second game of the three-game series is scheduled for 7 p.m.
Sports on 04/01/2017
Discussion
Have a comment on this story? Join the discussion or start a new one on the Forums.