Neighbors' first recruiting job will be to keep former McDonald's All-American
Published: Tuesday, April 4, 2017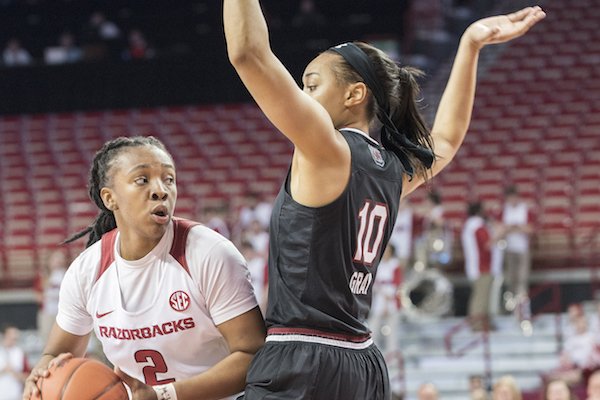 (
J.T. Wampler
)
Arkansas' Aaliyah Wilson looks for help while South Carolina's Allisha Gray defends Sunday Feb. 5, 2017 at Bud Walton Arena in Fayetteville. South Carolina won 79-49.
FAYETTEVILLE — Before he can hit the road to begin recruiting, new Arkansas women's basketball coach Mike Neighbors will try to do a little recruiting with his current roster.
Neighbors, a native Arkansan who was named as the ninth coach in the program's history on Monday, will be doing his best to keep McDonald's All-American Aaliyah Wilson (5-11) on his roster.
Wilson - a Muskogee, Okla., prep star who picked Arkansas over Baylor, Kansas and Rutgers, among others, announced her decision to transfer on March 15, 13 days after Arkansas head coach Jimmy Dykes resigned after three years at the helm.
"I met with her today and we are working out tomorrow," Neighbors said.
Wilson, who averaged 17.8 points, 8.1 rebounds, 2.5 assists, 2.0 blocks and 1.5 steals as a high school senior, played in 26 games as a true freshman this past season for Arkansas while averaging 4.8 points and 2.9 rebounds per game.
She played 411 minutes during the season, while shooting 28.7 percent from the field, 28.4 percent from 3-point range and 66.7 percent from the free throw line.
Former Arkansas prep star Jordan Dansberry transferred to Mississippi State at the end of the last semester and freshman Briunna Freeman quit the team in December.
The women's team currently has seven players - not including Wilson - slated to return next season and signed Fayettevile's Grayce Spangler (5-11) and Macy Weaver (6-3) of Illinois in November.
"The current team is obviously the first thing any time you come into a new situation is taking care of the kids that have already said yes to this program," Neighbors said Tuesday after his official introduction as the new coach.
"There are a lot of reasons that this job is open and you have to go in there and figure out how many are reasons and how you can heal those wounds, are they starting to scab over or van you heal them or do they reopen and become wounds again," Neighbors said. "I started with that this morning and it has been my sheer focus all day until an hour outside of this.
"I literally started kind of putting some notes together for this (introduction) some 30 minutes ago because I have been with these current team members since I stepped on campus.
"…I have spent all day with this current team and will make sure they are in the right frame of mind and where they are at and then we will go to the future team."
Neighbors, who was raised in Greenwood, noted that he is coming in a time when the level of Arkansas high school and AAU talent is high.
"Maybe the best that it has ever been," Neighbors said. "I really can't talk specifically other than that, but it is a good time for that and it played a factor in my decision."
Neighbors, whose star player, Kelsey Plum, broke the NCAA career scoring mark last season, doesn't think he has to so much sell Arkansas' program as much as he just has to be genuine about it.
"We are in trouble if I have to do that and they don't already have some familiarity with ex-players," Neighbors said. "Everyone of my players said 'you coached Kelsey Plum.'
"Most of the time when you are meeting a new team you don't want to talk about other people or players on your past team, but hopefully I won't have to sell it, I kind earn it.
"If I have to sell, it is not going to be genuine and I will earn it tomorrow starting with the workouts."
Having been a high school coach in Arkansas and former assistant to Gary Blair for the Lady Razorbacks, Neighbors has great relationships with many of the high school coaches in the state.
"I'm not sure any more confidence, but I do have some familiarity with the coaches and some of those of those guys are here," Neighbors said. "I already had their phone numbers in my phone book and address books so it gives me confidence I can get in their door.
"It is so incredibly hard these days with recruiting, that you have got to have relationships so it will help that I have a strong one to start."
Discussion
Have a comment on this story? Join the discussion or start a new one on the Forums.