Red-White game to be "ones against the world"
Published: Saturday, April 22, 2017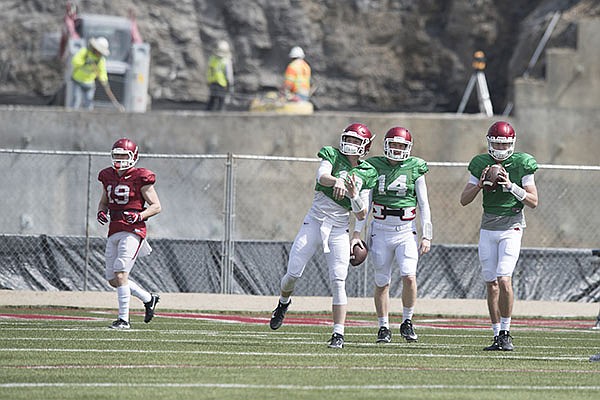 (
J.T. Wampler
)
Arkansas players go through drills while construction crews work on the north end zone at Razorback Stadium on Saturday, April 8, 2017, in Fayetteville.
FAYETTEVILLE — Arkansas' Red-White game next Saturday will once again be the Ones vs. The World.
The scrimmage will be held at noon at Reynolds Razorback Stadium — or at least half of it.
"We'll go ones against the world," coach Bret Bielema said. "Something we've done. You saw it (because of stadium construction) that the scrimmage will go all one way. The flow of the scrimmage will be a little bit unique in that regard.
"The ones will be in all their traditional scoring and the twos and threes when they are in there against the ones their scores will double. We'll have a rapid fire field goal at the end of the first and the end of the third quarter.

"First half I plan on being pretty good, traditional football. And we'll see where we are at at halftime and make some adjustments from there."
Starting quarterback Austin Allen will guide the ones in the first half, but likely not play much, if at all, after halftime.
That will leave the snaps with the first team to backups Ty Storey and Cole Kelley after intermission.
Bielema also said center Frank Ragnow and Jared Cornelius will be limited in the scrimmage or might not even play.
"I think they're going to see the improvement of certain guys," Bielema said of the fans at the Red-White game. "I think offensively Austin's throwing the ball really well. They don't know any of our wide receivers, so to see new guys, Brandon Martin and Jonathan Nance, and the development of La'Michael Pettway and Deon Stewart has been very, very significant.
"I think they'll like Maleek Williams. Everybody gets excited about a new running back.
"I think the No. 2 quarterback (competition) has been a lot of fun to watch. Both Ty and Cole do some really good things and then they'll have one of their moments and have got to grow from it."
"…Then on defense, just to get a look at the 3-4. We probably won't bring a larger number of pressures or change ups, but they'll see how we line up and you'll see guys making plays. It's been fun to watch this group, especially some of the younger guys playing new positions coming into their own."
Bielema also said tight end Jamario Bell had been moved to linebacker, linebacker Michael Taylor back to the defensive line and that punter Blake Johnson was back with the team after what he previously called an "extreme timeout."
"Backed off today and didn't scrimmage," said Bielema, who had scrimmaged his squad the past two Saturdays. "I really felt I've gotten some good work the last couple of Saturdays, so I just didn't want to push the envelope too much. Glad we didn't really because we had a couple of guys nicked up out there today. Nothing serious, just some bangs here, a couple of mild issues. But made some position changes this week that have gone really, really well."
Bell has bounced from defensive end to linebacker to tight end and now back to linebacker.
"Put him at our outside linebacker, the Hog position," Bielema said. "He kind of looked at me at first, wasn't all that excited. Talked to him and mom. And he made the transition, probably as good a practice on Thursday as he's had in his career here. Just really excited about that move."
Taylor, who redshirted last year, just feels more comfortable down than playing up, per Bielema.
"He took to that really, really well," Bielema said. "He tried it as a stand-up guy for us, but that wasn't where his heart was. he actually really performed a lot better once we moved him."
Johnson has been in line to be the punter this season, but his future with the team was uncertain after last Saturday after he was injured away from the field.
"Yep, Blake's back from extreme timeout," Bielema said. "He did a really nice job Tuesday, actually punted the ball well. today we were inside. But he hit the ball really, really well on Tuesday. I think he also sent me a nice message and delivered some things that I think maturity wise, if he can hold them up, could be one of the best things to happen to him."
Offensive lineman Paul Ramirez has missed some spring drills due to injury and his grandmother's death, but has stepped forward at right tackle behind Brian Wallace.
"Paul Ramirez took the majority of the reps there today," Bielema said. "Dalton Wagner of the three guys that came in probably showed the most possibility of playing next year as a true freshman. He gets it. He's intelligent. He's tough. He's gifted. So he's been working there as well at No. 2."
Cornerback Britto Tutt, who was injured before last season started, has impressed.
"We limited him the first week," Bielema said. "Britto didn't scrimmage in the first scrimmage, but we let him scrimmage after that. He is long for a corner, he is a diligent guy, he wants to get out there and he knows that he has to take advantage of his reps and his opportunity.
"Him and Nate Dalton are battling it out for the number four and number five corner spot."
Bielema does believe that spring practice has helped wipe away some of the angst of losing halftime leads and games to Missouri and Virginia Tech to end a 7-6 season.
"Oh, first when we came back in January I said, 'These are lessons we have to learn. We can't ignore them like they weren't there. We can't act like they didn't happen. We have to do things that turn negatives into a positive,'" Bielema said.
"So we really stressed to our guys - and they have been, they are hungry, they are very coachable. It's been kind of fun."
Ball security has been stressed and Thursday proved to be a day where that was drilled into the defensive players heads as well.
"…We actually flipped offensive players who went down and worked on defense and the defensive players worked with the offensive coaches," Bielema said. "The offensive coaches taught our defensive guys ball security. How to secure a ball after the act. Tip ball drill.
"And on defense the the defensive coaches taught the offensive players two tackle circuits and a ball recovery drill where the ball is on he ground how to properly recover it. So it was kind of a fun week for us there."
Discussion
Have a comment on this story? Join the discussion or start a new one on the Forums.