Merrick's time may finally have arrived at Arkansas
Published: Thursday, April 27, 2017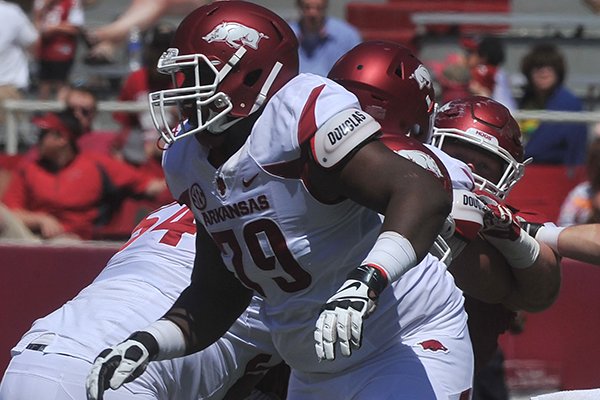 (
Michael Woods
)
Arkansas offensive lineman Jalen Merrick blocks during the Razorbacks' Red-White Game on Saturday, April 25, 2015, at Razorback Stadium in Fayetteville.
FAYETTEVILLE — When highly recruited offensive lineman Jalen Merrick decided to sign with Arkansas over Florida State, Alabama, LSU, Ohio State, Florida, Tennessee and others, it was thought it would be just a matter of time before he became a starter.
As Merrick (6-4, 327 pounds) enters his third season, the redshirt sophomore from Florida has failed to realize his expectations.
But he has taken a step forward at right tackle this spring, offensive line coach Kurt Anderson said.
"He has had one heck of a spring," Anderson said ahead of Saturday's Red-White game that will conclude spring drills. "He looks like a completely different guy."
So what has kept him from getting playing time?
"I think if you ask Jalen that question he would tell you the same thing that I am going to tell you," Anderson said. "Since I have been here up until this spring, he was very inconsistent. He would have a week where he would play well and I would give him an opportunity in practice and he had a turn it down with something mentally or physically.
"He has not had that this spring. There is still some technique things that he needs to push through and get done, but man, he is moving quick, has got some natural power to him and he is being able to use it right now, which I think he sees now that this is what my true potential is now.
"I think last year that he didn't know what his true potential was and I think sometimes with young players they start to question themselves: Is this where I am supposed to be?"
Anderson is high on what Merrick can become. The coach said, "I think he realizes now that he has got an an opportunity to be an All-SEC position-type caliber player when he puts it all together."
Discussion
Have a comment on this story? Join the discussion or start a new one on the Forums.