Hogs hoops target Moss to narrow down choices soon
Published: Thursday, August 3, 2017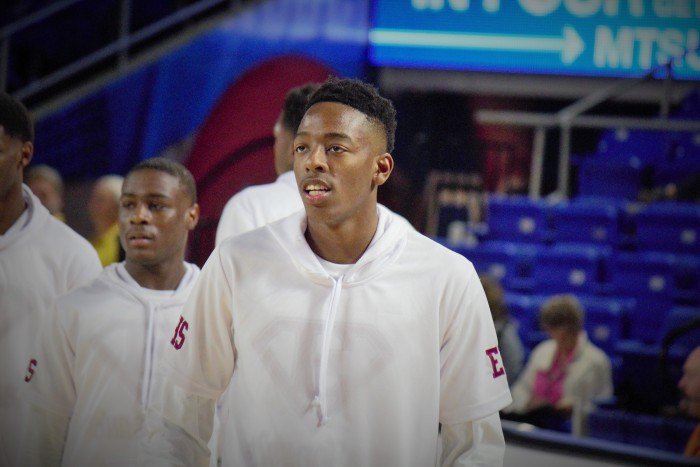 Although he only got a chance to play a couple of tournaments with the Arkansas Hawks in July, Memphis (Tenn.) East guard T.J. Moss left a nice impression with his new teammates.
The question now becomes will Moss (6-foot-4, 175 pounds) follow his Hawks teammates in becoming Razorbacks.
"It's been a great experience to play with these guys," Moss said. "They played great and played hard all the time. It's been a short time, but it feels like it has become a brotherhood."
Moss joined Razorback pledges Little Rock Parkview senior Ethan Henderson (6-9, 190), Fort Smith Northside senior Isaiah Joe (6-4, 170) and Little Rock Christian junior Justice Hill (5-10, 160), along with former Hog commit Reggie Perry -- now pledged to Mississippi State -- in playing at the Adidas Summer Championships last week in Las Vegas.
Jonesboro guard Desi Sills is another 2018 University of Arkansas, Fayetteville, but was not in Las Vegas.
Arkansas is among the teams pushing hard to land Moss. Also in pursuit are Alabama, Florida, Mississippi State, Arizona State, UConn, Georgia Tech, Memphis, Vanderbilt, TCU and others.
"I am going to start narrowing things down here pretty soon," Moss said.
Arkansas coach Mike Anderson and his staff, who have six 2018 scholarships available with three commits, have made it clear they would love to have Moss in the fold.
"Arkansas is a great program and plays the style of basketball that I like to play, up-tempo, pressure defense and coach Anderson lets his guards play freely," Moss said. "It is a great environment up there and I am for sure going to take an official visit up there. They have been recruiting me a long time and I truly respect the coaches."
Joe said he would love to be out on the court with Moss in college.
"He is a real great player, a really good friend," Joe said. "He has helped us a lot on and off the court. I would love him to come play at Arkansas."
The Hawks were obviously disappointed with Perry's decision to de-commit from Arkansas and then choose Mississippi State in a span of two weeks, but wished him well.
It undercut the narrative of the Hawk 5 turning into the Hog 5.
"It was sad because I wanted him to be with us," said Hill, who confirmed his plan to arrive at Arkansas in January 2019. "But he has got to do what he thinks is best for him, so I am going to support him if that is what he wants to do."
That was a sentiment shared by Henderson, who made it clear he would sign with Arkansas in November.
"I'm happy for him, he's my guy, he's my teammate," Henderson said. "I wanted him to come to Arkansas, but stuff happens."
Joe showed off his prowess from 3-point range for the Hawks during a run to the Sweet 16 in Vegas. Joe also took a classy approach.
"I would have loved for him to have come with us, but I congratulated him on his commit and hope he does big things over there except when he plays us," Joe said. "We have got to just keep pushing forward."
Moss and his fellow Hawks were among a number of prospects Arkansas' staff saw play several times in Las Vegas and Kansas City during the last week of the AAU season.
The group included guards Nate Hinton (6-6, 185) of Charlotte (N.C.) Gaston Day School, Eric Hunter (6-3, 170) of Indianapolis Charles A Tindley High School, Jordan Phillips (6-7, 190) of Cedar Hill, Texas, and Landers Nolley (6-4, 175) of Fairburn (Ga.) Langston Hughes.
Front court players Arkansas staff watched were power forwards Reggie Chaney (6-8, 230) of Findley Prep and Amanze Ngumezi (6-9, 235) of Savannah, Ga., and small forwards Jericole Hellums (6-6, 190) of St. Louis Chaminade, Kaden Archie (6-6, 200) of Midlothian, Texas and Feron Hunt (6-7, 190) of Desoto, Texas.
The Razorbacks are also known to be interested in Baton Rouge (La.) Madison Prep small forward Josh LeBlanc (6-7, 190).
"We may have lost one guy, but I am going to do everything I can to help finish out this class," Hill said. "That's always been my goal."
Sports on 08/03/2017
Discussion
Have a comment on this story? Join the discussion or start a new one on the Forums.