Bielema confident Montaric Brown will arrive by start of school
Published: Saturday, August 5, 2017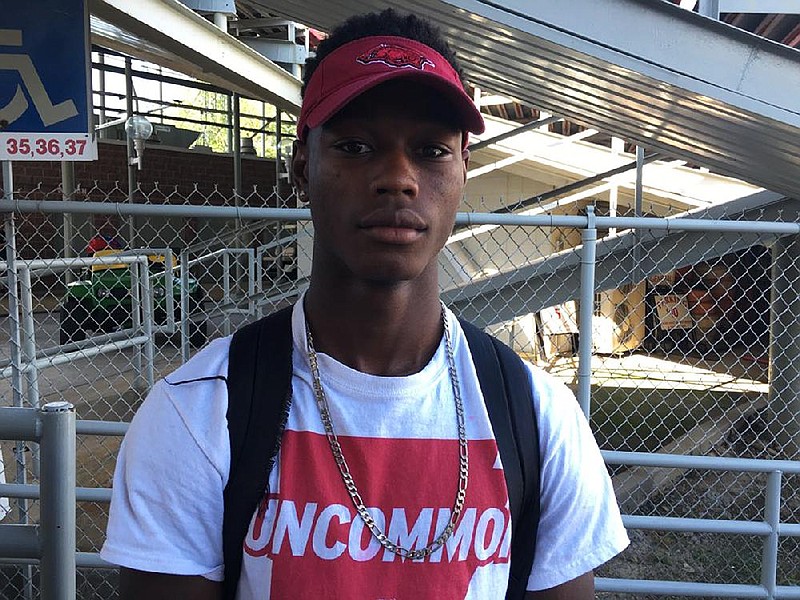 FAYETTEVILLE — Arkansas head football coach Bret Bielema said Saturday he feels confident 2017 four-star safety signee Montaric Brown of Ashdown will be in Fayetteville by the time the fall semester starts August 21.
But Brown (6-0, 175) - the state's top 2017 prospect who chose the Razorbacks over Alabama, Auburn, LSU, Oklahoma, Oklahoma State and a host of others - is not likely to practice before then, per Bielema.
"I talked to Buster Wednesday night and we are right in the finishing steps," Bielema said. "Really, I think that everything that we have been told, if everything holds true to what they believe is going to be true and what it is on paper, it is just going to take paperwork processing.
"I was kind of hopeful that we might get him in at some point before classes start, but unless there is somebody that drops out three or four days out, I think he will probably be getting eligible or getting ready to be eligible by the NCAA right about when school starts."
Brown, a top-200 player nationally and the country's 12th-best safety prospect per ESPN, had 110 tackles and seven interceptions as a senior for the Panthers.
He played for the East team in the U.S. Army All-America Game and had three tackles in the West's 27-17 win.
"He has done a tremendous job of working very hard," Bielema said. "Obviously we would have loved to have had him here two months ago, but sometimes it doesn't turn out the way you want. The kid has never lost sight of that and I am excited about it in that regard."
• • •
Bielema also talked about how Arkansas already has 14 (counting two blueshirts) spots out of somewhere between 15 to 18 in the 2018 class allows the Razorback staff to accelerate 2019 recruiting.
"We have a small class and I can't talk a lot of specifics with 2018 recruiting, but it has been fun from the standpoint that it has been a small class so you got to be very selective," Bielema said. "I think our first five or six commits - not that I care about ratings, but they were all highly rated kids not only our boards, but nationally. This group seems to take a lot of pride in what they do together. Even when one kind of fell the other way, the others quick rallied so I like the way this class is building up.
"It should be a typical class, just smaller in numbers. The only thing that would change if you had unforeseen transition, a few juniors maybe if they come out early. The thing I have learned here is to never be surprised in December with the plan."
Bielema expects to have the 2018 class wrapped up by the new early signing period Dec. 20-22.
"We'll actually turn January - because every kid that commits to us will sign in December - we won't be playing that hat game on signing day," Bielema said. "So we will kind of use January as our new May to go out and recruit the entire month of January like we would in May and that escalates everything up a bit."
Discussion
Have a comment on this story? Join the discussion or start a new one on the Forums.