Hogs hoops targets visiting campus
Published: Thursday, August 10, 2017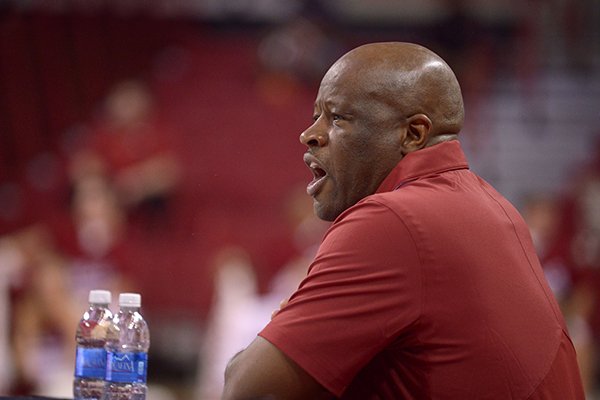 (
Ben Goff
)
Arkansas basketball coach Mike Anderson watches from the sideline during a scrimmage Sunday, Oct. 23, 2016, in Fayetteville.
Arkansas will host two of its top basketball recruiting targets on official visits before the end of the month.
Baton Rouge (La.) Madison Prep Academy four-star forward John LeBlanc (6-7, 210) and Oklahoma City Midwest City four-star point guard Keyshawn Embery (6-3, 175) are both scheduled to visit the Razorbacks on Aug. 25-27.
They are friends and have talked about playing at the same school.
"We were already close before, but have become even closer since we have been talking about going to Arkansas together," LeBlanc said. "If that is what it would end up being, then that would be pretty nice. I am not going to lie to you about that.
"But in the end, I have to do what's best for me and he has to do what is best for him."
Embery feels the same way.
"We are friends from the circuit and playing each other," Embery said. "It would be really cool to end up on the same team with him. We'll just see how it goes."
LeBlanc, who averaged 14.8 points, 10 rebounds and five blocked shots per game last season, announced his final four choices on Monday night.
"It's Arkansas, Georgetown, LSU and Texas A&M," LeBlanc said. "I plan to commit on my birthday Nov. 12th."
Embery, who averaged 26.8 points per game last season, cut his list to five on Tuesday. Arkansas, Arizona State, Butler, Texas A&M and West Virginia made the cut.
LeBlanc will begin his official visits this weekend with a trip to Georgetown, now coached by former Hoyas and NBA star Patrick Ewing.
"I don't really know how Coach Pat is going to coach, how his offense is going to be, but I know he is a legend," LeBlanc said.
Arkansas was one of the earliest to offer LeBlanc, with assistant coach and fellow Louisiana native Scotty Thurman as his chief recruiter.
"I like the way they play and me and Coach Thurman have a great relationship," LeBlanc said. "I think the Arkansas coaches are all really good people and I like talking to them. They ask me more than about basketball. They ask about my life, what I like doing, what are my favorite hobbies and things like that."
LeBlanc led Madison Central to its third straight LHSSA Class 2 state championship. He was named the outstanding player in last season's title game after scoring 12 points, grabbing 16 rebounds and blocking six shots.
"My high school team has won the last three years," LeBlanc said. "We also have a pretty good team back this year and expect to win it again."
He also had a good AAU season this spring and summer after missing the 2016 circuit schedule because of an injury.
"As a team, we wanted to go further, but this was my best summer I have ever had," LeBlanc said. "I didn't get to play last summer because I broke my foot so I was limited."
LeBlanc is an athletic forward who seems to fit the mold of the players that Arkansas head coach Mike Anderson wants.
"The best parts of my game right now are my defense and my motor," LeBlanc said. "I am still working on my offensive skill set.
"I go by a motto that if you don't work, you don't eat. So I try to outwork everybody, no matter how good they are or a size advantage they have on me."
Embery has visits set for Arkansas on Aug. 25, Butler on Sept. 9, West Virginia on Sept. 15 and Texas A&M on Sept. 29 and is in the process of finalizing a trip to Arizona State.
"I have had a lot of great schools recruiting me," Embery said. "I feel very honored."
He feels good about his development over the summer.
"I think I improved just being consistent every game and I just want to continue to improve my ball-handling because you can always get better," Embery said. "I think that would be good examples of things I can do to be a better PG."
Sports on 08/10/2017
Discussion
Have a comment on this story? Join the discussion or start a new one on the Forums.