Receivers have earned Allen's trust
Published: Tuesday, August 15, 2017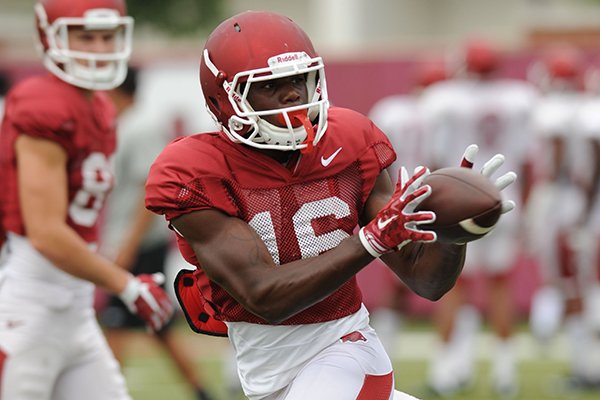 (
Andy Shupe
)
Arkansas receiver La'Michael Pettway makes a catch Tuesday, Aug. 18, 2015, during practice at the university's practice field in Fayetteville.
FAYETTEVILLE — Three receivers have established themselves as go-to targets for Arkansas quarterback Austin Allen in preseason camp.
Jonathan Nance, Deon Stewart and La'Michael Pettway have stepped up in the absence of Jared Cornelius, who is batting a back injury. Arkansas must replace its four leading receivers from last season.
"It takes a while," Allen said. "We try to work it in the summer and things like that, but it's just different when we get out there. People are pressing, people are doing different coverages where I might see cover-two and want them to break it at 18-22 yards in the hole, and they might break it at 25 where it's an incompletion.
"Now they understand that's where the ball is going to be. I understand where they're going to break it out. You can throw the ball before they get their eyes back, which ball timing and placement is really key to being a quarterback. That kind of helps me out right there."
Pettway (6-2, 220 pounds), who had 4 catches for 160 yards with a 65-yard touchdown pass from Allen in the Razorbacks' first scrimmage two weeks ago, was one of the receivers called out by head coach Bret Bielema early in camp and has responded.
"Man, you get tired of like being a target," Pettway said. "It was like Coach B challenged us and we stepped our game up as a receiving crew to a whole new level."
Pettway, whose only catch last season was a 10-yard touchdown against Alcorn State, said his improvement came from being consistent and not having one bad play a day.
"I went on this streak in a couple of practices where I had few mental busts," Pettway said. "I had to eliminate that one play a day thing whether it was a missed assignment on a block or a snap count. But I have eliminated those and I feel like I am almost at 100 percent."
Allen has been pleased with Pettway.
"Ever since that day, he's practiced his tail off," Allen said. "He's out there every day focused, prepared, running good routes, catching the ball, making those tough one-on-one catches. He's a big body. He's expected to make those catches and he's done it.
"I think he's kind of taken a maturity step where he knows he's a guy this year we're counting on to win games. He understands that and his whole demeanor has changed. I couldn't be more proud of him."
Pettway welcomes the challenge of becoming an integral part of the offense.
"It's exciting," Pettway said. "I am actually ready for the season to start. I've got a lot to prove. I know we are young, but I am just ready for the season to start."
Pettway and Stewart (5-11, 162), who had 2 catches for 34 yards last season, have waited their turns and are now at the head of the class.
"Deon and I know that it is our time to step up on the big stage," Pettway said. "We are both exited and ready to do that."
Nance (6-0, 182) transferred from Mississippi Gulf Coast college as the less-heralded of a duo that included Brandon Martin, a former LSU and Auburn commit.

Allen compares Nance to former Arkansas receiver Drew Morgan, who is now with the NFL's Miami Dolphins.
"I would say he's just a good football player," Allen said. "He understands coverages, he understands leverages. That's kind of like a Drew Morgan-type deal where he understands that a guy is heavy inside, I'm going to jab this way and go out. He can get open against any type of coverage and when he gets the ball in his hands, he's pretty special.
"He's got burst to him where in one-on-one, I'm kind of looking toward his way. He's gained my trust. I think he's had a really great camp and I'm looking forward to what he does this season."
Nance was the target on two deep passes from Allen during Tuesday's practice, one that ended up drawing a pass interference and the other for a score of more than 50 yards against the second-team defense.
"I got over the top today and got me a touchdown on the post," Nance said. "Britto (Tutt), one of my roommates, held me back on the other one because he didn't want me to beat him. But I got him on that second time."
Martin has struggled to get going in camp after suffering from a sore back.
"He's doing well, but he has just been having injuries," Nance said. "He is just getting back into the swing of things and we'll see how he does this week.
"He is a deep ball threat, I know that. He can high point the ball. We don't even know what to expect because he can do anything this year when the time comes."
Nance loves what he has seen out of freshman Koilan Jackson.
"He is actually picking up the plays quicker than most freshmen or even when we came here (in January)," Nance said. "He is doing a good job, but the coaches are on him about it. It's still hard, but he is doing a good job as a true freshman.
"He does a good job of tracking the deep ball and he can make a play whether it is one-handed or not. He is also kind of big. He is a good player."
Discussion
Have a comment on this story? Join the discussion or start a new one on the Forums.