Coaches expect youth to be served in 2017
Published: Wednesday, August 16, 2017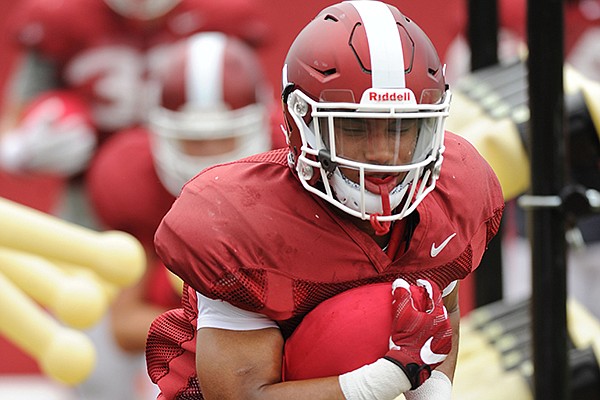 (
Andy Shupe
)
Arkansas running back Chase Hayden goes through practice Tuesday, Aug. 1, 2017, in Fayetteville.
FAYETTEVILLE — Arkansas head football coach Bret Bielema, offensive coordinator Dan Enos and defensive coordinator Paul Rhoads made one thing clear at their press conferences on Wednesday.
Youth will be served on this year's Razorback football team.
Bielema said expect to see these true freshmen get time on offense: tailback Chase Hayden (5-10, 191), lineman Ty Clary (6-4, 286) and wide receiver Koilan Jackson (6-2, 214), as well as junior college tight end Jeremy Patton (6-5, 250).
Freshmen defenders likely to get on the field early are linebacker Hayden Henry (6-1, 209), cornerbacks Kamron Curl (6-1, 193) and Chevin Calloway (5-10, 188), along with junior college linebacker Gabe Richardson (6-3, 239).
Hayden, the son of former Tennessee and NFL running back Aaron Hayden, has arguably been the most impressive of the young ones and is expected to get time with returnee Devwah Whaley and South Carolina graduate transfer David Williams.
"So I was making that list and I wrote them as 1A, 1B, 1C," Bielema said. "I really think that all three of them could bring something that could benefit us. … Chase probably has the biggest ability to make something out of nothing, if that was the way it broke down.
"Devwah's got probably the most experience. I've probably been the most impressed with David Williams' patience, because he hasn't run in a system like ours. But his patience behind the pullers in certain schemes has been very, very impressive."
Enos loves what he is seeing out of Hayden.
"Chase Hayden has been very good," Enos said. " He has these explosive plays. He's able to make something when plays aren't there. He's able to make yards when it may not be blocked for six, blocked for one, but he gets six because he makes the first guy miss.
"He has just got a different element and dimension the way he runs the football. He has a lot of things he needs to improve on continually obviously being a freshman. But just raw, natural ability with the ball in his hands.
"David Williams has been a nice addition. He has been running hard, does a nice job catching the football and he has been doing a good job in protection. He brings an element where I think the team has trust in him to go into the game and help us win. Devwah we think has a chance to be a real good player."
Bielema said he was not surprised that Clary and Henry - two blue shirts who are not on scholarship yet - were bidding for playing time.
"I think from the moment…they hit campus, they were ready to prove that they belonged here," Bielema said. "That is in my mind no doubt. Then you just have to trust and learn."
He had advanced intel on former Pulaski Academy star Hayden Henry from older brother Hunter Henry, the former Arkansas All-American and current Los Angeles Chargers tight end.
"I remember when I first started gathering information on Hayden, from his brother, first I went to Hunter," Bielema said, "And he said coach, 'He works as hard as anybody I've ever been around. He's always been that guy.'
"Same thing with the coaches at Pulaski Academy. They talked about his work ethic, his demeanor. Same thing when I talked to mom and dad. They're like 'Coach, you know the other one worked but this one works twice as hard.'"
Clary was noticed during a Fayetteville practice attended by Enos and former Razorback defensive coordinator Robb Smith.
"The part that was probably surprising for us with him (Clary) was when he got in the weight room this summer, the weight he was able to throw around and move," Bielema said. "The night I watched when the O-line and D-line competed, the way he was pushing around the sled was pretty impressive. And his Mom and Dad did a great job. He's just so conscientious, a very, very pleasing young man. And not a surprise."
Hayden Henry is the son of former Arkansas offensive lineman Mark Henry and the older brother of Hudson Henry (6-5, 225), who is considered the nation's top tight end in the 2019 class and has a Razorback offer.
"He (Hayden) is a lot more outgoing," Bielema said. "He did a little stunt routine. We had a kickoff drill the other day and he dipped and ripped and beat somebody pretty handily and you were supposed to tag the bag, and he tackled the bag, rolled through did a somersault and stood up and posed.
"So he's got a little more theatrics than his older brother but still pretty good."
Bielema, a former walk on Iowa himself, notes Clary and Henry came in with chips on their shoulders.
"…I go back to just all I've ever known in recruiting, including myself," Bielema said. "I wasn't a great player. I was a No Star. I think when you're undersized, under-recruited, under-developed, those three things work against you a little bit. Then there's the sexy factor, where you're located."
Bielema believes that Jackson would have been higher-rated if he had played in Dallas instead of Little Rock.
"A guy like Koilan Jackson, in my opinion, was totally under-recruited," Bielema said. "If Koilan Jackson lived in Dallas or a major metroplex area that had a lot of exposure, my guess is he would have been rated as high as any prospect in the country, just off of what you saw on high school film and stuff. So there's a little bit of that."
Jackson played quarterback at Little Rock Parkview before transferring to Pulaski Robinson to play wide receiver while Henry was a safety at Pulaski Academy.
"You know, I do think when you do have guys play different positions, for instance, you know Hayden played safety really and kind of moved up toward the line of scrimmage last year," Bielema said. "So when you project a player at a different position, I think that happens to be quite honest. And then sometimes people just don't think you look the part, you know. Oh, look at him, I don't know if he can do that. People stereotype and put people into categories like that."
Patton, regarded as the nation's top junior college tight end, chose Arkansas over Alabama, Ohio State, Michigan and others.
He was not able to arrive on campus until July, but is trying to catch up fast and joins improved holdovers Austin Cantrell (6-3 264), Jack Kraus (6-5, 248), Grayson Gunter (6-6, 236), Will Gragg (6-4, 254) and fullback-tight end Hayden Johnson (6-2, 256) in helping to lengthen out the tight end position.
"Jeremy Patton is a really good football player and learns extremely well," Bielema said. "I would say Jeremy, next to Austin, has probably progressed as much as anybody.
"Will Gragg has had an awesome, awesome camp. Definitely shows that he belongs out there and has done some good things. That tight end core I think is six deep and they've all got a chance to play."
Curl and Calloway have made a push in the secondary, per Rhoads.
"They are very competitive kids, they are further ahead from a football knowledge standpoint and the ability to go out and execute all the techniques that I am asking them to play than Jarques (McClellion) and Jordan Curtis are right now," Rhoads said.
"I am extremely pleased with all four of them and they are all four going to be good players, but the other two just had a little bit of an edge and we were able to expand that edge ahead and give them more reps."
Richardson has seen some first team work at linebacker and is definitely in the mix to play.
"Gabe, we're primarily using him as a Hog linebacker right now," Bielema said "Had run with the ones a little bit. Karl Roesler, when he came back, has jumped into some of those reps. But Gabe will play as well."
Discussion
Have a comment on this story? Join the discussion or start a new one on the Forums.