Junior TE Hudson Henry taking time before decision
Published: Monday, August 21, 2017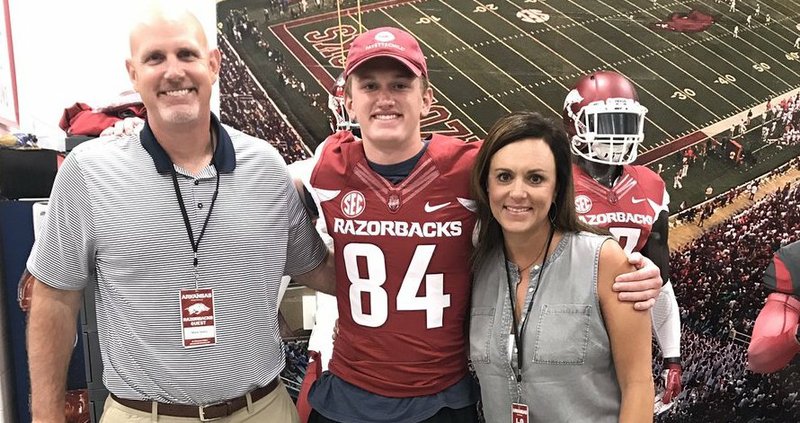 Mark Henry, Hudson Henry, Jenny Henry
FAYETTEVILLE — It's not that surprising that another Arkansas prep standout tight end named Henry is regarded as one of the best - if not the best - junior tight ends in the country.
This one is Pulaski Academy star Hudson Henry (6-5, 230), who Razorback fans hope follows in the footsteps of his dad Mark and his older brothers - Hunter and Hayden - and plays his college football for Arkansas.
Henry has been named the top tight in the 2019 class by one recruiting service and is No. 2 in the composite ranking of the four major recruiting services.
Pulaski Academy head coach Kevin Kelly, whose team will be trying for a fourth straight state title this year, knows he has a special player in Henry.
The youngest Henry has offers from Arkansas, Ole Miss, Stanford and Penn State as well as interest from every other SEC team.
"He is great kid," Kelly said. "He is really worried about not making a choice early and the thing is that he doesn't have to make that choice early, but he doesn't want to disappoint anybody. He wants to take his time.
"We know that his whole family has gone to Arkansas, but he is a young man that wants to take his time and see what is out there and make the right decision and not make one based off emotion and I hope everybody understands that.
"It is going to be tough for him not to go to Arkansas because he lives in Arkansas and his father and two brothers have gone there, but he just wants to take his time and do the right thing."
Hudson Henry caught 28 passes for 311 yards and 3 touchdowns last season for the Bruins and is a bit different tight end than his brother Hunter, who now plays in the NFL for the Los Angeles Chargers.
"His ball skills are probably better than Hunter's at the same time while Hunter was probably a bit more physical as far as blocking right now," Kelly said. "But Hudson is getting better in that area while (Razorback freshman linebacker) Hayden (Henry) probably has more tenacity than any of them.
"So they all have their skills and Hud's ball skills are just amazing with his hand-eye coordination and things like that so it's great for what we are doing on offense. He is also just a very intelligent kid and one of the better kids that I have ever coached as far as just great kids that want to please a coach.
"To me, everybody wants a coachable kid, but what a tremendous attribute when you know that kids comes out every day wanting to please his coach."
Pulaski Academy will scrimmage at Bryant tonight to tune up for its season opener at Sand Springs (Okla.) Page on Sept. 1.
Kelly notes it is the defensive side of the ball that has the most questions going into the 2017 campaign.
"Defensively we lost seven guys over there, lost our entire secondary, so that is going to be our biggest test early, especially since we are playing some teams early that throw it around," Kelly said.
That includes a week four match-up on Sept. 15 with visiting Bossier City, La., Parkway, who has two of the nation's best 2018 recruits in uncommitted wide receiver Terrace Marshall (6-3, 193) and TCU quarterback pledge Justin Rogers (6-4, 200) per ESPN.
"We are playing Parkway Bossier, who has according to some recruiting services the number one wide receiver in the country and the number six quarterback, who is a dual threat guy."
"So that secondary is going to be something that is question early, but I have a lot of faith in our defensive coaches."
Discussion
Have a comment on this story? Join the discussion or start a new one on the Forums.