Arkansas DL pledge Emmit Gooden's graduation caps grand year
Published: Tuesday, December 12, 2017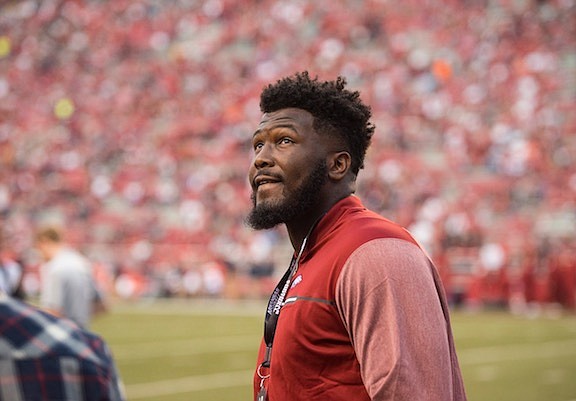 FAYETTEVILLE — Independence, Kan., Community College defensive tackle and Arkansas pledge Emmit Gooden (6-4, 320 pounds) will mark an accomplishment off his list Tuesday.
"I actually am graduating on Tuesday so I will be good to go," Gooden said of his being a mid-term graduate and enrolling in January.
New Arkansas head football coach Chad Morris and his staff have not contacted Gooden yet, but they have sent word through former Razorback defensive line coach John Scott that they will be calling soon.
"Coach Scott did share with me that Arkansas' new staff is interested and supposed to be calling me very soon," Gooden said. "I don't know if they are trying to get the (defensive coordinator) in place or what, but I'm looking forward to taking to Coach Morris and Arkansas is where I want to go."
Gooden, who was a high school star in Brownsville, Tenn., chose Arkansas over Alabama, LSU, Tennessee, Ohio State, Oklahoma, Penn State, Texas A&M, North Carolina State, Cincinnati, Kentucky and Illinois on June 1.
He is staying in touch with a couple of other schools just in case he doesn't get the opportunity to play on the same defense as Arkansas defensive end and good friend McTelvin "Sosa" Agim.
"I'm just talking with a couple of schools as last options stuff, but that's pretty much it," Gooden said. "I know where I want to go and I want to get up there and play alongside Sosa."
Gooden, who was committed to both Mississippi State and Tennessee in junior college, had a team-leading 81 tackles with 6.5 stops for lost yardage and a sack this season for No. 7 Independence (9-2, 6-1 Jayhawk Conference).
"I got used to the double- and triple-teaming I was getting early in the season and really came on during the season and played like I knew I could," Gooden said.
The Pirates capped their season by defeating No. 4 Northeastern Oklahoma A&M 30-20 in the Midwest Classic Bowl on Dec. 3 in Miami, Okla.
Independence won the Jayhawk Conference title with a 27-22 win over Coffeyville Community College in the regular season finale on Nov. 13.
It was a perfect way to end a season that began with a shocking 70-21 loss to Iowa Western and will be chronicled next summer on the hit Netflix series Last Chance U.
"We lost that first game because I think were not focused and thinking about the cameras being around," Gooden said. "But we got our heads right and said we were not going to lose again.
"It hurt when we got that second loss, but we got back and closed it out and won the conference championship and then got the first bowl win for the school. I can't complain too much."
Gooden enjoyed having the cameras around.
"I think we had some guys who acted differently when the cameras were around and that hurt a little bit early, but we all got used to them and it was a fun experience," Gooden said. "The camera crew has some really good guys. I think they are going to come to see me to film when I go home next week.
"It's going to be fun to watch it when it comes out and I look at it a great experience."
Discussion
Have a comment on this story? Join the discussion or start a new one on the Forums.