Hogs looking to strike again in Yoakum
Published: Thursday, December 14, 2017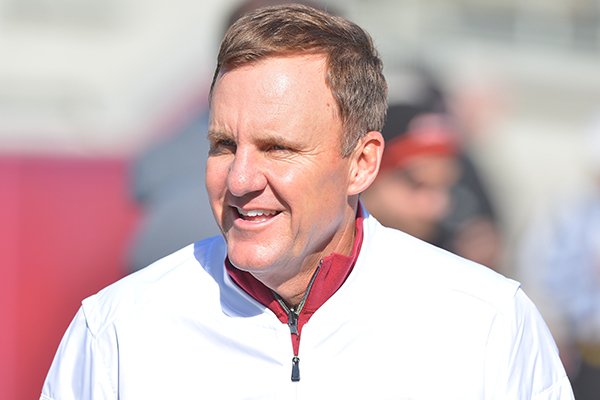 ( Jimmy Jones )
Arkansas coach Chad Morris watches warmups prior to the Class 4A State Championship Game between Warren and Arkadelphia on Saturday, Dec. 9, 2017, at War Memorial Stadium in Little Rock.
FAYETTEVILLE — It's no secret that Arkansas' recruiting in the state of Texas is about to pick up with the hiring of head coach Chad Morris.
Morris could land as many as three players in the 2018 class — including two of the top 140 players nationally — from Yoakum High School, which is 13-1 and playing Rockdale (11-3) in a UIL 3A Division state semifinal Friday.
Offensive lineman Silas Robinson (6-5, 300 pounds), who is the son of coach Bo Robinson, is already on the commitment board after decommitting from SMU and flipping to Arkansas on Sunday.
Dustin Fry, who was Morris' offensive line coach at SMU, has been recruiting for the past week for Arkansas and is expected to be named to the same position on Morris' first Razorbacks staff, although no hires have been made official.
"Silas created a relationship with the offensive line coach when he came through to recruit him two years ago and felt really comfortable with him, Coach Morris and the other SMU coaches that are now at Arkansas," Robinson said.
"I'm guessing that if they had gone to Massachusetts, we would have gone to Massachusetts; we would have followed them there. We just have a lot of faith in those guys."
Silas Robinson was actually a quarterback until his junior season.
"Silas is a coach's kid and he is a gym rat," Robinson said. "He actually played quarterback through his sophomore year, but just kind of outgrew the position. He really had never played offensive line until he was a junior.
"He has really come on. He is a big ol', really strong kid that is smart that is going to always work hard and is a tough kid. He's also a little nasty sometimes, like his momma."
Bo Robinson played college football at Texas, where he was an All-Southwest Conference defensive end in 1992. Silas Robinson's grandfather, Wendell Robinson, played at Oklahoma.
"I guess now we have a triangle among us with Arkansas, Oklahoma and Texas," Bo Robinson said. "I have been to Fayetteville. It's a pretty place. The people around there are a lot like where we are at — just country folks. Silas will be comfortable. He'll fit right in there real well."
Yoakum also has a pair of the nation's best players in twins Joshua (6-2, 180) and Jordan Moore (6-0, 180).
Joshua Moore, a wide receiver who is ranked 36th nationally among ESPN's Top 300 high school players, de-committed from Nebraska last week and intends to visit Arkansas in January.
"Josh is an angular kid," Robinson said. "He is like a greyhound. Most people are recruiting him as a receiver, but I also think he could be a great cornerback and make a lot of money doing that down the line.
"I think if Arkansas really wants him, they have a great, great shot at him."
Jordan Moore, who is committed to Texas A&M and is ESPN's 138th-best player nationally, is apparently going to visit Arkansas as well.
"Jordan is a free safety that plays receiver for us and in the playoffs, we have put him at tailback because our other tailback is hurt," Robinson said. "Jordan has over 1,000 yards rushing in just the four playoff games.
"He is a good athlete and as good a center fielder at free safety as I have ever coached. He is a great competitor that is committed to Texas A&M and (new Aggies head coach) Jimbo Fisher was in my office (this week).
"I don't what the situation is going end up being, but I think Arkansas at least has a shot with Jordan. I really do. He is a heck of a football player."
Bo Robinson is a fan of Morris, who was a successful high school coach in Texas before jumping to the college ranks. Morris coached six teams to state championship games in 16 seasons and won three state titles.
"Being a coach in Texas, I have known about him for a long time," Robinson said. "I haven't really known him well, except for the last year or so. I think he is a good man, a heck of a football coach and I think it is going to work out for Arkansas in a big way."
Discussion
Have a comment on this story? Join the discussion or start a new one on the Forums.