Fordyce's Ferrell finds Fayetteville to be like home
Published: Sunday, December 17, 2017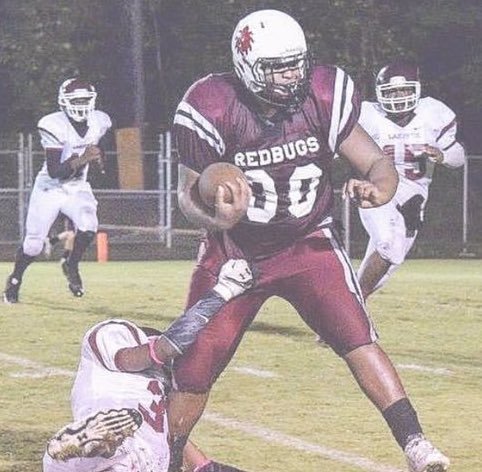 Defensive lineman Billy Ferrell.
FAYETTEVILLE — Just more than a week ago, Fordyce defensive lineman Billy Ferrell had some nice options as far as college choices.
But this week his options went from good to great as Arkansas, Alabama, Tennessee, UCLA, Louisville and Wisconsin all offered.
Ferrell (6-3, 330 pounds) gave Arkansas the first shot at winning him over as one of 10 official visitors this weekend.
"It went real good; it's the place I want to be," Ferrell said. "It felt like home coming up here. They accepted me as their brother. I feel like if I come here, we can all bond and make this stuff happen."
His favorite part of the visit was being around Arkansas players and coaches.
"Just how everybody welcomed me," Ferrell said. "It was a great welcoming coming up and just made me feel like this is where I'm supposed to be."
Ferrell was not offered by the former Arkansas staff, but new Razorback head coach Chad Morris was quick to offer days after his hiring. Now the home state team is in a good position.
"Yeah, I'm leaning toward Arkansas," Ferrell said. " It's my home state. I'm blessed to get that offer to come back and play for them, take a program that was down and be a part of a new era."
His parents enjoyed the visit.
"They were overwhelmed," Ferrell said. "They loved it."
Ferrell recorded 63 tackles, 8 tackles for loss, a sack, 2 pass deflections, 2 recovered fumbles and 4 forced fumbles this past season. He also had 29 carries for 136 yards and 3 touchdowns.
Ferrell will wait until the late signing period in February instead of signing Wednesday when the three-day early signing period begins.
He plans to take four more visits after nixing one school.
"I'm not going to Louisville," said Ferrell, who also returned 12 kickoffs for 419 yards, a 34.9 average and had a long return of 50 yards. "I'm going to visit Tennessee, Georgia, Alabama and Wisconsin."
Discussion
Have a comment on this story? Join the discussion or start a new one on the Forums.