New hires will have to readjust to recruiting
Published: Tuesday, February 21, 2017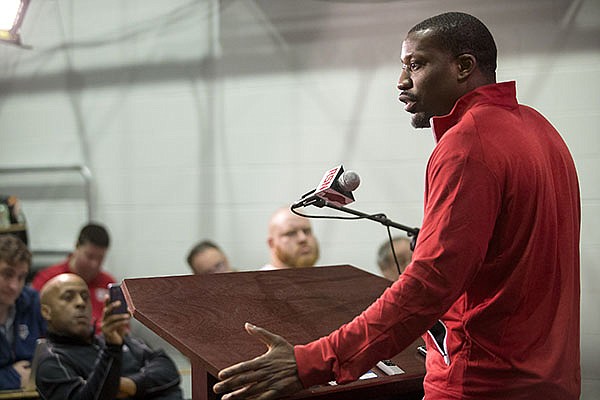 (
Jason Ivester
)
Arkansas assistant coach John Scott speaks with members of the media Tuesday, Feb. 21, 2017, at the Fred W. Smith Football Center on the campus of the University of Arkansas in Fayetteville.
FAYETTEVILLE — High-level recruiting experience isn't a strong suit for Arkansas' newest football assistant coach hires.
But Razorbacks coach Bret Bielema sees potential for two strong recruiters in defensive line coach John Scott Jr. and outside linebackers coach Chad Walker, who both left assistant position coach positions in the NFL.
"I think one of the driving forces of why I hired them was because of recruiting," Bielema said. "A lot of recruiting is being able to deliver on a product when you have to and these guys are meticulous workers, detail-oriented.
"Some of the better (assistant coaches) that I've been around in my coaching career and ever since coming here have had zero SEC recruiting experience, but they've been good people and that usually wins out."
The 41-year-old Walker comes from the New York Jets and has previously coached at Louisiana-Lafayette, Norfolk State, his alma mater Western Carolina, Missouri State, Georgia Southern and Texas Tech.
Scott, who got his master's degree in education from Louisiana-Lafayette in 2006, has recruited the Tulsa area and Texas, and has confidence in his ability to land players.
"You could put me in Timbuktu and I would go out there and find the best player in Timbuktu," Scott said. "I'd find some sort of common ground. I've been very blessed just to have that personality."
Scott is clear about his recruiting philosophy.
"At the end of the day, it doesn't matter where you go if you can't build relationships with people and relate to people," said Scott, who spent the past two seasons with the Jets. "It doesn't matter if they put you in a hotbed, you're still not going to recruit any kids to the program.
"To me, it's all about relationships."
Walker, a New Orleans native and someone that has coached at Bryant University and Mississippi College and had non-recruiting stints at LSU and Oklahoma, noted his recruiting focus in the past has been from Mississippi to San Antonio and the East Coast.
"Recruiting is something for me that has always come pretty easy," said Scott, who has spent the past two seasons with the Falcons. "The good Lord blessed me with a calm personality, a good demeanor, so I've never had any problems relating to any type of kid or any situation."
Bielema mentioned Tuesday that he expects Scott to recruit the Atlanta area as well as North Carolina and South Carolina. Walker's territory has not been finalized.
"(Recruiting coordinator) E.K. (Franks) and I had a sit down two days ago and were kind of finalizing things as we get ready to move into spring ball," Bielema said. "I think Chad is one of those guys that really can go in and do anything."
Discussion
Have a comment on this story? Join the discussion or start a new one on the Forums.