Several future Razorbacks eye state hoops titles
Published: Thursday, February 23, 2017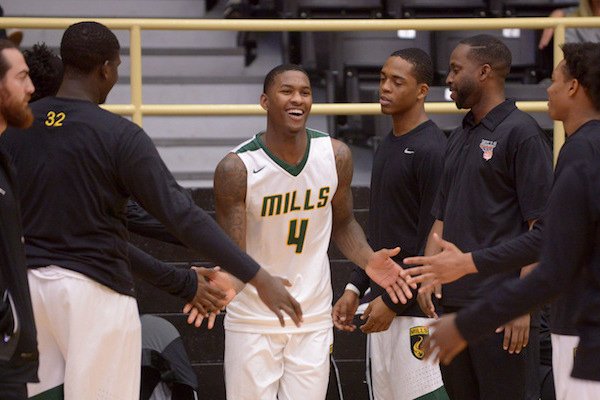 (
Ben Goff
)
Darious Hall of Little Rock Mills takes the court during introductions on Saturday Nov. 26, 2016 before the game against Bentonville in the Bentonville Showcase basketball tournament in Bentonville's Tiger Arena.
Arkansas basketball signee Darious Hall and his Little Rock Mills squad have had a tremendous year so far and will be looking to close that out over the next two weeks with a Class 5A state championship.
Hall (6-7, 210) and the Comets (26-1, 10-0) will face a strong challenge from Little Rock Parkview among others in next week's event in Magnolia.
The two finalists will advance to play the championship game at the Hot Springs Convention Center on the weekend of March 9-11.
"It's going real good," Hall said. "We are all on the page and that's what we hoped would happen. We hope to go into the tournament with our heads on right, ready to scrap and win the fight."
Hall had eight points, eight rebounds, two steals and two assists as Mills cruised past Pulaski Academy 52-25 Wednesday afternoon in the 5A-Central Conference tournament in Maumelle.
Hall is one of three 2017 Razorback signees along with Little Rock Parkview guard/forward Khalil Garland (6-6, 190) and El Dorado center Daniel Gafford (6-11, 223).
Hall, who is averaging 15.4 points, 8.2 rebounds, 2.3 assists and 2.0 steals per game this season, was thrilled with how Arkansas played last week with a win at No. 21 South Carolina and then a rout of Ole Miss at home.
He was on hand for the latter game.
"I enjoyed the way Hogs played and they made a statement and let the SEC know that we still have the fight in us and we were not going to back down," Hall said.
"The way they were playing was like magic, getting up and down, swinging the ball and everybody knocking down shots.
"It was nice and I can't wait to join them."
Garland and 2018 Arkansas commit and Little Rock Parkview teammate Ethan Henderson (6-9, 190) and Little Rock Christian sophomore point guard and 2019 Razorback commit Justice Hill (5-10, 160) will also be playing in the 6A state tournament in Magnolia.
Garland is averaging 16.3 points, 4.7 rebounds, 2.6 assists and 2.0 steals per game this season for Parkview.
Gafford and El Dorado (25-4, 15-1) will play in the Class 6A state tournament at Lake Hamilton High School next week.
He is averaging 17.1 points, 15.9 rebounds 7.7 blocks and 2.6 steals per game for the Wildcats.
Jonesboro junior guard Desi Sills (6-1, 180) - one of four commits in Arkansas' nationally top-ranked 2018 class - will also be in Lake Hamilton as the unbeaten Hurricane (28-0, 18-0) try to win the Class 6A state title.
Fort Smith Northside junior guard and fellow Razorback commit Isaiah Joe (6-4, 180) is averaging 18 points per game and shooting better than 45 percent from 3-point range
His team will play in the Class 7A state tournament in Van Buren next week.
Reggie Perry (6-10, 225) of Thomasville, Ga., -- the fourth of Arkansas' 2018 commits -- has his team at 19-8 heading into Thursday night's second round game of the Georgia Class AA state tournament against Chattoga (25-1).
Perry is averaging 20 points per game this season, was recently named region player of the year and had 21 points, 16 rebounds, six blocks and five assists in his team's 59-41 win over Bleckley.
The winner advances to the quarterfinals on March 1.
Sports on 02/23/2017
Discussion
Have a comment on this story? Join the discussion or start a new one on the Forums.