UA women's rally thwarted by FTs
By: Arkansas Democrat-Gazette
Published: Friday, February 24, 2017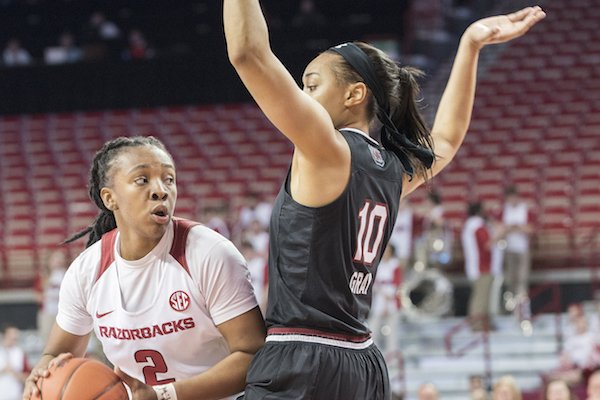 Arkansas' Aaliyah Wilson looks for help while South Carolina's Allisha Gray defends Sunday Feb. 5, 2017 at Bud Walton Arena in Fayetteville. South Carolina won 79-49.
Erin Whalen's two free throws with three seconds left propelled Vanderbilt University to a 66-64 victory over the Arkansas Razorbacks women's basketball team Thursday at Memorial Gym in Nashville, Tenn.
The University of Arkansas at Fayetteville fought back from 11 points down with 5:29 left in the game to tie it at 64-64 on Jessica Jackson's three-pointer with 31 second remaining.
Vanderbilt's Christa Reed missed a three-pointer with five seconds left, but Whalen grabbed the rebound and was fouled by Keiryn Swenson. The freshman guard, who scored a game-high 20 points, made both free throws to ensure Arkansas (13-15, 2-13 SEC) would finish the regular season in last place in the conference.
Arkansas led 10-9 after Alecia Cooley's layup with 3:07 left in the first quarter, but Vanderbilt (14-14, 4-11) used a 9-3 run to take an 18-13 lead at the end of the first quarter. Arkansas never led again and trailed 33-25 at halftime and 51-42 entering the fourth quarter.
Rachel Bell's free throw put the Commodores up 58-47, but Aaliyah Wilson's three-pointer with 4:52 remaining sparked Arkansas' rally. Jailyn Mason scored the Razorbacks' next five points, Jackson made two free throws and Wilson hit another three-pointer to cut the lead to 60-57 with 3:03 left.
After Wilson made a jumper to cut the deficit to 61-59, Reed connected on a three-pointer for a 64-59 Vanderbilt lead with 1:53 left. Swenson scored off an offensive rebound before Jackson tied it with a three-pointer for Arkansas.
Wilson came off the bench to lead Arkansas with 14 points. Jackson scored 11 points and grabbed 10 rebounds, and Swenson scored 10 points.
Arkansas made 25 of 64 shots for 39.1 percent and 4 of 17 three-pointers for 23.5 percent. The Razorbacks outrebounded the Commodores 42-36.
Vanderbilt made 19 of 51 shots for 37.3 percent and 8 of 22 three-pointers for 36.4 percent. The Commodores made 20 of 30 free throws compared to Arkansas going 10 of 16.
Sports on 02/24/2017
Discussion
Have a comment on this story? Join the discussion or start a new one on the Forums.