SEC's home teams go winless in week one
Published: Monday, January 2, 2017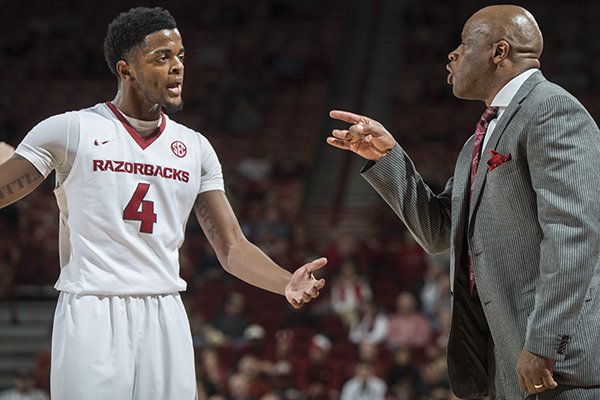 (
Anthony Reyes
)
Arkansas coach Mike Anderson gives instructions to Daryl Macon (4) during a game against Houston on Tuesday, Dec. 6, 2016, at Bud Walton Arena in Fayetteville.
FAYETTEVILLE — There were five SEC teams that hosted conference openers last Thursday and not one of them came away with a victory.
Arkansas - which lost 81-72 to Florida - joined Texas A&M, Auburn, Ole Miss and LSU in failing to defend its home court and putting itself in a hole.
As a result, the Razorbacks (11-2, 0-1) must try to take one back when they visit Tennessee (8-5, 0-1) for a game that starts at 5:30 p.m. and will be televised by the SEC Network.
"It is a new year and obviously we are coming off a early conference loss at home and we feel like we let one go," Arkansas coach Mike Anderson said on Monday's SEC Teleconference. "Now we have the opportunity to go on the road and steal one. (It) is important to us."
Anderson's team faces a daunting task this week in trying not to fall into an 0-3 hole with games at Tennessee and at No. 6 Kentucky (11-2, 1-0) on Saturday at 7:30 p.m.
"It is a big challenge for us, but also a great opportunity for us to get better," Anderson said. "The sense of urgency is what you sense in conference play and I didn't think we quite got the grasp of that so lets see if we can take that mindset and get better in the next game."
Tennessee played a tough nonconference schedule under second-year head coach Rick Barnes and had losses to ranked foes Wisconsin (74-62), Oregon (69-65), North Carolina (73-71) and Gonzaga (86-76) as well as a season-opening home loss to Chattanooga (82-69).
The Vols - who are starting three freshmen - took down Texas A&M 73-63 after being tied 29-29 at intermission.
"We are going to play against a Tennessee team that Rick has those guys playing really, really well," Anderson said. "They won at A&M and beat them soundly."
Anderson believes the Florida loss will be a wake up call to his team, which had won eight straight since a loss to Minnesota back on Nov. 22.
"One game is not going to define you," Anderson said. "I thought we responded well when we lost to Minnesota when we got exposed to some things and even in the Florida game there were some things we did good and some things that we didn't do good.
"We just have to learn from it. This team - even as we talk about it in early January - is not going to be the same team in February as we get more guys that start contributing.
Anderson was disappointed his team let Florida dictate the tempo.
"I thought Florida controlled tempo so we have to get back in what I call The Lab and get after it and let's hang our hats on our defense and really let's create some tempo from that aspect," Anderson said. "The other part was we did a poor job of defending the out of bounds plays on the baseline that we have got to clean up.
"There are some little things that you always talk about that add up to be big things and we have got to clean those little things up."
Anderson lauded the play of junior guard Daryl Macon, who had 22 points in the loss to Florida and is averaging 13.9 points while shooting 49 percent from the field, 39.7 percent from 3-point range and 90.2 percent from the free throw line.
"One of the the things about junior college guys is that they come with accolades and obviously that is at the junior college level," Anderson said. "I think he is really starting to figure some things out on what it takes to be a player at this level. Obviously he is a gifted scorer and now he is picking up the little things about defense in terms of how we want to play.
"He is certainly a tremendous free throw shooter and he is getting opportunities to get to the line and certainly has impacted our team this year. ... You look at a guy like Daryl. Daryl is being more consistent. Now we have to get other guys to step in and be more consistent in their play."
Discussion
Have a comment on this story? Join the discussion or start a new one on the Forums.