Arkansas picks up commitment from Kamren Curl
Published: Thursday, January 19, 2017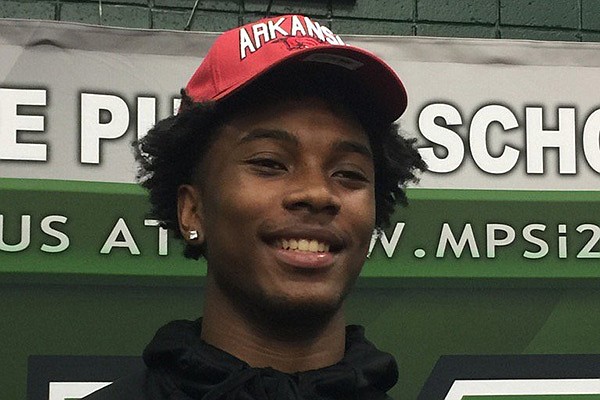 (
Dudley E. Dawson
)
Arkansas defensive back commit Kamren Curl answers questions after a press conference at high high school on Thursday, Jan. 19, 2017, in Muskogee, Okla.
MUSKOGEE, Okla. — Arkansas' bid to close it's 2017 recruiting class strong got off to a great start on Thursday.
Muskogee, Okla., three-star defensive back Kamern Curl (6-2, 180) chose Arkansas over Oklahoma, Nebraska, TCU, Baylor and others.
"In the end, it was just me being the most comfortable with those coaches at Arkansas," Curl said. "I was just the most comfortable overall there. If I had been the most comfortable in Alaska, that's where I would have gone, but thankfully this is a bit closer."
"The Arkansas coaches also made me feel the most wanted on their home visit. That's when I knew for sure."
Curl, a one-time Texas Tech commit, had planned to make his decision known on Feb. 1 - the national signing date - but moved his decision up after the home visit with Arkansas.
"That kind of cinched it for me," Curl said. "I just wanted to make sure I had a spot so I went ahead and committed. They were running out of scholarships and since they were my number one team I wanted to go ahead and get my spot."
Curl is the 22nd signee or commitment for Arkansas in the class of 2017. He is expected to take an official visit to Fayetteville this weekend.
More from WholeHogSports
"They are looking at playing me at corner," Curl said. "I have size. There are not going to be too many 6-2 corners out there and I have speed and can change directions like a little guy. I also have good ball skills."
He was already being recruited by Arkansas assistant Paul Rhoads before the secondary coach was named the new defensive coordinator earlier this week.
"I think it is great and pretty cool," Curl said. "He was already going to be my position coach and the coach that I was talking to most so him being promoted to defensive coordinator is pretty cool."
Curl first grabbed the Oklahoma hat before sitting it back down and putting on an Arkansas one.
"There are a lot of OU fans down here and everybody was trying to say that I was going to OU," Curl said. "So I kind of played a trick on them.
"I grabbed the OU hat and I heard everybody gasp, but I sit it back down and put the Arkansas hat on."
Greg Curl, the prospect's dad and a coach at Muskogee, was pleased with his son's decision.
"It came down to the coaches and their visits and he developed a great one with the Arkansas coaches, especially with Coach Rhoads," Greg Curl said. "So when Coach (Robb) Smith moved left, it didn't bother him because he already had the relationship with Coach Rhoads.
"He liked the visit when we were down there and it is a good program. We met Coach B when we was down there for the game and when he came to the house. That was more one-on-one and I think that sealed the deal for him.
"It's a good program for him and him getting to the chance to play corner is great for him as well and the chance to play early was big also."
Greg Curl's coaching career will continue with his son's decision.
"I was thinking that I might have to quit coaching to be able to see his college games, but know that he is just going to be two hours away, I can continue to coach on Friday nights," Curl said. "That's just an extra added benefit and it was going to be the deciding factor for me."
Kamren Curl was born in Muskogee, but then moved to San Diego before moving back to Oklahoma at age 11.
"When he about 7 years old, he came to me and we were watching college football and he said, 'Dad, I want to do this some day. That is what I want to do,'" Greg Curl said.
"I said, 'Do you want me to help you get there? It is going to take a lot of work and there are going to be times when you don't like me and you are going to be tired, but we will do it.'
"His determination and his desire are his best attributes. He had a coach that has since passed that told us early on that he had want it took to be special."
As a senior Curl had 66 tackles and three interceptions. He returned two interceptions for touchdowns.
He also caught 46 passes for 533 yards and five touchdowns.
Muskogee coach Rafe Watkins told The Oklahoman newspaper that Curl is "the best defensive back I've coached in 24 years."
Verbal commitments are non-binding. National Signing Day for football is Feb. 1.
Discussion
Have a comment on this story? Join the discussion or start a new one on the Forums.