Arkansas grid pledge Chase Hayden also getting it done in hoops
Published: Sunday, January 29, 2017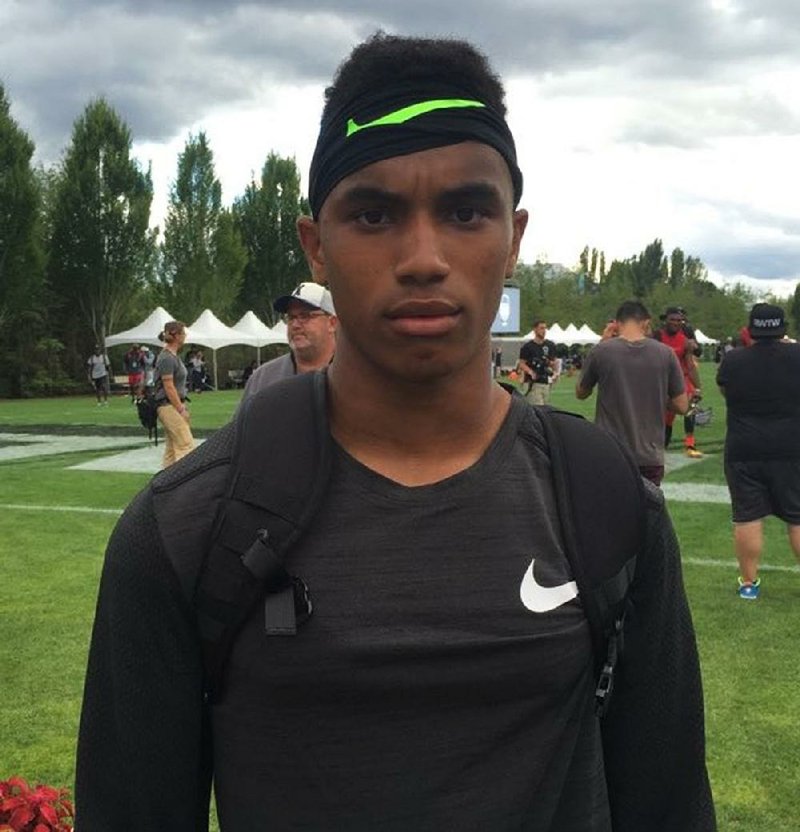 Running back Chase Hayden
FAYETTEVILLE — Arkansas' football program is set to add one of Tennessee's best athletes on Wednesday as national signing day rolls around.
Collierville, Tenn., St. George's Independent School tailback Chase Hayden (6-0, 185, 4.4) - son of former Tennessee and NFL player Aaron Hayden - won both Mr. Football and Mr. Basketball in Division II-A as a junior.
After a month in which he averaged nearly 30 points per game in basketball and scored 40 in one contest, he is poised to win the basketball award again after a runner-up finish in football this season.
"I can't say enough about how blessed I have been," Hayden said. "I have just tried to work hard and be a good teammates and together have success."
Hayden, who rushed for 1,940 yards and 30 touchdowns this season despite missing two games, is one of 23 early enrollees or commits Arkansas has in the 2017 class after landing two defensive players on Sunday.
Hayden's big senior season came after piling up 2,625 yards and 37 touchdowns as well as 19 catches for 249 yards receiving as a junior on a state championship squad.
Hayden, who was selected as one of the top 10 prospects at Nike's prestigious The Opening combine, chose Arkansas over Michigan, Tennessee, Florida, Louisville, Oklahoma State, Arizona, Mississippi State, Memphis and others.
"Arkansas has just always seemed like the best place for me," Hayden said. "I had a lot of great offers, but it was the coaches and the people at Arkansas that made me know this was the place for me."
Hayden and Punta Gorda, Fla., Charlotte tailback Maleek Williams (6-0, 230) - a fellow four-star prospect who started classes at Arkansas two weeks ago - will be the two newest members of the Razorback backfield.
Williams rushed for 1,295 yards and 25 touchdowns with five 100-plus games and seven in which he scored multiple touchdowns.
They will be join a group that includes junior-to-be Rawleigh Williams III - the SEC's leading rusher with 1,360 yards in 2016 - and sophomore-to-be Dewah Whaley, who rolled up 602 yards his rookie season.
Hayden was hosted by Williams and Whaley on his official visit Jan. 20-22 and they informed him about head coach Bret Bielema and running backs coach Reggie Mitchell.
"They really were just telling about Coach B and Coach Mitchell and how they are cool guys, how they are going to coach you to get better, how they are pretty much the same with everybody."
Arkansas also had T.J. Hammonds - who had 88 yards rushing in limited chances - and Juan Day returning.
"Really just getting to be around the players and hanging with the players is really want made the trip fun," Hayden said. "Getting to meet all the guys was pretty cool."
Hayden - his school's all-time leading scorer - had 25 points in his team's 75-61 win over Rossville Christian Academy and joined the Gryphons' 2,000-point club while doing so.
He then added 27 in a 64-57 loss to Christian Brothers on Saturday and has talked to the Arkansas basketball program about walking on to its squad after football season is over.
Hayden averaged 23.6 points while winning the Mr. Basketball Award as a junior.
"I think over the last two weeks I have been averaging like 30," Hayden said. "It has been going pretty well especially since this might be my last year of playing basketball. If I do, I want to go out with a great season."
Discussion
Have a comment on this story? Join the discussion or start a new one on the Forums.