Memphis' T.J. Moss adds to Hawks talent pool
Published: Thursday, July 13, 2017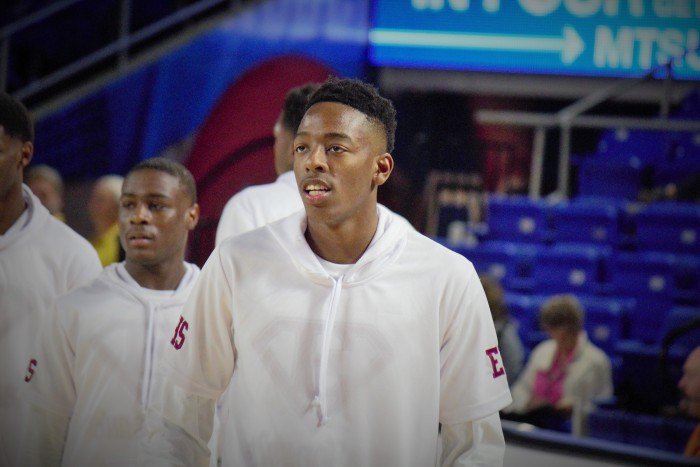 FAYETTEVILLE — The Arkansas Hawks' 17-and-under AAU team is getting a boost this month from Memphis.
Memphis East standout T.J. Moss (6-4, 175) - a top 2018 Razorback basketball recruiting target - has joined to play a trio of tournaments in July with a group that already has four Arkansas 2018 pledges.
Moss is a four-star prospect per ESPN who led Coach Penny Hardaway's East squad to the AAA state championship last season.
He had 11 points Thursday in front of Arkansas head coach Mike Anderson and assistant Melvin Watkins as the Hawks opened up pool play at the Adidas Gauntlet Finale in Spartanburg, S.C., with a 69-58 win over Indiana Elite.
"We have added T.J. to the team and man, we got a win with that deal," Hawks coach Bill Ingram said. "He is a great kid and a great player. We haven't had a whole lot of time to prepare with him, which we would have liked more time on the practice floor with him, but that is one of those situations that tine dictated it.
"…I think he is going to have a big impact for us."
Arkansas pledge Ethan Henderson of Little Rock Parkview led the Hawks with 15 points in the game one win while former Razorback commit Reggie Perry added 13 points, 5 assists and 4 rebounds.
Arkansas 2019 commit Justice Hill added 12 points and 3 assists while Razorback 2018 pledge Isaiah Joe chipped in 8 points while knocking down 2 of 4 3-pointers.
Caleb Stokes added 6 points and DJ Weaver 4 while Arkansas 2018 guard commit Desi Sills did not play for the Hawks, who are now 18-6 this summer while winning 12 of the last 14.
The Hawks will be back in action this afternoon at 3:40 p.m. against North Carolina's Team Loaded.
"That's the team that we lost to in overtime earlier and I know these guys are looking forward to a rematch," Ingram said.
Arkansas offered Moss in September of 2016 and has recruited him hard since then with Razorback assistant T.J. Cleveland leading the charge.
Moss, nicknamed Easy, has offers from Arkansas, Alabama, Arizona State, Connecticut, Florida, Georgia Tech, Marquette, Massachusetts, Memphis, Missouri, Ole Miss, TCU, Tennessee-Martin and Vanderbilt.
"I have seen him play a number of times," Ingram said. "He is an unbelievable talent at guard. He is an offensive machine. Shoots the three ball really well, puts the ball on the floor and gets to the rim, can pass it really well and is a big guard that can rebound.
"And then he is just a great kid. Never a bad expression on his face, is a yes sir, no sir kid and just has a lot of things going for him and we are fortunate to get him on our team."
Ingram thinks Arkansas is solidly in the mix for Moss.
"I know the dad told me he really likes Arkansas," Ingram said. "He has got some other schools on his list. I am sure it is probably going to go all the way down to November, but then again I don't know for sure. I know he has a lot of schools recruiting him."
He played for M33M this spring and is ranked from 80th to just outside the Top 100 in the four top national recruiting services.
Discussion
Have a comment on this story? Join the discussion or start a new one on the Forums.