Future Hog Mays-Hunt leads Bentonville to 7-on-7 title
Published: Saturday, July 15, 2017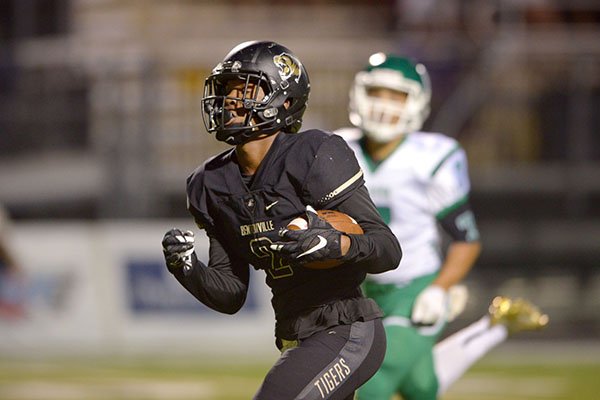 (
Ben Goff
)
Kam'ron Mays-Hunt, Bentonville wide receiver, runs for a touchdown in the first quarter on Friday Sept. 30, 2016, during the game in Bentonville's Tiger Stadium.
SPRINGDALE — Bentonville pitcher Kam'ron Mays-Hunt may have recently decided to commit to the Arkansas baseball team, but he reminded everyone just how good he is on the gridiron again this weekend.
Mays-Hunt (6-0, 175) helped lead the Tigers to the championship of the eight annual Southwest Elite 7-on-7 tournament this weekend.
Bentonville went unbeaten during bracket play and downed defending champion Bixby, Okla., 27-18 in the championship game at Shiloh Christian in Springdale.
"No matter what sport I am playing, it's always about doing whatever it takes to win," Mays-Hunt said. "I think a lot of people are sleeping on us because we lost so many people, but we are going to bring it."
Bentonville head coach Jody Grant has only six starters returning this season for a 10-3 squad a year ago, but is happy Mays-Hunt is one of them.
Mays-Hunt had 77 catches for 1,195 yards and seven touchdowns last season, but has yet to garner a big-time football offer to this point.
"Obviously baseball recruiting is really hot for him right now, but I don't think it will be long before they are doing the same thing in football," Grant said. "People around the state know about him and to me he is one of the top players in the state.
"I think if a big school takes a chance on him, they will be getting a steal as a receiver or a defensive back. He has some smaller (football) offers, but I think the excitement of playing for Arkansas was pretty appealing to him.
"He is throwing it 92 miles an hour off the mound and is a possible (Major League Baseball) draft guy so I see his thought process with that."
Mays-Hunt, whose fastball has touched 92 miles per hour, committed to Dave Van Horn and the Arkansas baseball program on June 28th just a few days after getting an offer from the Razorbacks.
"Playing football has always been fun for me, but now I just relax and I got a lot of weight off my shoulders," Mays-Hunt said.
He is one of several 2018 Arkansas Sticks summer baseball teammates that have pledged to Arkansas.
"It was mostly about the personal visit that I got from Coach Van Horn and the fact that I know a lot of people who are going to Arkansas like (Greenwood's) Connor Noland, (Little Rock Catholic's) Evan (Hiatt) and (Maumelle's) Connor McCullough and all those," Mays-Hunt said. "I just felt like it was the right place for me and close to home as well."
"Our high school team really didn't need me to pitch so I just played in the field, but in summer ball they told me I had a good chance to get an offer as a pitcher so I decided to try it," Mays-Hunt said. "I was throwing like 91 and 92 and Coach Van Horn came and saw me and offered me."
He is working to develop a third pitch.
"My fast ball is really good because I can throw it so hard and I am really confident in my curveball as well," Mays-Hunt said. "But I need to work on my change up because I know you need three pitches to be successful in college."
Mays-Hunt knows he needs to be a leader this season because of his youthful team.
"We don't have that many people coming back, but the kids who didn't play a lot last year are stepping up, especially our D-backs where we have some talented sophomores," Mays-Hunt said.
He has a lofty individual goal for the season.
"Obviously I want to win a state championship and I am going to try and for 2,000 yards receiving this season," Mays-Hunt said.
Discussion
Have a comment on this story? Join the discussion or start a new one on the Forums.