Hudson Henry is latest object of Arkansas' affection
Published: Wednesday, July 19, 2017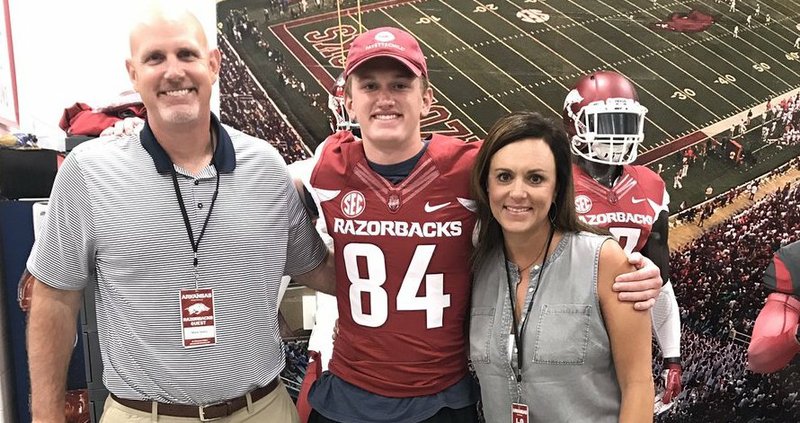 Mark Henry, Hudson Henry, Jenny Henry
FAYETTEVILLE — Arkansas continued it quest Wednesday on trying to run the table in landing the football-playing Henrys.
Pulaski Academy junior tight end Hudson Henry (6-5, 225) - a four-star prospect and top 100 player nationally - took in the Razorback program on an unofficial visit on Wednesday.
The Arkansas staff hopes he will follow the path blazed by his dad Mark - an All-SWC offensive lineman - as well as his older brothers Hunter - a former Razorback and current NFL player - and Hayden, who will be a freshman safety/outside linebacker for the Razorbacks this season.
"I got a chance to look over the facilities and it was a very rigorous tour that I really enjoyed," Henry said. "I got to see the facilities, the academic center, the cafeteria, got to meet with the coaches.
"It was a lot of fun and just an awesome experience. It was cool to finally experience it for myself."
One of the best parts according to was visiting with Arkansas tight ends coach Barry Lunney, Jr., who has had a long relationship with the family.
"I was very blown away today by the sheer numbers of how they use the tight ends," Henry said. "The numbers they have had in the last three or four years and the past players is something else.
"I love Barry Lunney. He is an awesome coach and just a great dude. He is just really relatable. It was just really cool to be able to sit down with him today, go over things with him and see highlights of the tight end."
The younger Henry has offers from Arkansas, Ole Miss, Penn State and Stanford an interest from Alabama, Georgia, Florida, LSU and others.
"I am definitely going to go and visit the other schools that have offered me, but I don't know when that is going to be," Henry said. "I just need to see how they fit for me, how they utilize the tight end and how I could fit into their offense."
Obviously Razorback fans would love to see Henry pledge to the program as soon as possible, but he intends to make a well-thought out decision.
"I think it is just plain right to go check out other schools just to be able to see is it where I need to go," Henry said. "I just don't want to have Arkansas as my only chance. I might end up there, but I want to make sure I don't miss out on what God has planned for me.
"I just want it to be the right decision on where God wants me to go and not let it be a pressured decision from the fans or my family, who doesn't pressure me at all and just tell me to go where my heart leads me."
Henry had 28 catches for 311 yards and 3 touchdowns as a sophomore last season for Pulaski Academy, who won its third straight state title.
"It's great to win the state championship, but we get about two weeks off and then its back to work to try and win the next one," Henry said. "We just set our goals right then ad there and get after it."
Henry, who was born in Marietta, Ga., and lived there for the first 10 years of his life, sized up his strengths.
"I think one of of my best strengths is being a pass catcher," Henry said. "In our system at PA, we catch a lot of balls and run a lot of routes. I also think that I can get down on the line and block and be able to be the toughest guy out there.
"I would say some of the things that I need to work on are being quick off the ball and speed stuff, which I am doing."
Older brother Hunter was an All-American at Arkansas and won the Mackey Award as the nation's top tight end his junior season before being drafted the former San Diego and current Los Angeles Chargers.
Hayden had over 100 tackles last season for Pulaski Academy.
"First of all, I am so proud of both of my brothers," Henry said. "They have worked so hard their whole life for what they have right now and I am just so proud of them both.
"I don't really look at it as being in their shadow. Well, I guess I do a little bit, but I try not to let it overwhelm me. I just go out there and try to be Hudson Henry and that is what I do each game and not try to put pressure on myself."
Discussion
Have a comment on this story? Join the discussion or start a new one on the Forums.