Versatile Wren to visit Razorbacks
Published: Thursday, July 20, 2017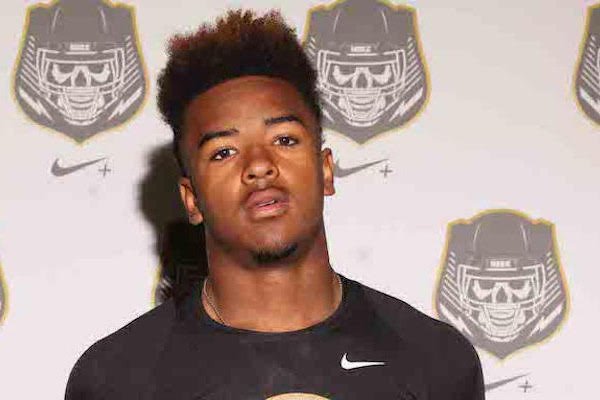 ( File Photo )
Maureese Wren
Arkansas having limited scholarships for the 2018 football recruiting class has led to some tough evaluations and number-crunching.
But clearly, the University of Arkansas, Fayetteville -- with 11 verbal committments for what could be as few as 15 available spots -- is looking to add an outside linebacker before the class is finished.
It appears one of top targets at that position is Mesquite (Texas) Horn standout Mauresse Wren (6-foot-4, 215 pounds), whose stock soared this spring when coaches got to see him practice. The versatile Wren has plans to visit the Razorbacks beginning Monday.
Wren is an outstanding wide receiver, but adding outside linebacker to his resume this spring excited college coaches, according to Horn head coach Mike Overton.
"He had been a receiver for us and had played virtually no defense," Overton said. "This spring, we wanted to experiment with him playing some more defense. When colleges came in this spring and saw this big, athletic body playing outside linebacker, they fell in love and thought this could be the perfect match.
"People saw that and are projecting him at linebacker because he is a big, athletic guy that can run, and his recruitment just exploded."
Arkansas offered a scholarship to Wren in June, joining a list of 20 along with Arizona, Baylor, Colorado, Missouri, Purdue, Texas Tech, Utah and Washington.
"I think Arkansas has a great shot at him," Overton said. "He has a great deal of interest in Arkansas, and it will be interesting to see what happens when he gets there on his unofficial.
"He has had a lot of great things to say about Arkansas, the contacts that he has had with coaches and that has been real positive. I talked to his dad yesterday about this very thing. He is pretty positive about Arkansas as well. I would say that Arkansas has as good a shot as anybody."
Overton expects Horn to have a great season.
"For us, we expect to be a playoff team and he should be our leading receiver," Overton said. "He is a great receiver and what we hope for him defensively is that he is going to create some big plays for us, especially rushing the passer and using his athleticism in coverage. He understands because he has been a receiver how important it is being in the right spots in zone coverage and I think all those things are positive.
"We are looking at him playing a quality 25 to 30 snaps a game on defense this seasone and still be our best receiver. Last year we had him just go in there and rush the passer on a few plays and he had three sacks."
Obviously, Wren's early offers came as a wide receiver. Then, more offers poured in after he was seen playing outside linebacker.
"I think it is about 50-50," Overton said. "Everybody would say both. His offers started as a receiver, but some of the bigger schools have now come in and like him as a receiver, but like him more as an outside linebacker and see a bigger upside."
Wren had said he wanted to announce his decision on Sept. 27, but it appears it could be sooner.
"That is one of the things that I talked about with his dad," Overton said. "That is kind of what he wants to do, but it wouldn't surprise me if he makes the decision a little earlier. I wouldn't be shocked. There is not going to be any pressure on him and he needs to make the decision when he is sure, but again, it would not shock me if it comes sooner and he makes one right before our season begins."
Sports on 07/20/2017
Discussion
Have a comment on this story? Join the discussion or start a new one on the Forums.