Arkansas checks out Shelton State center Matthew Horton
Published: Monday, July 24, 2017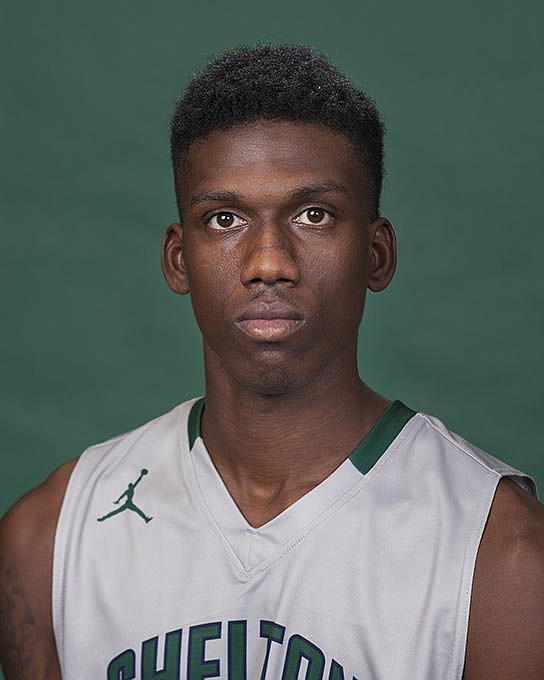 FAYETTEVILLE — Arkansas' basketball program could have two former El Dorado prospects patrolling the paint during the 2018-2019 season.
In addition to 2017 signee Daniel Gafford, the Razorbacks are evaluating former El Dorado native and current Shelton State sophomore center Matthew Horton (6-10, 219).
Arkansas head coach Mike Anderson and assistant Melvin Watkins saw Hudson - who moved to Tuscaloosa, Ala., as a sophomore - along with Georgetown and other schools in a workout last weekend.
"The level of interest that I have in Arkansas is very high," Horton said Monday afternoon. "I have been watching them from the time that I first moved to Arkansas. I like their style of play, the up-tempo pace."
Horton, who averaged 22 points, 11 rebounds and three blocks for Paul Bryant High School in Tuscaloosa, has plenty of current Razorback connections from El Dorado.
"My sister's boyfriend is (Arkansas football player) Bijhon Jackson," Horton said. "Daniel is like a little brother to me. We had a lot of dunk-offs back in the day and we have the same type of aggression."
Horton has offers from Western Kentucky, Middle Tennessee State and Arkansas-Little Rock. He will take official visits to all three places in the fall.
He is also now being recruited by Arkansas, Georgetown, Baylor, UAB, TCU, Kansas State and others according to Shelton State head coach Joseph Eatmon.
"It is really picking up," Eatmon said. "It has been unbelievable. Actually this weekend, Arkansas and Georgetown were both here and he already has offers from a lot of mid majors such as Middle Tennessee State, Western Carolina, Western Kentucky and Arkansas-Little Rock has offered him.
"UAB is recruiting him now, Auburn is recruiting him and it is all over the place. Baylor just called today and wants to recruit him now. TCU and Kansas State also are interested."
If Arkansas were to offer, Horton said the Razorbacks would move to the front of the line and he would plan to sign in the early period in November.
"I am going to sign as early as I can," Horton said. "Arkansas would be at the top, number one.
"Coach Watkins calls me all the time and keeps me up on the team and Daniel. I would love to play there."
Horton averaged 5.7 points, 5.1 rebounds , blocked 47 shots and shot 67 percent from the field as a freshman for Shelton State. He's in a rotation of 12 to 14 for a team went 27-6 last season.
"I came in kind of slow my freshmen year, was still learning a lot, still maturing," Horton said. "I think I grew up a lot as the season kept going and I started playing better late when we really needed the games.
"They counted on me when we needed a defensive stop and I tried to be a big presence for the team."
Horton missed the first six games of the season, but played the next 27 with three starts.
"I brought him off the bench, but he was probably my best post player," Eatmon said. "I had another guy that was a 6-9 post player that was a sophomore that was being recruiting at the Division I mid-major level and so we just brought Matthew off the bench, which was a great luxury to have.
"You look at our numbers last year and his numbers really don't dictate how good he really is. At Shelton State, we honestly play a lot like Arkansas except we don't get media timeouts so we have to play a lot of guys.
"We play 12 to 14 guys every game so none of our guys are going to average a lot of points. We had a kid that played at Mississippi State and started every game for two years in Travis Daniels and he only averaged eight points here, but was a great player there."
Horton has plenty of length.
"He is 6-10 1/2 and probably has a 7-4 wing span," Eatmon said. "He is really, really athletic, can really run and those things in big guys are hard to find.
"When he turns his motor on, Matthew can be one of the best centers not only in junior college, but probably talent-wise one of the best big men in the country. That's not just coming from me, that is coming from a lot of coaches and scouts.
"They are talking about how there are probably not 10 guys in the country who can do what he does at his size."
The fact that he is from Arkansas and knows Gafford gives the Razorbacks an advantage if the staff offers.
"Matthew and Daniel talk all the time and have a great relationship so I think that is a good plus for Arkansas actually," Eatmon said.
"He really, really wants to come back to Arkansas. Arkansas is who he wants to play for, but I told him if he wants to play at that level, he has to get stronger, put on some weight. He has put on 19 pounds in his first year here so he is headed in the right direction in that regard.
"He has just got to pick his motor up to be able to play that style of play all the time and play hard all the time. When he turns it on, he is unstoppable. But he has to learn to turn it on and keep it on."
Shelton State returns 10 players from last season's roster.
"We are going to have the best team in the nation," Horton said. "It is going to be a show."
Discussion
Have a comment on this story? Join the discussion or start a new one on the Forums.