Charleston's Flanagan hoping to shine at Arkansas' elite camp
Published: Thursday, June 1, 2017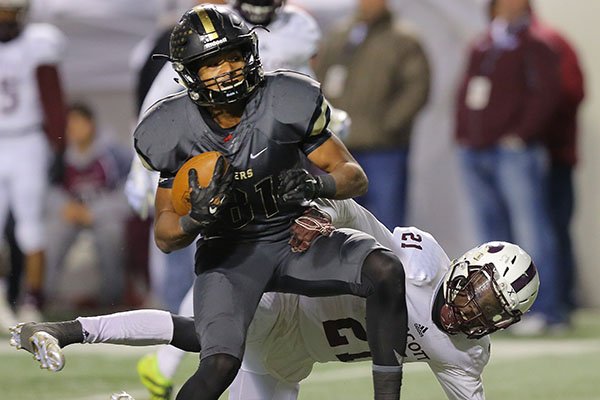 (
Stephen B. Thornton
)
Charleston receiver Sean Flanagan (81) breaks away from Prescott's Ja'mozyia Williamson (21) during the second half of the Class 3A State Championship Game on Saturday, Dec. 10, 2016, at War Memorial Stadium in Little Rock.
Charleston wide receiver/safety Sean Michael Flanagan hopes to catch a hubcap on Saturday at the Arkansas Elite football camp.
That's a reference to Razorback head football coach Bret Bielema saying, "I toss scholarships around like hubcaps while some people toss them around like nickels," - meaning he is judicious with his offering of them.
Flanagan (6-2, 190 pounds, 4.4), who Arkansas is looking at as a safety, will be doing his best to add the Razorbacks as his 10th offer.
"I guess I want to show everything else that I haven't show on film because at these camps you can do one-on-ones and just show all your skills off," Flanagan said. "I would love to get an offer from Arkansas."
He currently has offers from Oklahoma State, Missouri, Kansas, Arkansas State, UCA, UMass, Louisiana-Monroe, Memphis and Tulane.
He went to a pair of Arkansas games this past season and has also visited Arkansas State and Oklahoma State.
"I think Auburn may be pretty close to offering if I make it down there for a camp, so I am going to try and do that," Flanagan said.
One from Arkansas would be special for Flanagan.
"I have grown up wanting to be a Razorback and everybody here wants to be go there just like Ty (Storey)," Flanagan sad. "I am going to do my best to make that happen on Saturday."
Flanagan had 65 catches for 1,121 yards and 17 touchdowns last season while also 46 tackles, 4 interceptions and 6 pass break ups on defense.
He sized up his strengths and weaknesses at safety.
"Man-to-man coverage is probably my weakness because we just never do it in our conference," Flanagan said. "My strengths would be just having a head for the football, playing zone and I am a very good tackler and don't mind hitting at all."
Charleston went 13-1 last season, losing only to Prescott 37-26 in the Class 3A state championship game on Dec. 10.
"I think the reason we have so much success is our coaches do a great job with game plans and we don't really do the same thing from one week to the other," Flanagan said. "They always put us in the best position to win and we just have to go out and execute."
Arkansas is switching to a new 3-4 defense this season and that is something that Charleston plays as well.
"I'm looking forward to getting up there and learning from the coaches," Flanagan said. "We play that here so I am familiar with it. I'm excited about the opportunity."
Sports on 06/01/2017
Discussion
Have a comment on this story? Join the discussion or start a new one on the Forums.