Arkansas looks to take Boomer away from Sooners
Published: Friday, June 2, 2017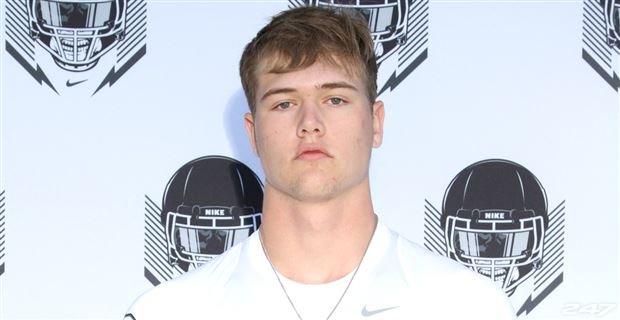 FAYETTEVILLE — Arkansas is doing its best to keep a Boomer from being a Sooner.
The Razorbacks hosted Collinsville, Okla., junior-to-be tight end Grayson Boomer (6-6, 225 pounds) - the nation's top-ranked 2019 tight end - on an unofficial visit Thursday.
"It was awesome," Boomer said of his second visit to check out Arkansas. "Last time I went alone on a day when they had spring practice, but this time my family came with me and I got a more in-depth look at what the coaches are like, and just everything they have to offer."
Boomer already has offers from Arkansas, Oklahoma, Oklahoma State, Oregon, Notre Dame, Texas Tech, Nebraska and Iowa State, among others.
"It was great to get some feedback from my family on what they thought as well and they were as impressed as I was," Boomer said. "It was just a very enjoyable experience."
The fact that Arkansas has put tight ends in the NFL the past three years is a draw to Boomer.
"Along with it being close to home that is reason that I am so interested in Arkansas," Boomer said. "They have awesome facilities and have had great tradition with their tight ends having great success in college and going into the NFL.
"Coaches have talked about how two of the past four main tight ends - D.J. Williams and Hunter Henry - have won the Mackey Award for the top tight end in college, and they also have A.J. Derby in the league and now Jeremy Sprinkle will be playing in the NFL as well.
"Obviously they are doing something right here with tight ends and that is a big game-changer for me. That is an eye-opener for me. They called it 'Tight End U' for a reason."
He's been impressed with Razorback tight end coach Barry Lunney Jr. and head coach Bret Bielema.
"You go in there and they make you feel right at home because they are such great people," Boomer said. "They are awesome dudes and get the feeling that every day of the year they are going to be the same. That is what I am looking for in my college coaching staff.
"I also really enjoyed (Arkansas strength and conditioning coach Ben) Herbert. He is very passionate about what he does."
Boomer believes his versatility is the strongest part of his game.
"My strength as a player and why Arkansas is recruiting me so hard is my blocking and how I have shown that I can take on anybody and I can also split out as a receiver and catch balls," Boomer said. "I think I am versatile and I think that sets me apart from other tight ends.
"I am constantly working on improving everything - blocking, being strong, being agile and making big plays."
Boomer is in no hurry to make a choice or set an announcement date.
"I was talking to my dad the other day and you see guys that set a commitment date and I think that is just childish and dumb," Boomer said. "I just think when you know where you want to go that is when you should announce and not just toss up an artificial date and put pressure on yourself.
"I think you should just narrow it to a couple of schools you are interested in and go from there. I think I will end up just picking a school out of the five or six that I narrow it down probably by the end of the summer."
Discussion
Have a comment on this story? Join the discussion or start a new one on the Forums.