Hogs sign Osabuohien for basketball
Published: Tuesday, June 6, 2017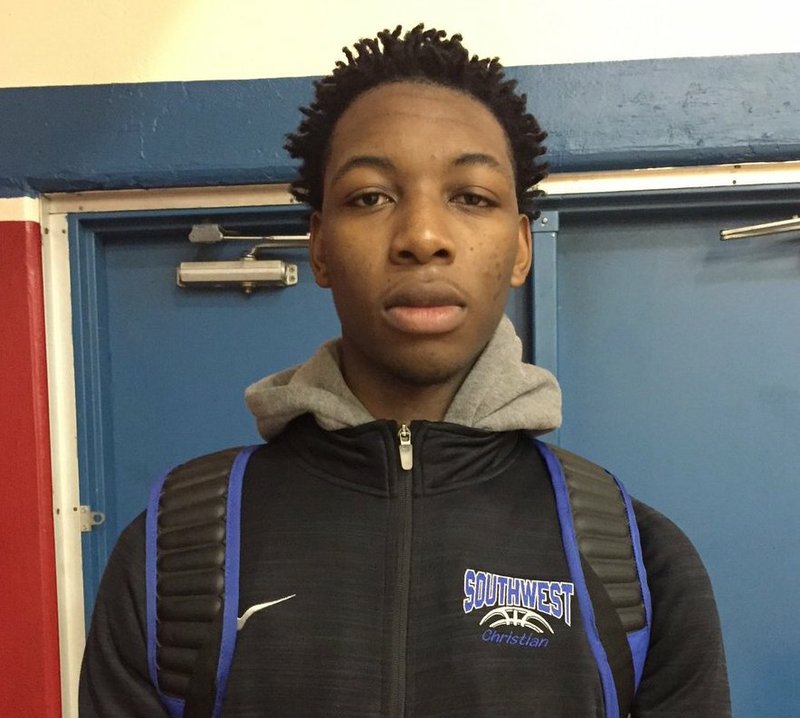 Forward Gabriel Osabuohien.
FAYETTEVILLE — The 2017 Arkansas hoops recruiting class which had numbered three for the last eight-plus months has now officially added a fourth prospect.
Little Rock Southwest Christian Academy and Canadian-born combo forward Gabe Osabuohien (6-8, 220) committed to the Razorbacks on May 24.
He signed a financial letter of intent a week later and is slated to report to campus in late June to join early arrivals in El Dorado's Daniel Gafford (6-11, 223), Little Rock Parkview's Khalil Garland (6-6, 190) and Little Rock Hall's Darious Hall (6-7, 210).
"We are excited to add Gabe to what is already a strong class," Arkansas head coach Mike Anderson said. "Even though he is originally from Toronto, he has lived in Arkansas for a year, so he knows what it means to be a Razorback. He is a high-energy player with a lot of potential and we look forward to seeing him grow as a player in our program. Gabe is a selfless player that makes everyone around him better and he will be a perfect fit for our system."
A spot opened up for Osabuohien - who signed a financial letter-of-intent with Arkansas on May 30 since the late signing period had ended - due to the transfer of freshman forward Brachen Hazen, who has landed at Ball State.
He got word of Arkansas' offer just before boarding a flight to his Toronto home to see his parents.
"I called them before boarding my plane to let them know that Arkansas had offered me and that I was committing," Osabuohein said. "That was great because it was one of the schools that I wanted to go to at the beginning of the year."
During his flight from Arkansas to Chicago he got lots of calls and texts and they came flooding in once he turned his phone back on upon landing.
"I probably had about 40 calls and a lot of texts," Osabuohein said. "My phone froze up. My whole voice mailbox was full up and all my social media apps were full up from Snapchat to Twitter to Instagram.
"Everybody is just so happy for me and happy that all my hard work has paid off and I am getting this chance to play at a great program like Arkansas."
Osabuohien chose Arkansas over offers from Murray State, East Tennessee State, University of Chicago, Charlotte and UALR.
He was also drawing interest from Missouri, Iowa State, Tennessee-Martin and others when he got his offer from Anderson and committed.
"It's a great program," Osabuohien said. "They play fast. I could definitely play fast. The coaches are good and Coach Mike a is a good coach. It's a great staff and great system. They went far this year. I think in the years to come they have definitely a chance to win the tournament with the talent coming."
He is excited to be joining Gafford, Garland and Hall, who he played alongside in a couple of all-star games after the high school season ended.
"They are all great players and I got to see that first-hand," Osabuohien said. "I think they are all going to be great in college."
Osabuohien believes that he can help the Razorbacks early and believes the fans will like his demeanor.
"They are going to see a great kid with a great attitude," Osabuohein said. "One thing that Coach Anderson teaches is to have a big heart and I believe I have that and can bring a lot to the team and help it grow.
"I like how the Hogs like to push the ball, spread the floor and attack,. They push the ball quickly and that's how I like to play and have space and operate, facilitate and help others to get better."
Osabuohien was a guard early before hitting a growth spurt, but has maintained his ability to handle the ball as a forward.
"I had a trainer that told me that even if you play the five or the four that you need to have guard skills," Osabuohien said. "So he taught me guard skills at that age and now I have them at this height, which a lot of people this height don't have. "
Osabuohien has a 7-foot-1 wingspan that is best displayed when he is playing defense.
"It clogs up a lot of space and frustrates the offensive player that I am guarding," Osabuohien said. "It also helps me rebounding."
Osabuohien averaged 11 points, 7 rebounds and 4 assists last season for Southwest Christian Academy as the Lions went 31-2 and won the NACA national championship with a 54-44 win over Gundy, Va., Mountain Mission.
"I think I need to polish my game," Osabuohien said. "I need to get a more consistent 3-point shot and you can definitely always grow in IQ and become smarter on the court and just playing hard all the time."
Southwest Christian Academy head coach Charles Baker praised Osabuohein's all-around game.
"Gabe is a very active, instinctive player," Baker said. "He defends as well as any high school player I've been around. He handles the ball real well for someone his size. He's very athletic. He can seriously impact a game without taking a bunch of shots. That's his best attribute."
He averaged 18.3 points and 9.8 rebounds for Martinsville, Va., Carlisle as a junior after coming from Canada.
"Let me make it as easy as I can, Gabriel is talented enough to play in any conference in America," Baker said. "He's probably more ready to play on the defensive end, but he has a lot of packages on offense that are in the process of being put together. I say by the time he's a sophomore in college, people are going to say 'Wow. Boy that kid can really play.'"
Southwest Christian Academy assistant coach Ron Crawford believes the best is yet to come for the prospect.
"You've got to remember this is a kid that really has just played two years of high level basketball and was just getting better every day and every game," Crawford said. "Now that he is going to get to Arkansas and be able to take advantage of everything they have, I think he really is just going to take off in terms of his development.
"I think there are teams who are going to look back and say that they should have taken a chance on him. I have no doubt about that."
Osabuohien believes he has found the perfect fit for himself.
"They like to push the ball and their forwards are very versatile," Osabuohien said. "I could play…multiple positions. That's one of the best things about me I can play the three or the four."
Discussion
Have a comment on this story? Join the discussion or start a new one on the Forums.