Ashdown's speedy LaDarrius Bishop shines at Fab 40
Published: Saturday, June 10, 2017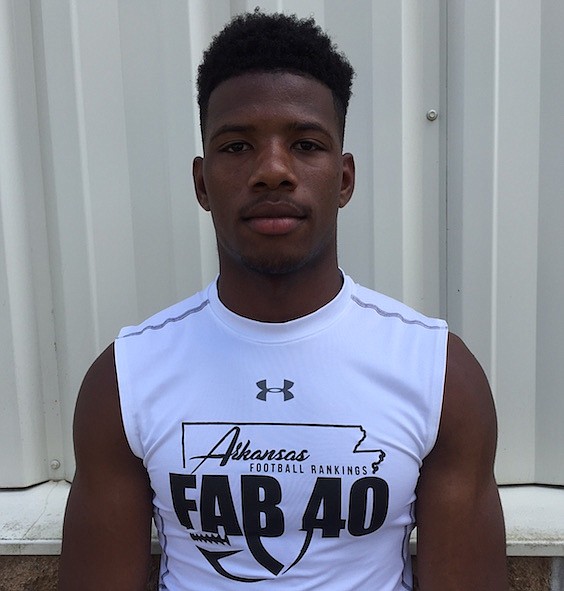 FAYETTEVILLE — It's been a busy weekend for Ashdown cornerback LaDarrius Bishop, one of only four in-state prospects with Arkansas offers so far in the 2018 class.
Bishop (6-0, 190) ran a 4.35 40-yard dash at Mississippi State's football camp on Friday and also released a top five of Arkansas, Oklahoma State, Memphis, Iowa State and Mississippi State.
He then ran a 4.42 Saturday as one of the headliners at the Arkansas Football Rankings Top 40 combine in Benton.
"I actually slipped on my start, but I have a of pick-up speed," Bishop said of Friday's blazing 40 time. "I thought they were just playing around with me on the time, but then I saw it. I only ran it once."
He visited Arkansas the previous weekend and saw his cousin Montaric Brown, a 2017 Razorback safety signee. Bishop, who picked off a pass and blocked two field goals as a junior, talked about the factors that have him interested in the Razorbacks.
"It's the atmosphere, the coaches and my cousin is going to school up there," Bishop said. "… He keeps telling me go ahead and be part of the family and come up there with him."
Bishop has formed a close bond with Arkansas defensive coordinator and secondary coach Paul Rhoads.
"He is just a great man and is always on me about doing good in school, getting my grades and continuing to work out," Bishop said.
He hears often from Razorback fans that live in Ashdown.
"Everybody wants me to go to Arkansas," Bishop said. "I don't know why, but just everybody is an Arkansas fan. They just say, 'Go to Arkansas, go to Arkansas.'"
Arkansas head coach Bret Bielema was honest with Bishop last week about how he has limited scholarships numbers and would love to get an early commit from the prospect.
Bishop understands that but is in no hurry to make his pledge right now.
"I'm still going to wait it out," Bishop said. "I want to take official visits to all my top five schools. I am going to try and take them all in the season, but that might be pretty hard."
He felt it was time to narrow his list of schools to five.
"I just thought I was coming into my senior year and I needed to start breaking it down so it won't be so stressful," Bishop said. "So I came up with my five."
Bishop, a recent state champ in both 100-and 200-meter races, does admit to enjoying the recruiting process.
"I like the attention," Bishop said. "Everybody knows me know. I just kind of blew up."
Bishop was impressed with his visit to Mississippi State.
"Just the coaching staff and how close they all are to the players," Bishop said. "And how much they really need me to come play the cornerback position for them."
Discussion
Have a comment on this story? Join the discussion or start a new one on the Forums.