Neighbors adds 2019 guard to commit list
Published: Wednesday, June 21, 2017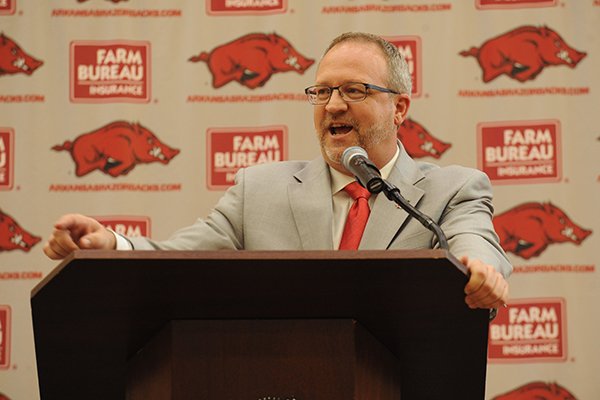 (
Andy Shupe
)
Arkansas women's basketball coach Mike Neighbors speaks Tuesday, April 4, 2017, during a ceremony and press conference to announce his hire at the university's basketball practice facility.
FAYETTEVILLE — New Arkansas women's basketball coach Mike Neighbors may be short on numbers for next season, but he is building for the future.
Lawton, Okla., Eisenhower wing and 2019 prospect Ginger Reece (5-10) committed to the Razorbacks on Wednesday.
"I decided to become a Razorback because I absolutely love Coach Neighors and (assistant) Coach Todd (Schaefer)," Reece said. "I had already built a relationship with them at Washington.
"Another reason is the other coaching staff that I met (assistant coach) Lacey (Goldwire), I really liked her and felt like I started building a bond with her also. Finally because of the vibe I got when I was there. It felt as if it were home."
Reece averaged 14.2 points, 5.4 rebounds, 2.3 steals and 2 assists per game in 27 games as a sophomore.
She is a three-star prospect and the No. 5 recruit nationally at her position , according to ESPN, and the No. 59 recruit in the country and a four-star prospect, according to Prospect Nation.
Neighbors signed a pair of 2017 signees in former Malvern and Chipola, Fla., College junior guard Raven Northcross-Baker (5-7) and Arlington, Texas, forward Taylah Thomas (6-1) in the spring signing period.
He's also added a pair of transfers in Oklahoma's Chelsea Dungee (5-11) and Florida State's A'Tyanna Gaulden (5-7), who must both redshirt next season.
Discussion
Have a comment on this story? Join the discussion or start a new one on the Forums.