Future Razorback Isaiah Joe sizzles at Bud Walton Arena
Published: Friday, June 23, 2017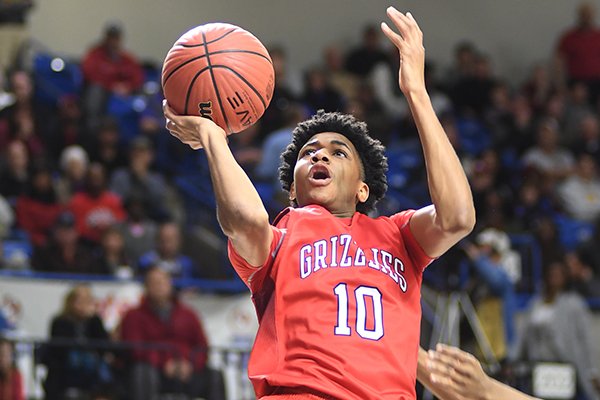 (
Mara Kuhn
)
Fort Smith Northside guard Isaiah Joe (10) goes for a basket during the 7A boys state championship basketball game against North Little Rock at Bank of the Ozarks Arena on Satuday, March 11, 2017, in Hot Springs.
FAYETTEVILLE — Fort Smith Northside senior guard and Arkansas commit Isaiah Joe was raining 3-pointers in his future home Friday.
Joe (6-4, 165 pounds), participating in the two-day Razorback Team Camp, knocked down 5 of 6 3-pointers and scored 24 points to lead his Grizzlies to a 57-41 win over Bentonville on Friday at Bud Walton Arena.
He set a Northside school record last season with 121 3-pointers while leading his team to the Class 7A state title. Joe is shooting 50 percent from beyond the arc this summer for his Arkansas Hawks 17-and-under AAU squad.
"Every time he shoots it, it is like go ahead and put that three on the board," Northside coach Eric Burnett said. "It's like I told the kids when I had a camp last week, Isaiah hit 121 3-pointers for us this year, but after we practice he stays and shoots for another two hours in the gym with the ball machine and just works on stuff.
"I told them that is the reason he goes out there and shoots the ball like that. It is no secret. You have to put in the work and Isaiah does that every day."
Joe, one of five Hawks players that have committed to the Razorbacks in the 2018 and 2019 classes, has a new dynamic facing him next season.
He is the lone returning starter for a Grizzlies team and will take on a different role after averaging 18.3 points per game last season.
"We did lose a lot of experience, but it has been kind of fun rebuilding and getting to know new players and watching them get better," Joe said. "It is going to be a real fun experience because we have a lot of good young talent."
Northside's point guard last season was Tevin Brewer, who signed with Arkansas-Fort Smith. That role will be played by Joe this season.
He showed off his handles on Friday while running his club in the two-day event that concludes Saturday.
"I really like handling the ball," Joe said. "I have been working on it for awhile and it comes second nature to me."
Burnett is ready to put the ball in Joe's hands as much as possible this season.
"It (the offense) is going to go through him," Burnett said. "We are going to have to put the ball in his hands to make decisions for us before those young guys get some experience.
"Last year we didn't have to worry about that, we put that load on Tevin Brewer and Isaiah just basically had to spot up and do his thing. Now his role is going to change and he has got to create more for us, kind of the role Tevin played, but also get his points."
Joe joins five-star prospect Reggie Perry (6-10, 225) and fellow Hawks four-star standouts Desi Sills of Jonesboro and Ethan Henderson (6-9, 190) in the Razorbacks' 2018 recruiting class.
Little Rock Christian point guard Justice Hill, a 2019 pledge, may reclassify and arrive with his AAU teammates.
That quintet of players all were watching the NBA Draft last night and hoping that might here their names in it in a few years.
"It has always been a dream of ours to make it there, but you can only get there if you take it one day at a time and keep getting better," Joe said.
Perry is ranked as high as 14 in one recruiting service and is among the 25 consensus best prospects in the 2019 class, according to ESPN and others.
"He is playing real well," Joe said. "He has always been very talented, has been a real humble player, is very coachable and he is continuing to work hard and get better every day."
The Hawks had a 12-6 record this spring and have tournaments in Chicago, St. Louis and Las Vegas in July.
"They know how to get me the ball and get their own shots off, too," Joe said. "We play well together and enjoy playing together so I think as we go into these later tournaments we are going to play great.
"My main goal for the AAU season is to win it all in Vegas. That is the goal for all of us. But we will have to take it step by step, game-by-game and hopefully we will get there."
Winning the state title last season is something that Joe said will stay with him forever.
"It is a great feeling and a great honor and not many teams get to say they have won a state championship," Joe said. "But it is still very important to remain humble and keep it up."
The youthfulness of the Grizzlies makes a back-to-back state title seem like a long shot.
"He has done a great job the last two months and he knows we have a lot of young kids that he is going to have to help," Burnett said. "He has really been a good leader for them, working hard, talking to them and just trying to get them ready for next year.
"It's going to be rough starting out, but I think we are going to keep getting better and better because these young kids are going to step up and play for us."
Burnett compares Joe to a former Razorback star that is currently on the Arkansas staff.
"The first person that sticks out in my head to try and compare him to is Lee Mayberry," Burnett said. "That is the first thing that sticks out to me because Lee could shoot the 3, was a really good defender, was a team player and I can see Isaiah being that same type of player.
"Lee was able to put the ball on the floor and get to the rim when he wanted to, but he also had that little mid-range jumper and could hit from deep. I think Isaiah is a little taller and being 6-4 is going to help him when he gets here. I think he is still growing some."
Joe hopes that he can add some weight before the high school season starts.
"I feel good about my shot, but it can always get better," Joe said. "My main goal is to get some weight on me because at the next level it is going to be a lot more physical. I am at 165 right now, but would like to get to around 180 by the start of our season."
Burnett notes the Northside support staff is trying to help him achieve that goal.
"That is something that we try to help him with," Burnett said. "We try to get him some protein and I talked to our strength and conditioning guy and he told me that Isaiah's biggest meal needs to be after he plays a game and we should let him eat just as much as he wants to because that will help him gain weight.
"That is what we have been trying to do with him, have him eat more meals. Instead of just three meals a day, he is trying to eat five or six to help him pick up that weight because he plays so much that he is not really retaining anything so we are trying to add more meals in there and he is putting on some weight."
The Arkansas high school dead period - when teams can't work out together - is about to begin, but Joe doesn't plan to take time off.
"We are about to come up on our dead period for two weeks, but I still have to find time to get into different gyms and keep getting better because nobody else is going to be taking breaks," Joe said.
Discussion
Have a comment on this story? Join the discussion or start a new one on the Forums.