Texas SF Zhaire Smith earns Arkansas offer after visit
Published: Sunday, March 5, 2017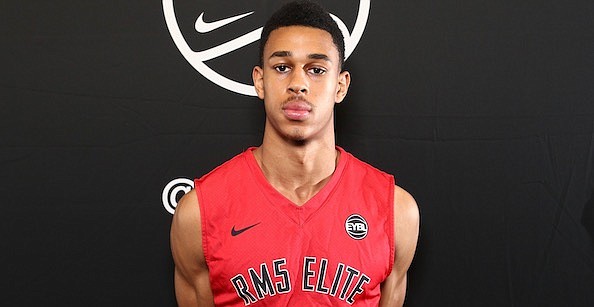 FAYETTEVILLE — Arkansas has one scholarship left for the 2017 recruiting class and has targeted a top Texas prep player for that spot.
Garland Lakeview Centennial small forward Zhaire Smith (6-5, 190), who averaged 20.1 points, 6.6 rebounds and 3 assists per game this season, left Fayetteville with an offer after taking an unofficial visit to Arkansas this weekend.
Smith, who has a 42-inch vertical jump, a 6-9 wingspan and led his team to a 29-4 record this season, was pleased with the development.
"I know they only have one scholarship left, so the fact that they offer me that tells me how important I am to them," Smith said. "I had a great time on my visit to Arkansas."
Smith was on hand as Arkansas (23-8, 12-6) secured the SEC Tournament's third seed by hammering Georgia 85-67 Saturday afternoon before 16,055 fans at Bud Walton Arena.
"The atmosphere and the fans were just unreal," Smith said. "Arkansas has a great fan base that os very supportive. I loved it."
Smith has offers from a host of schools, including Memphis, Texas Tech, Kansas State and Tulsa, as well as interest from Texas, where he recently took an unofficial visit.
"I am getting close to sitting down with my dad and discussing things and then setting up some official visits," Smith said. "Arkansas will definitely get one."
His team won 12 straight before falling to Berkner 68-59 in the opening round of the state tournament.
"We had a great season," Smith said. "We went 29-4 and went undefeated (12-0) while winning district. We just slipped up in that (state tournament) opener, but it really was a just a great season overall."
Arkansas signed a trio of prospects in the November early signing period in El Dorado center Daniel Gafford (6-11, 223), Little Rock Parkview guard Khalil Garland (6-6, 190) and Little Rock Mills forward Darious Hall (6-7, 210) - all of whom are playing for state titles this weekend in Hot Springs.
Gafford is ranked as the 43rd-best player and the Garland 53rd nationally ESPN. All three are four-star prospects.
"I want to go to a great school where I can get a great education and also a place that I can be developed as both a young man and a basketball player," Smith said. "I want to be surrounded by winners on and off the court."
Smith thinks his versatility is his biggest strength.
"I have great athleticism and am a guy that works hard on both offense and defense," Smith said. "I don't want to be known as just a guy who does it on one end of the floor. I want to be known as a complete player.
"Coach Anderson told me he likes the fact that I am just a basketball player and that my versatility will allow me to play a lot of different spots for him on both offense and defense. I think my versatility is something he really, really likes."
Lakeview Centennial head coach J.T. Locklear told the Dallas Morning News that he has become a big fan of his star player.
"He's been doing it now for two years," Locklear said. " He's been kind of under the radar. It's impressive in that he continues to build his game in a way that he's not predictable. He does a lot of things differently every game.
"There are times that I have to remember that I'm his coach and not a fan. His game has come so far in the last two years, it's been really a lot of fun to watch. People are starting to notice who he is."
Discussion
Have a comment on this story? Join the discussion or start a new one on the Forums.