Future Razorback Gafford one step away from coveted goal
Published: Thursday, March 9, 2017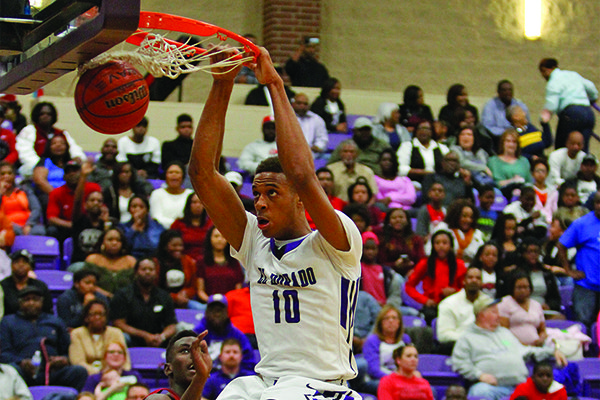 (
Terrance Armstard
)
El Dorado's Daniel Gafford throws down a two-hand dunk against Texarkana on Saturday, Feb. 26, 2017, at Wildcat Arena in El Dorado. The Wildcats beat the Razorbacks 91-78 as Gafford totaled 34 points and 26 rebounds.
FAYETTEVILLE — The biggest game of future Razorback big man Daniel Gafford's life awaits him Friday afternoon at Bank of Ozarks Arena in Hot Springs.
Gafford (6-11, 223) - expected to be Moses Kingsley's replacement at Arkansas next season - will lead El Dorado (28-4) against unbeaten Jonesboro (31-0) in the Class 6A state championship game Friday at 5:15 p.m.
The Wildcats will be trying to win their first state title in more than two decades.
"The whole town is proud of them," El Dorado head coach Gary Simmons said. "It's been 26 years since El Dorado played in a state (basketball) final so the whole town is excited, the student body is excited and our kids are very excited.
"…But they are not living on the dream right now, they are just like they were last week and they are all about business. We are going to keep the main thing the main thing and that is just win another game."
Gafford, the 43rd-best player nationally per ESPN, is averaging 17.4 points, 16 rebounds and 7.8 blocks per game this season with 11 triple-doubles and 27 double-doubles in 32 games.
He leads the nation in blocks and is 9th in the country in rebounding, having poured in a season-best 34 points and grabbed a season-high 31 boards in two separate games against Texarkana.
Gafford also swatted away a high of 15 blocks against Pine Bluff in the season opener.
Jonesboro head coach Wes Swift, who has a future Razorback of his own in Desi Sills, is a big fan of Gafford's.
"Everything is keyed off of Gafford," Swift said. "They want to funnel everything to him on the defensive end and he doesn't block it, he makes you think he is going to block it and he throws a great outlet pass and they just want to get out in transition.
"…Gafford may be the best rebounder that I have ever coached or played against and we played against (former Arkansas standout and current NBA player Bobby) Portis a few years ago and is now a pro.
"While Portis may be more polished coming out of high school, I think Gafford is a better rebounder and shot blocker for sure than Bobby was.
"We can't let him have that 15-plus rebound game against us. He can get 8, 9, 10 and we are okay, but if he gets up there in that 15 to 20 rebound range, I think we are going to be in trouble."
Simmons is sure Gafford - who he recruited out of the band to play basketball in the eighth grade - is just scratching the surface of his ability.
He also thinks Gafford could be a legit 7-feet and 240 pounds by the time he takes the court for Arkansas as a freshman.
"I think after this game and the all-star games he plays in, I think the next time I watch him play, I am not going to recognize him," Simmons said. "The U of A is going to do such a good job of feeding him the right way, getting his body right and plus the fact that he is going to be going against people in practice that can actually push him each and every day.
"Here, my kids battled him, they grabbed his arm, grabbed his waist and did everything in the world they could to make him tougher and I think they did a really good job, but the better people he goes against, the better player he is and will become."
Simmons says he is going to remember the personality as much as the playing ability of Gafford, who will play in the Mike Conley All-Star Challenge at Little Rock Hall on March 30 and at least one national all-star game.
"I am going to remember how he is one of the best athletes I have ever been around, but also how he is still a video game nut and as goofy as the day is long," Simmons said. "… Plus the monster dunks."
Jonesboro is seeking a perfect season in addition to the state title.
"Coach Swift has one of the premier high school programs in the nation and he plays a tough schedule and demands a lot out of his kids," Simmons said.
"They play good fundamental basketball and can also get out and fast break and out-athlete you and are good defensively as well.
"They are 31-0 for a reason. It is going to be a tremendous battle, but I will tell you I think I would like to be the one with four losses and not the pressure of going perfect, too."
El Dorado came real close to bowing out in its tournament opener against Marion when Gafford was saddled with early foul trouble and ended up playing around 10 minutes in a game that the Wildcats had to rally to win 57-53.
Gafford responded with 16 points, 16 rebounds and 11 blocks in a 84-42 rout of Pine Bluff in the semifinals.
"The fuel for the fire was already there against Pine Bluff and then the embarrassment of how we thought we played the first night - defensively especially - we had to come back and go to work," Simmons said. "We didn't stay (in Hot Springs). We came back home, went to school on Friday had a regular day and a regular practice and drove back down on Saturday.
"We are so glad we did because we changed our defense around a little bit and went to more of a packed man-to-man instead of all out in the passing lanes just because the way the tournament is being called.
"We wanted to do something to limit people's attempts on Daniel to try and draw fouls. So we changed all that and it looks like the defense we should have been playing all year because it is protecting Daniel and we still have a hand in shooters' faces and we are not giving up as much penetration to the basket."
Discussion
Have a comment on this story? Join the discussion or start a new one on the Forums.