Arkansas-Vanderbilt III set for SEC Tournament semifinals Saturday
Published: Saturday, March 11, 2017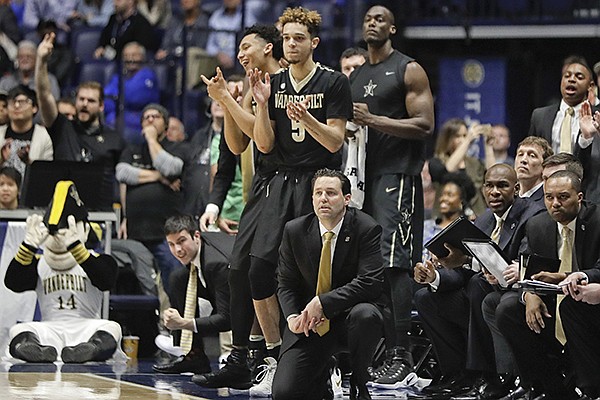 Vanderbilt head coach Bryce Drew, front center, and his team watch the action during overtime in an NCAA college basketball game against Florida at the Southeastern Conference tournament Friday, March 10, 2017, in Nashville, Tenn. Vanderbilt upset Florida 72-62. (AP Photo/Mark Humphrey)
NASHVILLE, Tenn. — Arkansas-Vanderbilt III is set for center stage Saturday afternoon at Bridgestone Arena in Nashville.
The third-seeded Razorbacks (24-8) and seventh-seeded Commodores (19-14) - who each won on the other's court this season - will meet at 2:15 p.m. on ESPN.
That will come some 30 minutes after top-seeded Kentucky (26-6) battles sixth-seeded Alabama (19-13) at noon.
"Arkansas has a very solid, very athletic basketball team," Vanderbilt head basketball coach Bryce Drew said. "They are quite the challenge."
The Razorbacks rallied from 15 points down to beat the Commodores 71-70 when Daryl Macon hit all three free throws after getting fouled with 1.8 seconds left.
In the rematch at Bud Walton Arena, Vanderbilt roared out to a 25-4 lead by knocking down 7 3-pointers and won 72-59 while handing Arkansas its third loss in four games.
"You know the last time we played them, they came and stole one at Bud Walton Arena and really took the fight to us," Razorback senior guard Dusty Hannahs said. "At the start of the game they were up 25-4 and we never really recovered."
Macon, who had a team-high 17 points in Arkansas' 73-72 win over Ole Miss on Friday night, is looking forward to the rubber match.
"I'm very excited to have another shot at them," Macon said. "We didn't play our best ball when they beat us at Bud. We just want to go out and play hard as a team and try to execute on both ends of the floor."
Riley LaChance had 17 points, Jeff Roberson 16, Luke Kornett 12 and Matthew Fisher Davis 11 as Vanderbilt beat Florida 72-62 in overtime Friday.
It was the third win in as many tries this season for the Commodores over the Gators.
"They're very different than any other team in our league and present challenges both offensively and defensively," Florida head coach Mike White said. "…I told Bryce, I think they are the most improved team in the league. They've come a long, long way. As much as I thought they improved offensively during the season, I think they have made that same improvement defensively. … They really are just defending at a high level now."
Former Fayetteville High star Payton Willis had 8 points, 5 rebounds and 4 assists off the bench for the Commodores in their quarterfinals win.
"Payton came in during the first half and gave us some outstanding minutes and the second half," LaChance said. "He's a heck of a player. …He's a huge asset to our team."
Drew lauded Willis, who played 21 minutes against Florida on Friday night.
"With Payton, there are a few things involved," Drew said. "First he was playing really well in his minutes out there. Second we weren't moving the ball as well and wanted two ball handlers to try and be out there and move it."


Discussion
Have a comment on this story? Join the discussion or start a new one on the Forums.