Arkansas reaches 'big goal' with NCAA Tournament announcement
Published: Sunday, March 12, 2017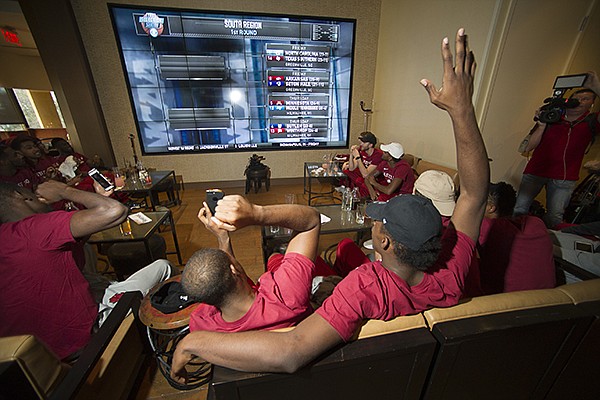 (
J.T. Wampler
)
Arkansas players celebrate after learning their NCAA Tournament destination on Sunday, March 12, 2017, in Nashville, Tenn.
NASHVILLE, Tenn. — For the second time in three seasons, Arkansas head coach Mike Anderson and his Razorbacks are putting on their dancing shoes.
Arkansas (25-9) will play Seton Hall (21-11) in the NCAA Tournament East Regional on Friday in an 8-9 game in Greenville, S.C. The game will begin at 12:30 p.m. and will be televised by TNT.
A win there likely would set up a second-round game against North Carolina, the team that beat Arkansas in its last NCAA Tournament game two years ago in Jacksonville, Fla. The Tar Heels (27-7) are the East region's No. 1 seed and play Texas Southern on Friday.
"Our name came up and that's a good thing coming off a tough loss in the (SEC Tournament) championship game, but obviously this was the big goal," Arkansas coach Mike Anderson said Sunday, hours removed from an 82-65 loss to Kentucky at the SEC Tournament. "We are not just going to The Dance. We are going to dance and we aren't going to do a one-step or two-step."
Villanova - the Big East champion, defending national champion and top seed in this season's NCAA Tournament - downed Seton Hall 55-53 Friday in a league tournament semifinal.
It ended a five-game winning streak for the Pirates. Arkansas had won eight of nine before losing to Kentucky.
"Our guys are excited and we are playing good basketball," Anderson said. "It is an opportunity to play against a Seton Hall team that is playing really good basketball as well.
"Again, this is the goal that your work for each and every year. I figured we were in the hunt for something. I didn't know what it was, but we get to the championship of the SEC Tournament and now we get to go play in one of the grandest events there is - the NCAA."
Arkansas is nearing the end of a longer than normal season. The Razorbacks played four exhibition games in Spain in August.
"All the hard work that this guys have put into it - which started in May and into the summer and then the Spain trip, I can't say enough about just going over tree and bonding," Anderson said.
"I think we have paid a price and I think it is worth it as now you get a chance to play in the biggest tournament there is and we are looking forward to it."
Seton Hall has four players that average double-figure scoring, led by guard Khade Carrington's 16.9 points per game. Desi Rodriguez averages 15.9 points, Angel Delgado 15.3 points and an NCAA-leading 13.1 rebounds, and Myles Powell 10.7 points per game.
"They are a good basketball team, they are dynamite," Anderson said. "They were in the tournament last year, have great guard play and great inside play.
"I have had a chance to watch them play and they are an attacking team so it is going to be an up and down game."


Discussion
Have a comment on this story? Join the discussion or start a new one on the Forums.