Kingsley's swat helps Hogs plunder Pirates
Published: Friday, March 17, 2017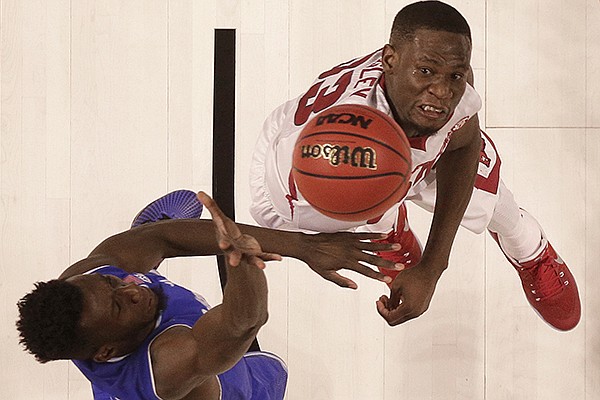 Seton Hall's Myles Powell, left, shoots over Arkansas's Moses Kingsley, right, during the second half in a first-round game of the NCAA men's college basketball tournament in Greenville, S.C., Friday, March 17, 2017. (AP Photo/Rainier Ehrhardt)
GREENVILLE, S.C. — Often times those analyzing games will point to plays at the end of the game that spelled the difference in a win or loss for a certain team.
But the biggest play of Arkansas' 77-71 win over Seton Hall in the NCAA South Regional on Friday arguably came with 17:41 left in the game.
The Pirates had scored five straight points to open the second half and Desi Rodriguez was roaring in for a slam dunk that would have pushed that lead to seven and likely forced a timeout for the Razorbacks.
Instead, Arkansas senior center Moses Kingsley stopped Rodriguez cold. His blocked shot resulted in a Dusty Hannahs' 3-pointer on the other end to cut it to 42-40.
That five-point swing would prove huge in the end on a day when Kingsley had 24 points, 6 rebounds and 4 blocks.
"Coach said, 'You've got to protect the paint,'" Kingsley said. "That's what I tried to do today. They told me because sometimes my guards are going to get beat and I've got to be the last line of defense and I can't give up anything easy.
"That's what I tried to do, go after the ball and I am very glad I got that block."
Barford believes it was a key moment in the contest.
"I think he had an outstanding game, honestly, blocking shots," Barford said. "I think when he got the block, he was about to dunk. That was the turning point for us because they were up five and he helped us a whole lot to get back the momentum we needed."
Hannahs, who ended up with 14 points, 3 assists and a block of his own, hit the 3 to start a 13-4 run that would send Arkansas up 50-46, culminating with 13:38 left on Dustin Thomas' jumper.
Seton Hall responded with an 18-6 run to pull out to a 64-56 lead with 8:41 left on a rebound basket by Angel Delgado, the nation's leading rebounder, who had 12 points and 13 rebounds (8 on the offensive boards).
Kingsley reasserted himself again with six straight points, an assist to Dustin Thomas and a trio of rebounds that led to six points from Barford and Hannahs and his own lay up that put Arkansas up 70-68 with 2:40 left.
He also caused Khadeen Carrington to miss a layup with 39 seconds left and was part of a double team that forced Carrington to turn the ball over with 24 seconds left.
"I don't know what happened to Moses, but he awakened today and was big."
Kingsley said he was playing with a sense of urgency.
"I mean, it's win or go home," Kingsley said. "And I have to bring it. And my team's looking up to me to bring it to games like this and I think that's what I did."
Discussion
Have a comment on this story? Join the discussion or start a new one on the Forums.