Justice Hill enrolls in classes for possible early entrance
Published: Tuesday, May 23, 2017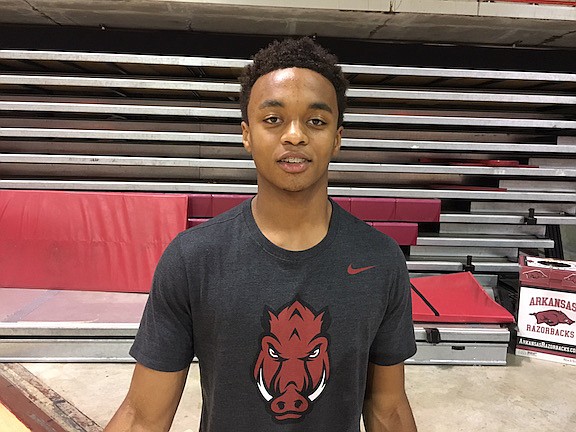 FAYETTEVILLE — It turns out that the five Arkansas Hawks committed to the Arkansas Razorbacks might all make it to campus by 2018.
Little Rock Christian junior-to-be Justice Hill is considering enrolling early, his father said Tuesday. Hill is the only non-2018 graduate among the five Arkansas Hawks AAU 17-and-under teammates who have verbally committed to the Razorbacks.
Former Arkansas assistant football coach Fitz Hill, Justice's father, said his son recently signed up for some classes that would allow that to happen if Razorbacks basketball coach Mike Anderson thinks that is the best course of action.
"We will continue to meet with Coach Anderson and listen for his advice; however, Justice will do his part in the classroom to make this option available," Fitz Hill said.
Justice Hill, who is averaging 6.1 points 3.5 assists in AAU play this summer, could enroll in either the fall of 2018 and play that season or enroll in January 2019 and practice with the team for a semester as a redshirt.
"As his daddy and a former coach, for developmental reasons, January '19 appears to be the best route," Fitz Hill said. "However, all options are on the table."
The other members of the Hawks committed to Arkansas are Douglasville, Ga., five-star big man Reggie Perry (6-10, 225 pounds); Fort Smith Northside shooting guard Isaiah Joe (6-4, 180); Little Rock Parkview forward Ethan Henderson (6-9, 190); and Jonesboro guard Desi Sills (6-1, 180).
Houston Cy Falls forward D.J. Weaver (6-6, 194) is another Hawk that has also been offered by the Razorbacks and is thought to be leaning toward committing soon.
The Hawks, who were 33-5 as a 16-and-under squad last season, have posted a 12-6 mark in this spring portion of AAU action, including a runner-up finish at Real Deal in the Rock.
That includes 4-4 record in the Adidas Uprising series with Perry averaging 17 points and 8.4 rebounds per game to lead the way. Joe is averaging 16 points while hitting 50 percent of his 3-pointers (30-of-60), and Sills is scoring 11.9 points.

Perry, Joe, Henderson and Little Rock Parkview freshman Moses Moody have all been invited to the 15th annual Pangos All-American Camp in Long Beach, Calif.
Discussion
Have a comment on this story? Join the discussion or start a new one on the Forums.